Mountain Standard Time isn't just another "jam band." And they don't want to be. They're down-home and organic. They encompass raw Colorado passion-driven music. You can tell it just from their name. They represent who we are, where we live, what we want to hear. Their solid reputation as some young guys who love to throw down is growing with the recent release of their first EP entitled "Sunny." As Mountain Standard Time continues to tour throughout the country, they will spread the good word of Colorado "free grass" to the masses.
Mountain Standard Time will be playing their Halloween show in Denver, dubbed "Baile De Los Muertos," this upcoming Saturday November 2 at the Bluebird Theater. The show is ages 16+ and the doors open at 8pm with Oakhurst opening for them. Tickets range from $13-15. A small price to pay for a big night of music.
I had the pleasure of interviewing Mountain Standard Time's mandolin player, Nick Dunbar. He promises Saturday's show will be chock full of covers. "There will be some funny surprises. Everyone's out there looking to get crazy. It's gonna be a twisted night."
Read on below to find out about the recording of their new EP, to learn about the nostalgic influence that Nederland has had on the band's beginnings, and to hear about MST's near future plans of nation wide "free grass" domination.
303: Mountain Standard Time has dubbed their music "free grass," in an admirable attempt to un-categorize their music. Can you elaborate on the concept of "free grass" for our readers? 
Nick: We kind of got the "free grass" thing from the "free jazz" thing. Our roots are definitely blue grass, folk, and country. "American music." A lot of people around here coin a lot of music as "bluegrass." Obviously if we were in the south or someplace else, that term wouldn't be thrown around so lightly. Everybody always wants to categorize the music, but we're all about originality. By putting boundaries on our music, we're just shooting ourselves in the foot. We will play bluegrass, African, Latin. We really invest in these different types of sound. We're not just half-assed doing it.
Obviously the mandolin isn't in every type of music, but it can mimic what other instruments do in various genres. "Free grass" is what we're doing.
We were just messing around and talking in the van and came up with it. We're like, you know, free music in the grassy realm.
303: Tell me a bit about how you guys came together and got started in Nederland.
Nick: Everyone's from all over the country. The original band kind of formed up in Ned, but now we're all over the Front Range. You know, it's Nederland: it's just one of those places where music fuels the community. When you pick and play music up there everyone know you, knows each other. That's kind of where me and Stan hooked up. And Zach, just playing jams. And Otis was playing a little more rocking stuff with the Powerlung Rangers, who had a local gig up there and played weekly shows. Ryan used to play keyboard in YAM. We knew he had bowed out of that group and he was obviously a monster, so we picked him up. With that one, the old band was really based out of Ned but now we have a newer group. Ned is Ned and that's where it started. We definitely had our pickin' type thing and we still embody a lot of that spirit, but we've been out of Ned for a while.
303: Mountain Standard Time has recently released their first EP, "Sunny." Tell me about the recording of "Sunny" and the challenges of putting together your first album versus the challenges of touring and playing live shows.
Nick: For us, obviously money is always an issue. We have tons of material and if we had tons of time, we'd love to record more. But we got in there on a budget and made a conscious effort to be very prepared. We all sat in a couple of rooms where we could see each other and played live. That album is very tame for the type of the material we were playing. We definitely wanted to produce something that was friendly to everybody. We go out there and push it a lot harder in our live shows, but we wanted something they could play on the radio- that kind of stuff. We definitely get a bit weird on it, and it's got the good live sound. I would say the album is a lot more bluegrass than "free grass." We got in the studio super quick, busted it out, and played out a lot more tunes than we thought we would. The studio really tightens up the band.
When you're in a live setting and you're on stage and the sound is whatever it is, you get away with so much. But when you're sitting there and it's just you soloing and everyone's listening in the other room, it really exposes you. You feel vulnerable and just do what you do. And this is it. It's not the time to try a million new things and sound all fancy. You just do what you do and do it well.
303: How long have you been playing the mandolin? 
Nick: I played guitar growing up and started playing mandolin when I was 19 or 20. I'm 28 now, so like 8 or 9 years. I started playing guitar when I was 10 or 11. Something about the mandolin just kinda stuck with me. I do pick a lot of guitar but mostly just for writing. Back in the day I practiced all these different instruments and had more time.
303: I first stumbled across you guys playing a late night/early morning- well, sunrise, to be specific- jam session in the woods at the Summer Camp Festival a few years ago. What do you like about playing big national festivals? Or do you prefer playing at local Colorado dive bars in the mountains? 
Nick: Oh man, those kids woke me up at like 3am and were like, "Get up we're picking!" And we had to leave at 9am to go to the next show.
Both are awesome. Festivals have that huge stage and are usually earlier shows- unless it's like Bonnaroo super late night shows, which we also love. The last one we played was on Pearl Street in Boulder for "Bands on the Bricks." It had about 3,000 people there. There was hospitality to the max. We pull right up to the stage, roll in, and have a beer in our hands right away. There's nothing like looking out and seeing thousands of people at a big festival in the crowd. That's special.
But when we play at these dive bars, you meet some cool local people and get shots lined up on the bar after the show. It's such a freakin' roller coaster. Like in Summit County, you know, there are some venues that aren't as nice but the people come and they throw down. Sometimes at festivals people come and are just hanging out, but the bars get crazy. People bum rush the stage and the energy is just out of control. It's hard to beat that. Bar gigs are what we live off of, but they are not always as glamorous.
These little places in the Front Range, like the Bluebird or the Fox, have incredible energy, too. You can definitely mimic that in a big festival but it's harder for me to connect with the band at a bigger festival than in a little room.
303: I have yet to make it to NedFest, but I hear good things. Tell me a bit about this hometown festival of yours, where you guys play each year.
Nick: We headlined Friday night this year. It was great. It's such a down-home festival. We had everybody there, the whole neighborhood. It gets people out of their shell. I got texts from all my buddies in the area listening to the set from their porch. It always feels good to go home there and tear it up. It's at the end of the summer. We did a three-week California and Oregon tour, so it was an epic kind of climax to come home to. We love that community. So much music has come from there. It's special to play there.
303: What are you going to be for Halloween?
Nick: I don't know, we've gotta figure that out. Probably whatever I can score at Savers. Full body. I'm hoping to find a cow suit or something, not just paint some shit on my face. Most definitely a full-on costume of sorts.
303: Who are some of your favorite bands right now?
Nick: Right now, I've been into records a lot. I've been listening to a lot of country, like Steve Earle and Jerry Jeff Walker. I love Motown music. The Four Tops, The Big Chill Soundtrack, Aretha. Bill Monroe. A lot of different stuff, a lot of reggae. In the van we always like to listen to new and different stuff. Some of the local bands like Dead Winter Carpenters, who I recently sat in with. Caribou Mountain Collective is an up and coming bluegrass band that I also sit in with sometimes. And Trout Steak Revival.
303: What can we expect from Mountain Standard Time in 2014?
Nick: I expect a lot of good things. We've started working with Madison House, who works with String Cheese Incident. They're getting some really nice things lined up. We're in grind mode, touring a lot. A lot. Spreading the word. I already see some Midwest stuff in February. Montana for Big Sky Big Grass in February with Sam Bush and The Infamous Stringdusters. Then back to the West Coast. I don't doubt that we hit every region in 2014. We're at this point where we've established a decent a following around here. Now we've got to spread the Colorado "free grass." They liked us in California. It must be all the free grass they've got out there.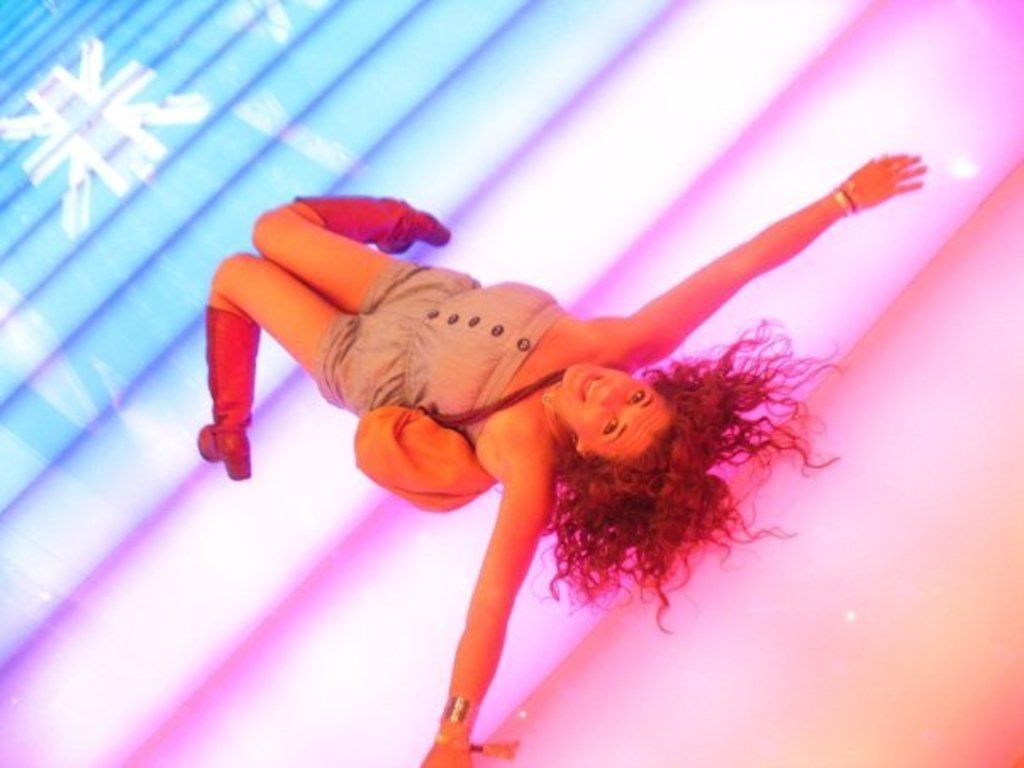 Allison Cohn loves gold spray paint and nonsense. She also has a very difficult time sitting still and keeping quiet. She can often be found dancing like a fool when she isn't hiding out in her mountain lair or gallivanting around the globe.