Being in my mid-20s, it seems like all of my friends – even the friends that I thought would be single forever – are getting engaged. But instead of thinking about what the dress, flowers or decorations will look like, I'm instantly asking myself who my date will be. 
I guess I'm not alone, because I was contacted by two girls asking 303 Magazine to help them with their search. In just over a week on October 6, these "two pretty ladies" will be attending their friend's wedding in the beautiful Larkspur, Colorado. Their outfits are picked out, their cowboy boots are polished, but there are two things missing: their cowboys. 
So here's the million dollar question: Do you have what it takes to be these "two pretty ladies'" dates? 
I sat down with the ladies at the cozy Crave Dessert Bar & Lounge in Denver to find out what they're looking for, why they're looking to take complete strangers to their friend's wedding, and hear a little about who they are.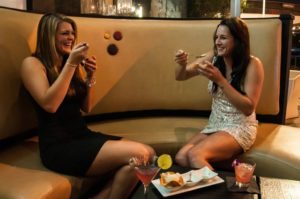 303 Magazine: What are you looking for in your dates? 
Two Pretty Ladies: You should be attractive or our friends will judge you, but not TOO attractive because we want to be the pretty ones. You should be relaxed and easy going, as we'll probably make up flattering lies about you on the spot. You should be above 6 feet tall – we'll be in heels. We prefer manly men: tall, dark, handsome, athletic (preferably crossfitters), outdoorsmen, drive big ol' trucks, wear cowboy boots and have a sense of humor. We also like men who clean up well…after they've changed our oil. You get the picture; sissy men need not apply. And you should definitely own a pair of cowboy boots.
What's in it for the guys? 
TPL: Free booze and food, carefree and downright lewd dance moves, great photos (we promise to be photogenic for your scrapbook) and a fun excuse to dress up. 
Tell me about yourselves.
TPL: We're both in our 20s, single, above stunning looks, pretty blue eyes, smokin' bods, love to party, completely drama free, smell great, have nice hair, clean up very well, boast great shoe collections, promise silky smooth legs, love animals and are raw with no baggage to claim.
What now? 
TPL: What are you waiting for? Email us, send along some pictures (the good, the bad, the down right ugly, just none of those phone pics you took in the mirror), blood type, high school athletic stats, questions, etc. We'll take it from there.
Think you have what it takes? Let's recap.
You:
Enjoy attending weddings
Always get the door for a lady (your mother taught you manners)
Aren't boring and you can carry on a conversation
Prefer the beaten trail rather than the smooth path
Have your stereo is cranked up to country
Aren't afraid to break it down the dance floor
Know how to laugh at awkward situations (let's be real, this is awkward)
If you (and your friend or brother or father – just kidding) think you'd be the perfect candidates to take these "two pretty ladies" to their friend's wedding on October 6, send the following information to: twoprettyladies303@gmail.com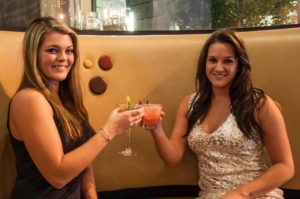 Questionnaire
(send one per pair // both candidates need to answer all questions) _________________________________________________________________________________________________
1. What's your name?
2. What's your occupation? 
3. What city do you live in? 
4. What's your go-to country song?
5. Do you own a pair of cowboy boots?
6. How tall are you? 
7. What do you like to do for fun? 
8. How would you describe your dancing?
9. What would you wear if you were chosen?
10. Why should we pick you? 
Good luck, fellas! And may the best men win.