The River North district is a treasure chest of local and international street-art. Walking the alleyway that runs parallel between Larimer and Walnut is like perusing a catalog of Denver graffiti artists. The works range from signature tags to entire storefront pieces, photographs, paintings and enormous murals. Each artist's perspective is celebrated. RiNo captures the delicate balance that exists in Denver between industrial and artistic, new and old, the pretty and the pragmatic.
The New Belgium collaborative mural by Jaime Molina, Pedro Barrios and Joseph Martinez

New Belgium Brewery commissioned this breathtaking mural done by Denver locals Jaime Molina, Pedro Barrios, and Joseph Martinez. It lights up the block on Larimer between 34th and 35th. Completed in May of this year, this piece features meticulous detail and clean, geometric artistry. It was so captivating, I almost didn't notice the other great works on the same street just behind me. I was entranced by the unexpected shapes and fresh design.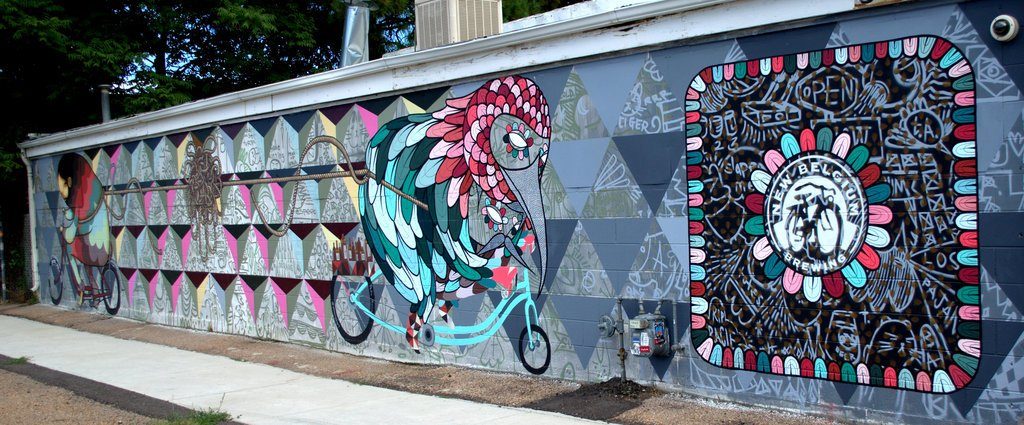 To most passerybys, it is difficult to even tell that the piece is an advertisement. The New Belgium mural is a testament to the influence street-art has in Denver as it proves to be more eye-catching than billboards and traditional ads. If you're walking around RiNo and the alleyway, be sure to look for another bright and beautiful Jaime Molina mural further South down Larimer.
Brett Flanigan and Cannon Dill collaboration
Artists Brett Flanigan and Cannon Dill created this amazing collaborative mural on a private garage at 34th and Larimer. It sits just across the street from the New Belgium mural. Flanigan and Cannon Dill have worked together on two outstanding pieces in the RiNo neighborhood, taking the average city stroll to another dimension. This piece is so intricate, I couldn't look away. Brett Flanigan and Cannon Dill have a second collaborative work a bit down the alley. Both are absolutely worth seeing.
David Choe, Flores, Dstrbo and Kreig collaboration from 2008
There are not one but several brilliant David Choe murals hidden on the concrete canvas streets of Denver. I hunted down an inspired collaboration mural on Larimer and 30th in the RiNo district. It is a throwback piece done by David Choe, Flores, Kreig, and DSTRBO in 2008. In my opinion, Choe's signature on the streets of River North fueled or perhaps even sparked the street-art renaissance in this area. The best part about Choe's work is that it is existential yet accessible. Along with the pieces on Champa and 13th, Choe painted a mural that hid the construction job in the West terminal of Denver International Airport. It is truly amazing that Denver has been painted by world renowned street-artists before they even came into their own fame.
The Infinite Monkey Theorem work Hollis & Lana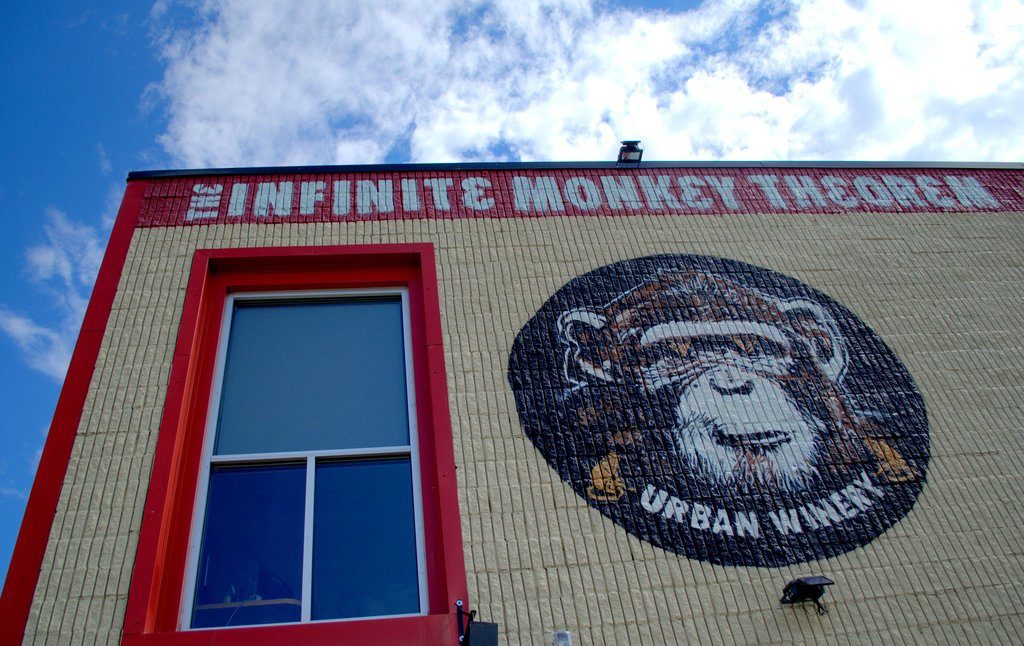 This chic urban winery represents the most influential parts of RiNo's culture: bold lifestyle, passionate, trendy, micro-brewing, inspired, industrial, eco-friendly, and most of all, street-art worshiping. Hollis and Lana have painted an enormous and jaw-dropping mural on the West facing wall and outdoor patio of the urban winery The Infinite Monkey Theorem. Artists Hollis and Lana truly speak through their paintings. It is surreal, alien and beckons with enough raw energy to stop you in your tracks.
Be sure to follow @303Magazine on Instagram and search the hashtag #303Graffiti for all of the beautiful pieces of street-art seen around town!