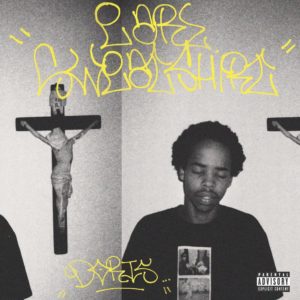 Doris
Earl Sweatshirt
Rap/Hip Hop
Rating: 3.5/5
For Fans Of: Tyler, The Creator , Odd Future , A$AP Rocky
Release Date: August 20th, 2013
Doris (Tan Cressida-Columbia Records), the debut full-length record from Odd Future member, Earl Sweatshirt, features fifteen tracks of bass thumping, downtrodden, wordsmith-y hip hop. Doris is a record that defies modern hip hop commercialization and stereotype, utilizing sounds recorded from real instruments on top of tempos that reject trendy pop music norms. Thebe Neruda Kgositsile, better known by his stage moniker, Earl Sweatshirt, forces the audience to feel, suffer and understand his struggles — "It's probably been twelve years since my father left, left me fatherless/Sixteen, I'm hollow, intolerant/I storm that whole bottle, I'll show you a role model" ("Chum").
At the budding age of 19, Earl Sweatshirt has produced an unequivocally, tumultuously morose record, that just so happens to come straight from the heart…seriously. And after having spent an entire year at a Samoan boarding school — Coral Reef Academy — where he became somewhat of an internet/social media enigma on sites like Twitter (#FREE_EARL_SWEATSHIRT) advocated by group-mate, Tyler, The Creator, Earl Sweatshirt finally delivers the goods that so many fans and hip hop enthusiasts have been waiting for.
On Doris, you won't find prosaic lyrical content that often yields to popularly cliché hip hop/rap culture, i.e., pretentiously lavish lifestyles and exhibitions of violence, specifically, murder, against those that appear to be a threat — these are subjects that have been deluging the modern rap scene for decades. But, you will find intricate, precisely timed uses of rhythmically harmonious language that feeds from a young boy's hunger for something greater…something beyond the materialism and ego-centrism that comes with modern pop culture.
The amount of potential that this kid has is off the charts, and tracks like "Hive" justify this; "Boy oh boy, I'm bad as burnt pollo off the grill and shit/Spitter of the little Nick, nimble, rickrolling/Bitch niggas pick litter, piff-blower, plus I pillage shit."
You may not expect lyrical mastery hidden underneath tracks with somewhat mundane, ambiguous titles like, "Chum" and "Molasses," but don't underestimate Earl Sweatshirt's abilities to rhyme, especially when combined with guest vocal accompaniments from artists, Tyler, The Creator, Frank Ocean, Mac Miller and the Wu-Tang legend, RZA. The producers on the album are worth noting as well — Christian Rich, RZA, Tyler, The Creator and The Neptunes.
Now, this record isn't perfect by any means as it does have its fair share of flaws. Doris is one of those records that needs a few songs with entirely different flow and style, as much of the album seems to drone on in sluggish tempo stagnancy, losing much distinction between track changes. It's as if the producers of the record cut off communication from one another; they heard the first track's plodding BPM rate (Beats-Per-Minute) and simply plugged in a beat with the same exact tempo, which doesn't make for a very diverse set of songs or sounds. But, even the torpid production aspect of the record can't hold Earl Sweatshirt back as a hip hop artist, as he makes the best of each and every down-tempo beat.
Earl Sweatshirt may not be the most radio friendly, commercially opportune hip hop artist of 2013, but he certainly can spit it with the best of them. And with Doris, Earl proves that his ceiling is much higher than anyone had ever imagined.
Be sure to check out Earl Sweatshirt's music video for his single, "Chum," below:
Suggested Tracks: "Chum" ; "Whoa" ; "Sunday"
Written by Samuel Lang of 303 Magazine.
Photos and video courtesy of Earl Sweatshirt and Columbia Records.