Where: 39th and Tennyson
Don't Miss: You have to join their beer club. For a low annual price, you get happy hour pricing all the time, along with other awesome monthly deals.
In almost every major city, there's a part of town that gets all of the credit. In Denver, it usually goes something like, "oh, you've got to try this place down in LoDo." However, it's important to venture out of the hustle of Lower Downtown and try some of the hidden gems in other parts of our city. This week, we decided to walk down Tennyson Street in our neck of the woods and we stumbled upon Hops and Pie, a restaurant that has the menu of a gourmet restaurant and the atmosphere of a friendly neighborhood bar.
The owner of Hops and Pie believes that a good IPA and pepperoni pizza "were made for each other". It's clear that they've mastered this combination. Their draft beer menu is constantly changing with different creative craft beers that are perfectly paired wit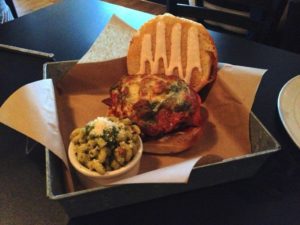 h their food menu. My boyfriend and I both had the R&R Coconut IPA from Stone Brewery. Brewed with 280 pounds of coconut and an unusual blend of hop varieties, R&R was incredibly unique. To say it was delicious would be an understatement. Hops and Pie has clearly figured out which beers are worthy enough to be on their drafts lineup.
We started out with the IPA Mac & Cheese, conveniently listed as a snack on their menu. The mac & cheese is baked with IPA, elbow macaroni, cheddar, smoked ham, English peas, and herbed breadcrumbs. This was very filling and could alone be it's own meal. We will definitely be coming back to try the other snacks on the menu, like the garlicky cheese bread or the chipotle mango carnitas tacos.
Hops and Pie also has a variety of sandwiches with fresh ingredients to choose from. We went with the B.L.E.A.T, a BLT spin-off with an addition of fresh farm eggs, avocado and aioli on a toasted house roll. These ingredients added to the flavor of a BLT and gave it an extra kick.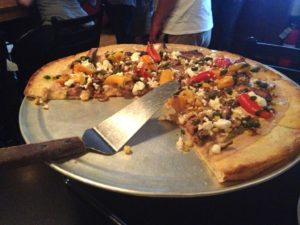 We obviously couldn't leave without trying one of Hops and Pie's raved about pizzas. We decided to get the Artisan Pie of the Month. It was a hefty combo of Vintage Farms Flank, Bacon & Sweet Onion Puree, Queso de la Canasta, Pepitas, Scorched Olathe Corn, and House Picked Sweet Peppers, finished with a chimichurri sauce. This pizza packed a ton of flavor and made you feel as though you were eating a fresh work of art, rather than a big grease-ball like some other bars. And to finish it off with a Crispy Treat made with peanut butter Captain Crunch and CoCo Puffs, was the end of a playful food adventure.
One of the coolest things that Hops and Pie has to offer is their H&P Beer Club. For an annual price of sixty bucks (that's usually less than an entire meal at the LoDo restaurants), you get happy hour pricing ALL THE TIME. That's right, $1 off all craft beers, slices of the day and their 10" pies whenever you come in. And on top of that, every Sunday, your 3rd draft is on them and on the 2nd Sunday of each month, Hops and Pie will treat you to 50-cent select drafts. It's an awesome way to start a tradition with your significant other and get some tasty beer and pizza in the process.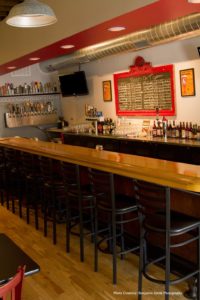 To summarize their beer list can't be beat. Plus tasty gourmet pizza, and a club we can join for free beer that's right down the street from our house? Yep, my boyfriend and I can't wait to become regulars at Hops and Pie.
Photos provided by Leah Watson and David Hach.