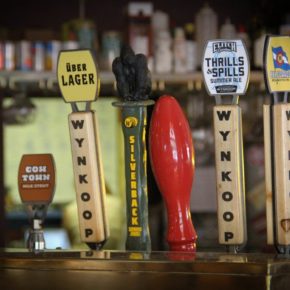 What: Liquid Art and the "Ballsiest Beer" in Colorado.
Where: Wynkoop Brewery, 1634 18th St.,Denver
When: Daily from 11am-2am
Recommendation: Blocks away from Coors Field, makes this a great meet up place before or after a Rockies game.  Happy hour is from 4-6pm, and you get $1 off pints. The upstairs is a pool hall, so if you like to rack em' and crack em', this is your place. Also, don't forget to take a complimentary brewery tour!
Wynkoop Brewery is about to turn 25 years old, and is the first microbrewery in Colorado. Governor Hickenlooper started this brewpub in 1988 after visiting a microbrewery in California.  His vision was that it would take off in Denver, little did he know that Denver would soon be known as the, "Garden of Eden of Craft Beer."  When Hickenlooper purchased the property on 18th St. over two decades ago the neighborhood "LoDo" did not exist.  Wynkoop Brewery was a catalyst for the rebirth of this now hip area of town. When you walk through the doors you feel like you are experiencing where the Colorado beer culture began.  They are truly pioneers in the craft beer business and have a lot of responsibility on their shoulders to keep the beer interesting, assertive, and playful, all at the same time.
They pride themselves on being a small batch, locally minded, brewery that's brewing liquid art, now that's philosophy I can get behind. Wynkoop is brewing over 40 different beers a year, and there are between 12-16 beers on tap all of the time, so the only hard part is choosing.  Order a flight of beers to decide which pint you want to drink!
How much more playful and assertive can you get than with the Rocky Mountain Oyster Stout?  What started as an April Fool's Joke has become a hit at Wynkoop.  This brew actually has Rocky Mountain Oysters in it!  And folks, we all know these oysters don't come from the sea.  This is dark stout with notes of roasted barley, coffee, and nuts (no pun intended), with an umami finish.  It's actually, dare I say…delicious!  It's on tap in the bar but is also available by hand labeled cans in Wynkoop's "Even Smaller Batch series," so go ahead and bring a six pack home with you, it's a conversation starter, and a beautifully balanced beer.  They offer many more traditional brews like; Silverback Pale Ale, Colorojo Double Red, Orchard Wheat, and the B3K Black Lager, to name a few.  They are also the first place in Colorado to have cask conditioned or "live ales," and they were doing that long before it was considered to be popular.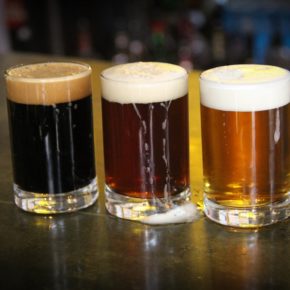 They host many different events throughout the year, and don't miss the Third Annual "United Tasted of Belgium," that will be held at Wynkoop on July 27th from 1-4pm.  At this event you will get to taste beer (over 50 varieties), cheese, and chocolate.  Yes, please.  It costs $30 in advance, and you can purchase tickets through their website.  http://www.wynkoop.com/
Also, pop in for a complimentary tour Tuesday-Saturday at 3 and 4pm to see where all of the magic happens.  (It happens in a 20 barrel system, involving vintage copper distillers, and the freshest local ingredients.) You get to taste 3-4 beers on your tour too, so like I always say, come thirsty! If you have folks coming in from out of town, you can set up private tours by appointment for a small fee, and you are sure to impress your guests with taking them to where Colorado craft beer began.
Wynkoop also serves freshly prepared, beer-inspired comfort food to accompany your pints.  They try to source their ingredients for the food locally, the same way they do for their beer.  Fresh food and fresh beer.  That is what Colorado is all about.
Wynkoop is a household name in Colorado, and it deserves every bit of it's nostalgic reputation. They are doing some bold brewing and are proud to have started the whole craft beer movement in Colorado.  Bottoms up!
Photos by: http://www.facebook.com/designercrystalrhea