Planning a family vacation or extended stay away from home is hard enough when it comes to our own preparations. It becomes another thing entirely when a feline or canine family member is entered into the equation. After all, it comes down to two choices: bring our loyal buddy along or leave him in the trusting hands of someone else. If he can't come along, ideally it'd be nice to have friends or family members look after him— they know him and have an idea about his regular routine. However, if this is simply not an option, we may be forced to consider boarding our beloved buddy with a team of professionals. Here's some helpful advice that could make his stay more enjoyable—and make you feel a little less guilty about leaving him behind:
1. Research— Marc Sousa, co-owner (with wife Jill Sousa) of Tails Up Deluxe Pet Hotel & Daycare, said picking the right place is key. "Go visit multiple facilities and take a tour. Ask questions and make sure your pet's needs are being met," he advised. Sousa shared why his hotel/daycare stands out, "The ratio of humans to animals is higher at Tails Up than most stand alone boarding facilities, so the pets get more attention and supervision." Tails Up staffs it's facilities 24-hours per day, has small personalized playgroups, all suite boarding, and large outdoor artificial turf-grass play areas, according to Sousa.
2. Preparation— Dr. Mitch Kramer, veterinarian and owner of Two Ponds Pet Lodge and Day Camp, said to make sure all of your pet's vaccinations are current. "It's best to boost 2 weeks prior to the stay," Kramer said. Sousa added, "Early socialization is critical for those with puppies, it limits anxiety and stress when away from home… Putting a 5-month-old puppy in an old fashioned dog run for a week without any interaction can be disastrous. If you've rescued a shy 10 year old, a "play all-day" type facilitywith 15-25 dogs in a playgroup for 8 hours/day is far from ideal and may cause it to be more fearful. Every dog is different." In other words, know your pet and what kind of environment will suit him best.
3. The Drop-Off— Kramer said it's a good idea to bring your pet's dog/cat bed with you, or something with the smell of home on it. This way he'll have something familiar with him and won't feel completely out of place. Also, he said to bring along his own food, since they are used to that too and he won't get sick or super anxious from a dietary change-up.
4. Check-ins— To ease your own anxieties check in with the staff that's caring for your pet. Kramer said his facility takes this one step further. "We have a webcam, so concerned owners can view their dog while on vacation." To alleviate additional stress Kramer said his facility is vet owned and operated providing higher level of care and cleanliness.
5. Homecoming— Sousa shared his advice on making a smooth transition from home, to hotel, to home again—"Best bet is finding a place that matches your home routine so adjustment is minimal. The structure at Tails Up was designed to match the average home environment, so the dogs get a well balanced day with time for play and recovery in their own room." Kramer said once home, it's best to keep them on their regular schedule and don't deviate. For example, "Don't change their diet during [a] time of change," he said. Also, keep an eye on his eating and drinking habits and be aware of any signs of illness like kennel cough, Kramer advised.
Dogs are 99% of our business— 70 dog rooms [and] 12 cat rooms.— Marc Sousa, Tails Up Deluxe Pet Hotel & Daycare
6. Follow-up— Let the staff know if you've noticed anything concerning about your little buddy— illness, behavior problems, etc. It's also good to let them know what you thought of their services. "We are always thrilled to hear a new client tell us that they didn't worry about their pet while on vacation. It's extremely satisfying and one of the main reasons we decided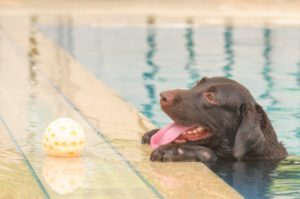 to offer a different approach to pet care in the South Denver area," Sousa said.
Getting away for a few days is a great way to reset—the change in environment, the break from our everyday routine and the relaxation of having time for ourselves. It's equally important though, to remember that our pets are eager to get back to the normal day-to-day routine with us. So, if you decide a doggy-hotel is the best choice while you're away, just make sure the one you choose fits his personal needs. That way the time apart will be  a vacation for him, as well.