What: Verde
Where: Try them out this Friday the 19th at Asher Brewery from 5-7 PM
Recommendation: The Machaca Burrito
The concept behind the Verde food truck was thought up by long time friends, Seth and TJ . Hailing from Arizona they wanted to bring the Sonoran style Mexican food found in the Grand Canyon state to the streets of Boulder. However this was not going to be another tex-mex chain to Colorado. Rather  Sonoran Mexican food is authentic Mexican with a Sante Fe influence: This means lots of spices, fire roasted veggies, and big flavors.
When I stopped by Verde I met with co-owner Seth and right-hand woman, Courtney. The great thing about  food trucks is you always get to meet the people who are actually cooking your food and usually food truck employees are all about getting to know their customers. That being said, chatting up the truck is part of the experience and something you don't want to miss at Verde. Seth and Courtney both have stories galore. Seth told me of his adventures including how he was in the Peace Corps in Panama. Their friendly demeanor  explains why they continually have a great crowd. Verde has a faithful band of regulars who aren't shy to tell you how much they love the food. But don't be intimidated If you're a newcomer because they will embrace you as one of their own.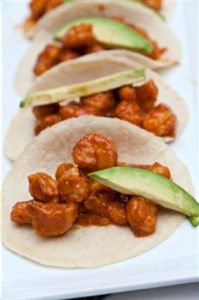 Trying to decide on a recommendation for Verde was particularly hard because everything on the menu is a winner. However after trying the majority of the menu, I had to go with the Machaca Burrito with all the fixings. Machaca is a staple in a Mexican diet but it's really hard to find in Colorado, especially done this well. Machaca is shredded beef that is marinated in a multitude of spices like ancho chili and adobo. Despite all the spice it is in no way overwhelming and gives more of a warm, sweet heat. This tender beef is wrapped up in a super thin flour tortilla along with rice, beans, and tomato. The burrito also gets some homemade guacamole, cheddar  cheese, and  roasted  jalapeño  crema which all help to tone down the spice of the burrito. The ingredients are a shock to the taste buds but the most shocking thing about this burrito is it's size. It is HUGE. Literally it is almost the size of a newborn baby, I'm not even joking! So get ready for leftovers.
Verde also has two house made salsas that are spectacular and go well with anything on the menu. The first is a classic red salsa and Verde's version of it is very light and mild, it almost has the flavor of a gazpacho. There are lots of fresh tomatoes in it which really brightens up the taste of the dish you pair it with. The salsa verde is the one that brings the heat. It's made with tomatillos which give it that vibrant green color and a good dose of chilies that will definitely wake you up.
Something that makes Verde unique from other trucks and that is that they serve dishes for all the meals of the day. How their menu works is they basically have three categories; burritos, tacos, and quesadillas and under each category you have all the options of what to fill it with. These include fillings for breakfast, lunch, and dinner. Who wouldn't want a breakfast taco in the morning, especially one that has eggs, ham, and green chili in it? But that's just one of the many options that you can create. As far as late night cravings go I would tackle one of their enormous Carne Asada quesadillas to split amongst friends.
Verde is the place to go if you really want authentic Mexican food .The classic Sonoran flavors will definitely hit the spot and everyone needs a little south of the border spice every now and then. Drop by Verde and taste the real deal Mexican and you will never go back.