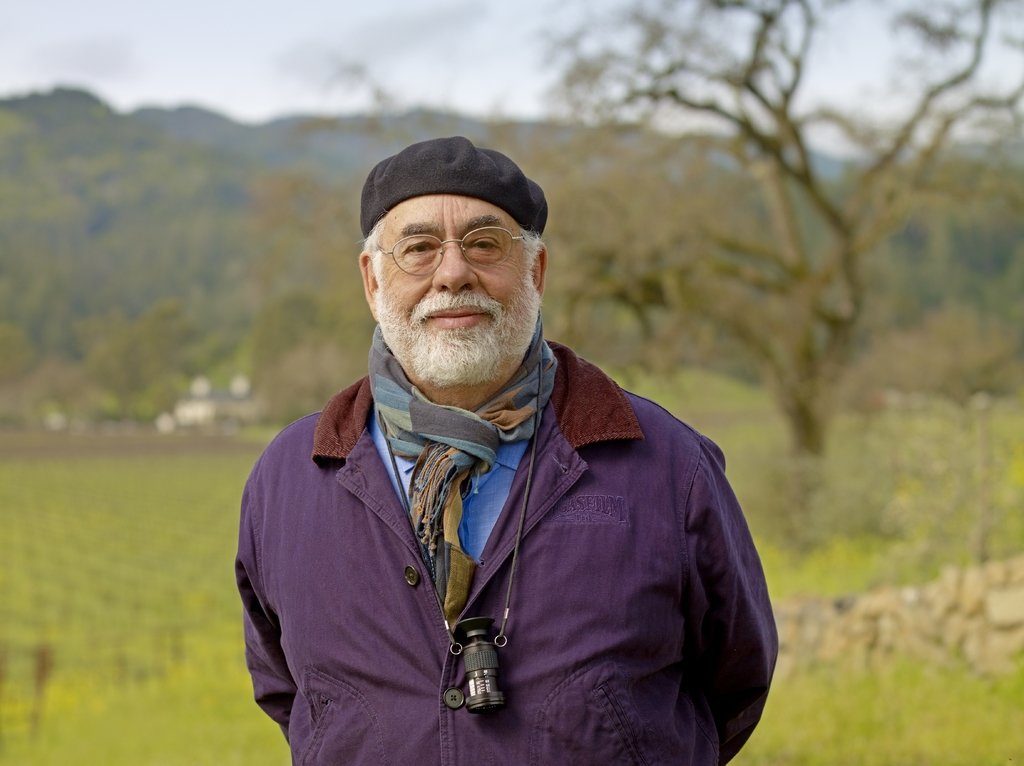 Francis Ford Coppola is a legendary film director, producer, and screen writer who's film, "The Godfather," has made an impact on the Hollywood scene forever.  Coppola is passionate about his work and has found remarkable success, but his true passion is his family.
Winemaking has been a Coppola family tradition for several generations.  His grandfather, Agostino Coppola made wine in the basement of his New York apartment out of self constructed concrete vats.  It seemed only fitting that Francis Ford Coppola would extend his many talents into the art of winemaking.
After sharing a home in Napa Valley for over 30 years and making their own wines, the Coppola family bought the historic Château Souverain property in Sonoma County in 2006. Although Francis Ford Coppola was already producing his now-signature Diamond wines since the 90s, the purchase of the Château in 2006 allowed the winery to flourish and expand.  By 2010, the Coppola's vision for a family destination winery became a reality.  When one typically thinks of California wine country, "family friendly," is rarely the first thing that comes to mind.  Coppola had a different idea; he wanted families to share the best things in life together. This philosophy came to fruition after extensive renovations,new tasting rooms, two restaurants, a swimming pool, a movie gallery, a performing arts Pavilion and a park area with game tables and bocce courts.  Coppola also houses his countless awards and movie memorabilia in the movie gallery to welcome movie enthusiasts.  It's a place where family can come together and enjoy quality time in the exquisite wine country of California.  The winery has grown immensely and so has the amount of wine that they are producing.  Now under the Coppola umbrella, ten distinct wine brands are available today including; Rosso and Bianco,Sofia, Elenaor, FC Reserve, and Director's Cut.
Francis Ford Coppola hired a distinguished winemaker who has similar family influence and winemaking in his blood. Director of Winemaking and General Manager Corey Beck has more than 20 years of experience in the wine industry. Beck's wine journey began by tagging alongside his grandfather who was the vineyard manager for Napa Valley's renowned Chateau Montelena, most famous for the winning wine in the Judgment of Paris tasting in 1976.  Beck has worked with Coppola over the years and has created delicious wines, and wines that have been born out of Coppola's love for his family.
Coppola's only daughter, Sofia was the inspiration for the line of Sofia wines.  The packaging is beautiful and unique and is inspired by Sofia's personality. Sofia wines began as a gift from a father to his daughter for her wedding.  The first Sofia wine was the Blanc de blancs, a effervescent white made with pinot blanc, muscat, and riesling. The Blanc de Blancs is also put into a "Sofia Mini" and was one of the first wines to be put into a single serving can! The Sofia Minis are great to take on a picnic or hike, and is the perfect sparkling wine on the go.  Another Sofia style of wine is the Rose made in the style popular in the South of France and is made with Granache and Syrah.  A great summer wine.  Riesling is one of Sofia's favorite wine to drink so Coppola has made a bottle of Sofia Riesling especially for her.  The latest bottle of Sofia to debut this year is a Chardonnay blended with Pinot Blanc. The Chardonnay has hints of green apple, peach, pear, spice, and a hint of citrus.  The winemaking team worked closely with Sofia Coppola in making this wine, and was a "reflection of her personality," she was also key in designing the beautiful peach-colored label.  The Sofia packaging is memorable and stunning, making these bottles perfect gifts.
Francis Ford Coppola Winery is a destination in California that is rooted in love.  The award winning wines reflect the vision of an artist and the family traditions of winemaking.   The winery is the ideal place for friends and family to enjoy delicious wines, exceptional food, and simply relax in a comfortable, casual setting.  If you can't make it out to California, make it a point to drink the affordable award winning wines of Francis Ford Coppola.  Pop a cork the next time you watch The Godfather to feel a connection to the Oscar winning movie.
300 Via Archimedes
Geyserville, CA 95441
(707) 857-1471
Photos courtesy of Francis Ford Coppola Winery.