Dance is a powerful tool. It has the power to inspire through story telling, expression, and the celebration of the human form. Mental Health America of Colorado recognized this therapeutic potential through the development of a program called "Check Your Head;" a "school-based program that encourages young people to explore issues such as self-identity, conflict resolution, depression, tolerance, and more. The program helps young people identify their mental health needs, communicate their needs to others, and find constructive resolutions to problems they face."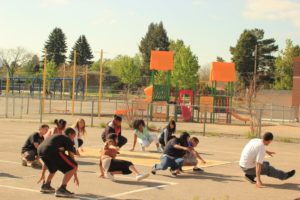 Tim Webb, who joined the program in 2009, said, "It got its start as an after school program that used hip hop as a way to teach kids about mental health issues. Over the years, it has evolved into a school-based program that is delivered during the school day. The courses are facilitated by program instructors who have an arts background. Our instructors have backgrounds in spoken word, break dancing, deejaying, and rapping."
"For Check Your Head, the arts focus of the program gives students an outlet to express complicated emotions and feelings that they might not have the vocabulary to express. Additionally, it helps build confidence and self-esteem in the program's participants."
Tomorrow night, Mental Health America of Colorado celebrates the impact of Check Your Head on over 400 lives at Appaloosa Grill (535 16th St #110  Denver) from 5:30-8pm. Tickets are $40 and the event will feature live music, adult beverages, and food. Proceeds benefit the program. MHAC will be honoring Denver dance legend Cleo Parker Robinson for her outreach efforts during this inaugural fundraising event.
"Since this is our first event for the program, we wanted to honor someone who has been using innovative outreach efforts to change the lives of youths in Colorado, and Cleo has been using the arts, especially dance, to do this for decades. Her work in schools is transformative, and she has helped students of all ages and abilities develop crucial life skills by encouraging them to embrace the power of the arts," says Webb.
According to MHAC, "Mental health issues impact one in five adolescents and it is estimated that 10-15% of all children and adolescents have mental health issues severe enough to cause some impairment in their lives, including poor academic performance, substance abuse, self-injury like cutting, and, in the worst case, suicide. In Colorado, 16.4% of high school students state that they considered suicide and nine percent said that they attempted suicide."
So put your dancing shoes on tomorrow – support the arts and MHAC. For more information, call (720) 208-2220.