While Jekyll & Hyde has left the (Denver Center for the Performing Arts) building, we were finally able to catch up with Deborah Cox, who plays the role of Lucy. Cox has been a long time favorite of ours, and we were honored to chat with the Grammy-nominated artist:
303 Magazine: You have an incredible resume: You've had six Top-20 Billboard R&B singles, eleven #1 hits on Billboard's Hot Dance Club Play chart and the lead role in Elton John and Tim Rice's Broadway musical, Aida. You've won three Juno awards, a Soul Train award and many others. You've sung with Celine Dion and recorded with Whitney Houston. What does that feel like? To what or to whom do you credit your success?
Deborah Cox: I would like to credit my incredible team, my spirituality, faith and hard work. My husband/manager plays a HUGE role in my success. I'm very, very fortunate. I've met a lot of really good people along the way, Clive Davis being one of them, and I appreciate them all. I feel very blessed that I am still here. That after all these years, I'm still in standing.
303: How did you get into music?
DC: I started doing music right around six or seven. I remember listening to Gladys Knight on my parents' record player. Then I heard Whitney Houston, and that really changed everything for me. I fell in love  with her songs, and Saving All My Love For You was the song that I felt was the closest thing to the style that I wanted to do.
Right around the age 10 or 11 I started to do session work, commercial jingles and started to sing background vocals for various  artists. It was a very exciting time because I got to explore many different styles of music. By high school I was in a performing arts program. Shortly after I was off singing backgrounds with Celine Dion on my very first international tour at 19.
303: Who are some of your favorite artists?
DC: I love artists like Whitney Houston, Gladys Knight, Aretha Franklin, Ella Fitzgerald, Dinah Washington, Stevie Wonder, Bob Marley, Marvin Gaye, Sting, The Eurythmics, Pat Benatar, Tina Turner. I like a lot of styles of music.
303: How does performing in a musical differ from recording records? Which do you prefer?
DC: I like them both because they are very, very different, but I prefer performing in front of an audience. I love the exchange. I also love being in a musical because I'm playing a part in telling a bigger story. It allows me to work with a super talented team with only one goal in mind and that's to give the audience an amazing experience.
303: You've performed all over the world. Where was your favorite?
DC: I love Europe. I also love touring because it allows me to get to many different cities and take in the local culture.
303: What's the chemistry like on-stage with your colleagues?
DC: I have great chemistry with pretty much everyone in the cast. We all respect and like each other's work very much. I believe that the chemistry off-stage is sometimes more important. On stage, you have to work together, but off-stage you have a choice, and we choose to spend time together.
303: What does it mean to you to play Lucy in Jekyll & Hyde?
DC: This is a very complex character. Probably the most difficult and challenging role I've ever had to do. It's a joy and a thrill and it's been a crazy ride. I am honoured that I was chosen for this role in this production. Lucy has taught me some things about myself too. Lucy and I are similar in that she is a strong woman, a fighter and determined, even in the face of enormous odds. Lucy is very, very uninhibited. She's also very overtly sexy. Those two things I feel are very different from who I am.
303:  In what way is this production a fresh, new take on older versions?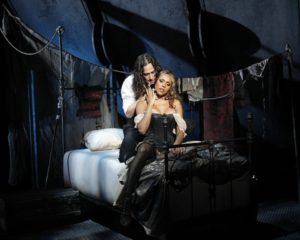 DC: I have never seen any of the older versions so It's hard to compare. I can tell you that this version is dark, sexy, edgy and the songs have been specifically orchestrated to fit both of our voices.
303: What can we expect to see from you in the future?
DC: Definitely more music, more musicals, more art! I love what I do! And I have a lot more music in me!