Fifteen dance companies from across the Front Range are putting on their pointe shoes for a cause; that of dancer Amy Hollinger. Hollinger, 22, was struck by a car on the way home from a performance of Colorado Ballet's Sleeping Beauty on October 20.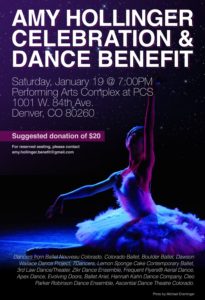 The driver rushed Amy to Denver Health, but some of the swelling in her brain had already taken hold. After spending nearly a month in a medically induced coma, Amy will be moving from the Progressive Care Unit to the traumatic brain rehabilitation center to undergo intensive therapy to relearn speech and mobility.
Because of the enormous amount of time Amy has spent at Denver Health, her family has quite the pile of medical bills to sift through. Artists from Ballet Nouveau Colorado, Colorado Ballet, Boulder Ballet, Dawson Wallace Dance Project, 7 Dancers, Lemon Sponge Cake Contemporary Ballet, 3rd Law Dance/Theater, Zikr Dance Ensemble, Frequent Flyers® Aerial Dance, Apex Dance, Evolving Doors, Ballet Ariel, Hannah Kahn Dance Company, Cleo Parker Robinson Dance Ensemble, and Ascential Dance Theatre Colorado will all pitch in by dancing for free on Saturday, January 19, at the Performing Arts Center at the Pinnacle Charter School, 1001 West 84th Avenue,  Denver, CO 80260 at 7:00 pm.
This is the second time dancers have gotten together for Amy; they held a performance before Christmas as well. Amy was not only a dancer in the Denver community, she was also a teacher, having taught at Cherry Creek Dance, Rocky Mountain School of Dance, and Denver Ballet Theatre Academy of Dance. Reservations to the performance can be made by calling 720-432-7704, or by emailing [email protected]
After the performance, there will be a silent auction, featuring photographs of the dancers from the first benefit, by photographer Rachel Becker. Amy's mother will also be selling some of her artwork.
Suggested donation is $20 per ticket. This is not only a great opportunity to support the arts, but to also support a local dancer who has impacted many, many lives.