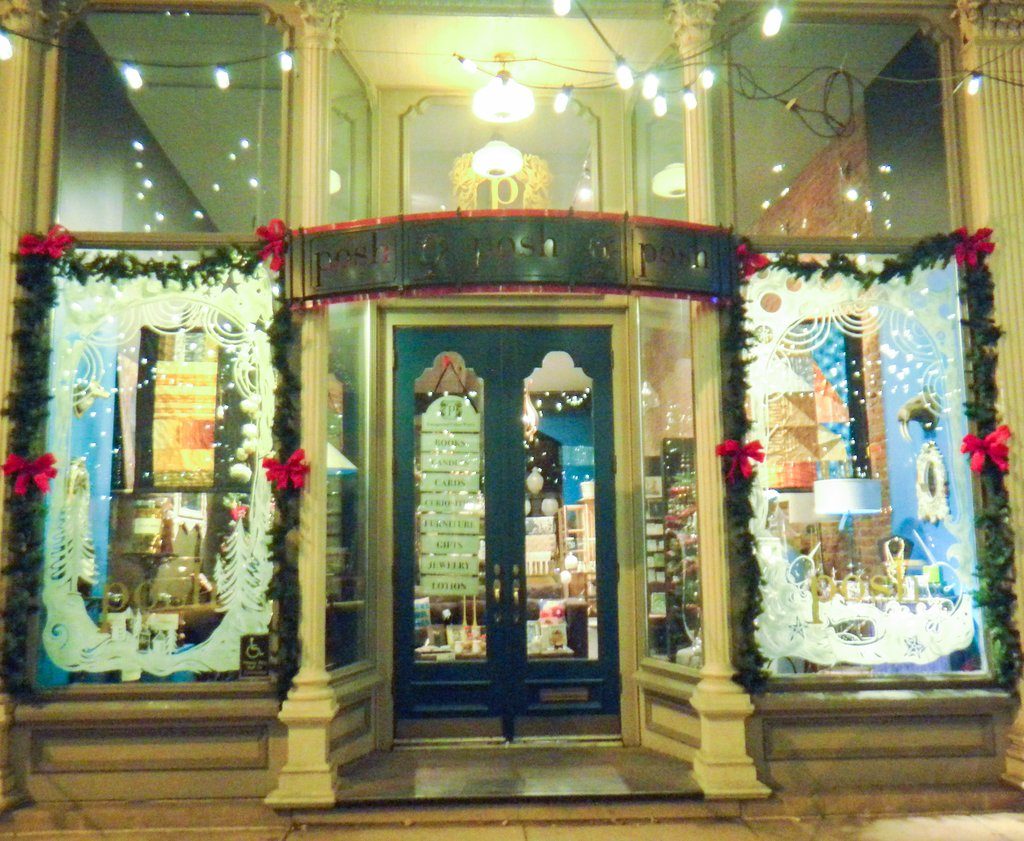 For the fanatical – albeit, sometimes only window – shoppers of us, the holidays conjure up dreamy, drool-worthy scenes of Manhattan's finest department store windows – Bergdorf's, Barneys, Bloomingdale's, and of course, the all-time classic, Macy's.
Well, no need to voyage to the Big Apple to take in the sights, Denver harbors an array of enchanting holiday windows of its own.
I scoured the Denver area far and wide and uncovered some of the best and brightest store windows of our city's very own for your holiday delight.
From an antique European piano to romance novels to a rack of deer antlers – the town's festive window exhibits feature store baubles with the trappings of the season.
Whether you are out for an evening stroll with your sweetheart painting the town or maniacally going about your last minute holiday shopping, take a moment to pause and dote on the sights of Denver's best seasonal shop displays.
1. BLUE RUBY BOUTIQUE
LOCATION: Larimer Square
Show stopping – that is the word that comes to mind for Blue Ruby Boutique's display. An objet d'art, the window captures pure elegance with a touch of mystery.
Like a scene from a film, the passer-by ponders the story behind the white, hand-beaded Terani gown adorned with ostrich feathers laid gracefully atop a chair back.
The piano the vignette sits on has a story of its own. The white, antique piano is owner Julie Watson's family heirloom from Europe.
While Blue Ruby's other windows offer up a more rugged feel (there is a motorcycle featured in one), the window pictured shows another side to the contemporary women's boutique.
2. STARLET
LOCATION: Historic Highlands
In the spirit of DIY, visual designer and social media maven Lauren Cales designed a window intended not only to please the eye, but to spur "modern starlet" patrons on to hand making their own holiday décor.
Cales visualized a "whimsical, romantic, wintry landscape" for the "Fashionable and stylishly sweet" clothier's windows.
Crepe paper twists in hues of pink, a handmade advent calendar and a romance novel used as a jewelry stand make up Cales' artsy masterpiece. Dainty, miniature chandeliers frame the window for a finishing touch.
"We always want our customers to be inspired by our window displays," Cales said.
3. JONATHAN ADLER
LOCATION: Cherry Creek North
Remember making paper link chains in elementary school? Well, after walking past Jonathan Adler's striking holiday windows, I have a newfound appreciation for them.
Jen Bogart, store leader for Jonathan Adler, and her team, spent at least seven days hand stapling each individual paper link that graces their tall windows.
The windows are a mélange of lights, gift boxes, bows and feet of paper chains.
As Bogart said, the windows incorporate "our glitziest things," centered around the store's theme for the season: "STYLE. CRAFT. JOY."
4. CRY

BABY RANCH
LOCATION: Larimer Square
Channeling "the essence of Georgia O'Keeffe" – that is how Cry Baby Ranch storeowner Roxanne Thurman describes her 2012 displays.
Cry Baby Ranch's windows showcase the shop's Western duds for modern cowgirls and cowboys alike.
"Simplistic, sophisticated and western," Thurman described.
Along with the boots, fringed handbags and cow print accessories there is a windowpane of white painted doves, garland and, of course, a set of sizeable antlers.
Have a merry, cowboy holiday!
5. THE PERFECT PETAL
LOCATION: Historic Highlands
The Perfect Petal, a florist and emporium of paper goods, gifts, garden wares and home entertaining goods, touts a perfect holiday display with two vignettes.
The themes of hot and cold meet in this wintry, yet warm display: red meets white, wooden furnishings meet metal lanterns and a minuscule potted plant meets snow-covered tree branches.
But, the cozy scene is not just easy on the eyes; a sign featured in the display gives a reminder for bustling shoppers that reads:
"This bright, new day … complete with 24 hours of opportunities, choices and attitudes. A perfectly matched set of 1,440 minutes. This unique gift, this one day, cannot be exchanged, replaced or refunded. Handle with care. Make the most of it. There is only one to a customer."
6. BLOOM
LOCATION: Cherry Creek North
Bloom, a posh floral and décor boutique, took their holiday displays from the indoors out.
Feathers were the material of the hour inside, while sidewalk topiaries and twinkle lights bedecked the facade.
"It's always a combination of everything that we do – the home accents, the furniture, the plants, the flowers – it's all of that combined," Chuck Graham, Bloom's designer, said.
7. POSH
LOCATION: Larimer Square
Sister store to The Perfect Petal, Posh, a fanciful gift shop for men and women, presents a collection of 2012 windows that are as wonderfully unpredictable as its wares.
Apothecary-like jars with labels like "crimson oxide," "raw sienna" and "burnt amber" hint at the holidays without going merrily overboard. Painted window art of evergreen trees, a sleepy little town and bow-bedecked garland add a traditional flair.
On the opposing window, the painted sea life art of whales and starfish mimics the playful feeling the store's thoughtful gifts and décor – of vintage furniture, handcrafted jewelry and boutique candles – give.
From curbside, or, up close, Posh's charming windows are worth a second look.
8. ECCENTRICITY
LOCATION: Cherry Creek North
A year in the making, Eccentricity shop owner Gayle Larrance plans for her holiday windows in advance.
The giant, lit Mad Hatter-esque hats were first to catch my eye, not to mention the original garland and glittering poinsettias.
Spotlighting outfits and featuring as much crimson as possible, Larrance hones in on color, a fun vibe and, as she said, "Holiday, holiday, holiday!"
Seen a noteworthy store window around town? Comment below!