When you are as passionate about art as I am, there is always the prospect of viewing promising art shows, whether at a gallery, museum or artist's own studio.  So when given the opportunity to preview a collection, I jumped on it. Artpace of San Antonio, Texas and
The Dikeou Collection
here in Denver give art lovers and the curious art enthusiast an opportunity to be cleverly inspired.
Not everyone is drawn to artistic adventures like I am. It has been said, and most likely by me, that if you do not know an artist or gallery owner or are only slightly interested in the arts, you may never venture out to explore this field. But if there is a show that can inspire, intrigue and ignite the imagination, then the "Swap Meet" is it.
Mary Heathcott of Artpace and Devon Diekou of The Dikeou Collection lure you in off the street with artistic lobby "eye candy" by Misaki Kawai. Take the elevator on up to the 5th floor where offices have been turned into an innovative and whimsical curated tour of artists from both galleries.
The first collection you are delightfully greeted by is by Lordy Rodriguez. Rodriguez is best known for large scaled drawings. It is his belief that in order to stay in tune or in shape he must practice his visual language wholeheartedly. Rodriguez's work is an enthusiastic exploration into color, depth and fluidity. Any one of his pieces could be multiplied and turned into wallpaper or gift-wrap.
Then, float your eyes to the center wall, to the first piece that Devon Dikeou purchased for the Dikeou Collection by Brazilian artist, Vik Muniz. The work was first in a series Muinz called "After Warhol" in which he was inspired by Andy Warhol's adaptations of Leonardo Di Vinci's piece "The Last Supper". Muniz created his own version by painting or drizzling chocolate onto a white canvas and then photographing it.
Remember the days of carving your name into a bench, picnic table or tree? Yes, no? Either way, while those days are long gone, the mark and the names etched are forever lasting. Artist Katie Pell created new works around such carvings called "The Woods."  Pell rubbed the trees with paper and then transferred those rubbings of the woods into a quilted canvas that too will forever hold the names and words.
Each room or gallery takes you on an expressive waltz of creativity unmatched by any other collection I have encountered. From a life size styrofoam airline chair to animated dancing figures in a real Tejano Bar setting, this "Swap Meet" of artists' creations will have you returning for another round.
The Dikeou Collection is located Downtown Denver in The Colorado Building, 1615 California Street at 16th Street, Suite 515, Denver CO 80202. Hours are Wednesday through Friday 11 a.m.-5 p.m. or by appointment. For appointments or other inquires, please call 303.623.3001 or email [email protected]. Visit dikeoucollection.org and artpace.org to learn more about them.  The show runs through January 2013.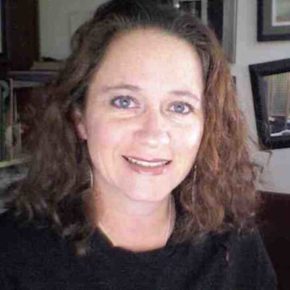 Wendy L. Pitton R. is a culture writer for 303 Magazine and the owner or WENDO Productions.  WENDO Productions is an artistic production and artist representative company. WENDOProductions.com