In Vail, Fall is the new Winter. Okay, not really, but Vail in the Fall is an entirely different animal.  You can go for the spas and resorts, or for a good hike, or just to see the leaves change. But you should really go for all amazing food. Gone are the days of having to suck down microwaved ramen cups like a ski bum. Vail has a growing restaurant scene that's getting serious about good food, and Fall is a great time to see what the scene is all about — cheaply. Come Winter, Vail will be flooded with hungry skiers, but right now demand is down and so are the prices. A few chefs from Vail were kind enough to come down and host a dinner for those of us stuck in Denver.
Matsuhisa started the night out with some amazing appetizers, like their mousse of foie gras with miso. They also served tartare with a quail egg on top, but the best thing I tried from Matsuhisa has to be their sake. Until I tried Hokusetsu Sake (from
Sado Island, Japan), I had never had a sake I really liked. This stuff is amazing, clear, refreshing and alcoholic, with none of that medicinal aftertaste. I could drink a lot of this and not even notice. Other people might start to notice the sake dribbling down my chin as I drink from the wrong part of the little wooden box, but only the "not in my mouth" part of that would bother me.
For an entree, the chefs at Larkspur Restaurant decided to elevate the pierogie to gourmet status and they did a great job.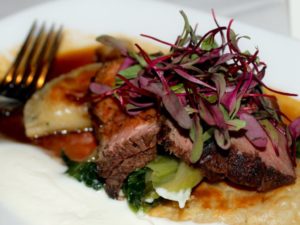 For some reason the pierogie hasn't gotten nearly as much love as other pocket shaped foods (lobster ravioli, crab wontons… hot pockets) but there's no reason the pierogie shouldn't get a makeover. They served these tender pierogies with fresh forest mushrooms, topped with juicy steak. The chefs at Larkspur are great at what they do, and seeing them get to experiment with dishes like this only makes me want to visit Vail in the Fall even more. Of course the chefs will be in fine form for the busy Winter season, but now is when they get to play.
For some reason the pierogie hasn't gotten nearly as much love as other pocket shaped foods…
A couple chefs from Sweet Basil came down just to make us a little dessert. Another playful dish, the crispy bit of olive bread on the top really made the chocolate mousse and torte under it pop. I'm also a huge fan of meringue, so they had me from the start.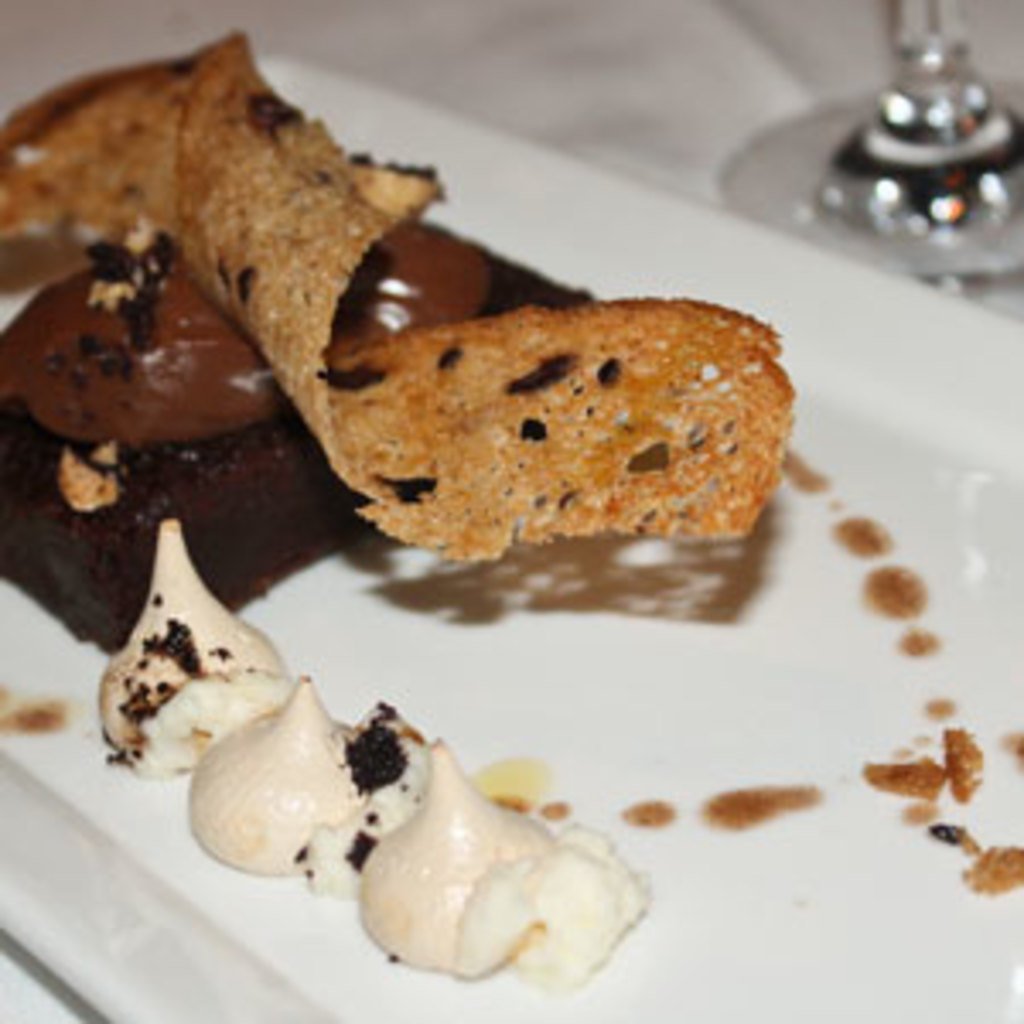 Take a trip down to Vail and try some of these amazing restaurants. Also going on now (in their words):
"Family Week", October 11–17, offers a classic family vacation remixed for today, focusing on activities for all ages, including sports, family dining, movie screenings, and "Little Foodies in the Kitchen" cooking classes and parties for kids.  Kids learn from Vail's top chefs how to cook and entertain for their friends and family, while gaining tips and education about nutrition, healthy eating habits and natural and organic ingredients.
"LoveFest Week", October 8-14, serves up romantic activities for couples including wine and bubbly tastings, unforgettable romantic dinners, couples spa experiences, and all-inclusive romantic getaway packages at Vail's acclaimed hotels and resorts.
50% off all entrees at Atwater on Gore Creek! Oct 1 through Nov 15.
$30 resort credit and 30% off nightly rate at Vail Cascade Resort now through end of the year, for their 30th Anniversary Promotion. Rates start at $129.