August 24 through the 26th marked the seventh annual Denver Modernism Show and it was a doozy. There was a retro fashion show, the annual Miss Modernism show, a vintage car show, a group presentation by the daughters of iconic mid-century modern furniture designers Saarinen, Bertoia and Eames, home tours of mid-century modern houses in Denver's own Harvey Park, over a hundred vendors of mid-century modern and mid mod inspired items and so much more.
As a vintage dealer, I have long heard from friends and customers that the Denver Modernism Show would be a great fit for me as a dealer, but I have to be honest– I was hesitant to get involved. In the past, I have worked overtime prepping for and setting up at events only to frequently have the event be so poorly organized or sparsely attended that it was not ultimately worth my time. Not so the Modernism Show. Dana Cain, the creator and organizer of the show, was an absolute breeze to work with and ran an incredibly organized and tight ship. Everything happened on schedule and as expected from load in Thursday night til load out Sunday afternoon. From my perspective as a seller and consumer, the whole event went off without a hitch and if there were any hitches, they did a great job of fixing them quickly and not letting them turn into some kind of distracting drama.
Thursday
As vendors, Thursday night was our first opportunity to get into the National Western Complex Expo Hall and start setting up and personalizing our booths. I had to roll in close to the 8 pm load-in deadline because my husband works late. While we were warned upon entry that we were running late and would need to be ready to leave by 8, no one treated us as though we were in any way being an inconvenience, even though we were pushing it.  As we marched back and forth emptying the truck, our neighbors and fellow dealers were consistently polite and friendly. This was a trend that I sincerely appreciated and that would continue throughout the weekend– although many vendors had "competing" collections of furniture, glass, housewares, clothes and collectibles, I never got the sense that anyone was ready to battle it out against their peers for every last dollar. Rather, it was clear to me that while we were all there to showcase our businesses and hopefully make some great sales, we were also all thrilled to share space with so many people who are passionate about the same era.  Each vendor's passion was reflected in a stunning array of mid-century and mid-century inspired goods– there was incredible furniture, art, glassware, collectibles, jewelry, and so much more.  The bulk of it was priced to sell and ready to use.  I was absolutely floored by the exquisite variety of beautiful items and impressed by the breadth of knowledge exhibited by many of the dealers.
Friday
Friday evening at 4 pm was the VIP party and the Expo Hall started filling up right away. Passionate collectors and looky-loos streamed through the Hall, dressed to kill and ready to put a serious dent in their checking accounts. As the evening passed, I came to realize that while the schedule was packed with fun and fascinating events I would have loved to see,  I would need at least one extra set of hands helping in the booth in order to be able to really enjoy the events. Next year, I hope to have another spot in the front room, but I'll be sure to have one or two friends who can help out so that I can make sure that I am able to catch at least some of the events that interest me. If you plan to attend next year and want to have a booth, I highly recommend bringing along people who can man your booth when you step away. Even if you plan to attend the show but don't intend to be a seller, you should take the schedule of events into consideration and plan your visit accordingly. I only caught glimpses here and there of all the exciting goings on but I heard rave reviews of many of the events.
The Goods
I was hesitant to walk away from my collection and leave it (feeling) exposed overnight, but as I mentioned, Dana runs a tight ship and the hall cleared out right on schedule each night. There was no perceived risk of anyone who was not part of the event wandering around and messing with precious goods while their owners were away. Many vendors felt comfortable simply covering their items lightly or trusting security to do its job and from what I saw and heard, they did just that. I did not hear a single complaint and did not notice any issues with items being damaged or going missing. It was refreshing to know that this event was so well run that we could sleep well at night knowing our collections were protected.
There were vendors on hand selling food, courtesy of the National Western Complex, but it was very pricey and did not include the healthiest choices– unless a $7 foot long hot dog is your idea of ideal cuisine.  If you plan to come and browse, I think it would be worth it to pack plenty of water and some easily portable snacks so that you don't end up feeling ravenous and having to leave before you have a chance to get your money's worth in terms of shopping and events.   If you are going to set up a booth at the event, I highly recommend bringing a cooler stocked with your own healthy and tasty snacks and plenty of water. Snacks that are protein rich and healthy should sustain you until you the end of the day. It's definitely worth it to pack your own yummy choices rather than succumb to hunger halfway through the day and end up eating something greasy and rich that crashes your energy and hurts your belly.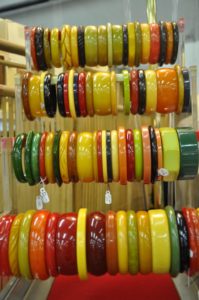 The Weekend
Saturday and Sunday flew by as vintage lovers — many of them dressed head to toe in mid-century modern or mid century inspired garb — swarmed in and out of the hall. The rockabillies, vintage vixens and tiki lovers clearly reveled in the opportunity to be amongst so many other vintage lovers and as a dealer and a lover of all things vintage. It was such a treat to see so many beautiful women and handsome gentlemen turned out so completely in gorgeous dresses and suits with accessories to match. I noticed early on that buyers would sometimes enter my booth two or three times without purchasing anything, simply doing the rounds as they passed through the Hall. I did my best to offer excellent service each time an attendee would pass through and soon found that many of them came back and purchased items after they'd gone through all the booths and seen what was available. That's the beauty of the fact that the event lasts for three days– even though there is so much to see, you have the luxury of taking your time while shopping and don't feel that if you don't grab something right away, you won't find anything you like later. There certainly was no shortage of absolutely exquisite pieces and it was a lovely reminder of why I choose to do what I do when I saw the light in the vendors and buyers eyes as they were able to immerse themselves so completely in all things mid-century modern.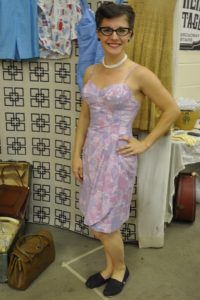 Sunday came quickly and I must admit that as the event began to wind down, my sentimentality kicked right in. I felt so at home in the space and so thrilled to be surrounded by such gorgeous items and so many fellow lovers of said items that I felt quite a tinge of sadness as the time came to start thinking about packing up. Reflecting over my experience at the show, I was happy that I did not allow my past experiences with setting up at events stop me from giving the Denver Modernism Show a chance. Thanks to the efforts of Dana Cain and her team, the enthusiasm and incredible eyes of my fellow vendors, and the contagious excitement of the events attendees, I had an unforgettable time at an incredible event and I am already looking forward to my next booth at the Denver Modernism Show.
If you are interested in selling at or attending the Denver Modernism Show next year, keep an eye on the website at denvermodernism.com or contact Dana Cain at [email protected].
There are many more pictures from the Denver Modernism Show that will be posted on the Wishlist Vintage Facebook page.  If you like what you see or you recognize your booth or items, please feel free to comment!