Central.

The perfect name for a restaurant located right in the core of the flourishing, bustling and compelling Lower Highlands area of Denver. The location of the new Central Bistro and Bar not only puts it at the heart of the LoHi neighborhood, but also gives the advantage of having one of the greatest views of the Denver skyline. Creator and owner, Isiah Salazar, is a third generation Denverite who saw a need for more upscale restaurants that served good old USA cuisine. Central was created with the idea to bring back and expand on the American classics we are all so familiar with. The Modern Americana restaurant matures our country's traditional cuisine, adding elements that make our childhood favorites all grown up.
Keeping with the Bistro flair, Central offers different options of fresh bread made daily that is flaunted from table to table so patrons can pick which kind they would prefer, along with how much they may want. Cornbread, sourdough and a White Cheddar and Gruyère were the choices when I stopped by for dinner, and I found the premise of allowing guests to choose from an assortment of made-by-scratch bread distinctive and original. To accompany the bread, Central's talented Head Chef, Lance Barto, whipped up an Onion Cappuccino that was like drinking a mini cup of French Onion soup.
From that point, I was hooked.
Despite being a little overpriced and perhaps lacking in options, Central's menu is comfort food at its most contemporary. Their Raw Vegetable Salad,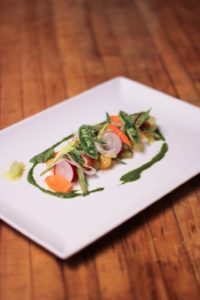 made up of radish, tomato, beans and cucumber, has a crisp, tangy, refreshing taste and every vegetable in the salad, excluding the beans, were grown right here in Colorado. What would an All-American upscale bistro be without a macaroni and cheese for adults? The Dungeness Crab Mac n' Cheese will satisfy any sophisticated palate, and makes for the perfect shareable appetizer. I wish I could say the same for the Corn and IA Bacon Risotto, but, unfortunately, you are going to want to have that all to yourself. Loaded with hunks of Wisconsin cheese and pieces of savory bacon, this creamy risotto is instantly addictive and one of the main reasons I am most definitely going back to Central Bistro and Bar.
The entrees on the menu are broken up into "From the Sea," and "From the Land," choices, with my favorite being the Flatiron Steak, served on top of a leek-potato purée, drizzled with Veal Jus and served with a side of onion rings. Finally, nothing is as American as apple pie, so for dessert try Central's, "Apple Pie," put in quotations because it is a deconstructed take on the usual treat. Phyllo dough, Granny Smith apples, and pie crust ice cream blend together to modernize a favored American indulgence.
That all being said, the best element of Central is its ambiance. Quaint and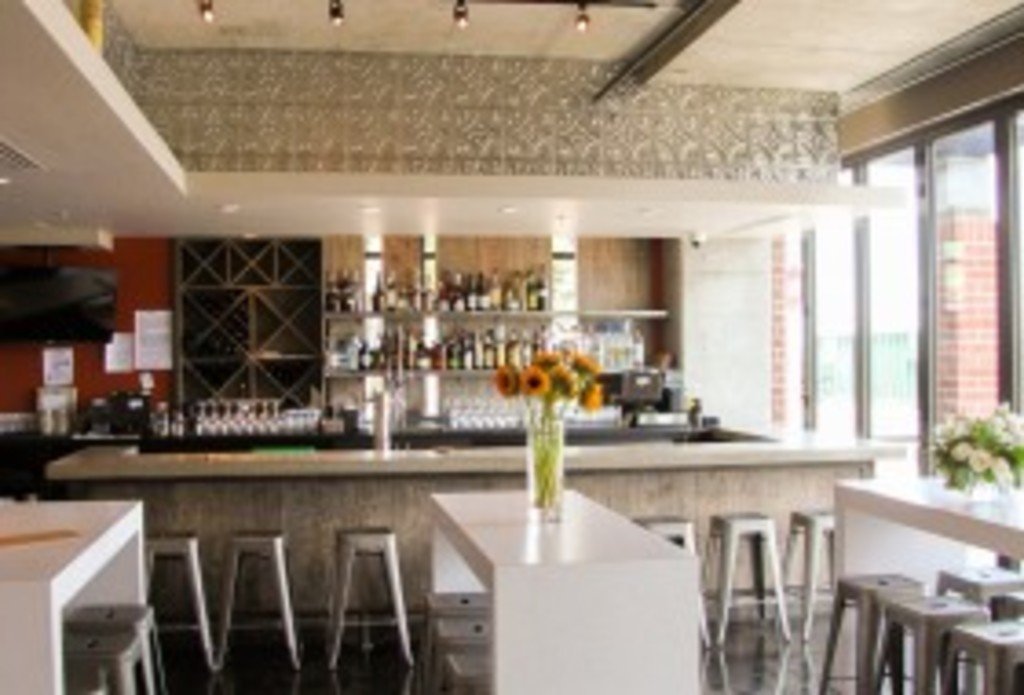 classy, Central seems to take its theme from "old town"America and mix it with vintage sophistication. Made with recycled materials, it posses a fresh atmosphere that is perfect for an after work get-together or a girls night out. The Highlands newest addition to its ever-growing neighborhood proves to be a must see. Central Bistro and Bar has the food, décor and location to impress and keep people coming back. This restaurant will soon become one of the LoHi's most popular destinations, where patrons can unwind and take pleasure in the new All-American classics.