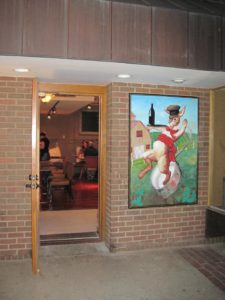 Boulder may have an epidemic on its hands. And ravenous residents are running toward it, arms open, mouths agape. This trend has seen chef-driven restaurants from the likes of Frasca, The Kitchen and Arugula buying up adjacent real estate for offshoot concepts that tend to uphold reputation and quality without the big bill. Bramble & Hare is now among the ranks of Boulder's deal next door spots, a smart model and one to follow, according to Chef and Owner, Eric Skokan, who says that it only plays into a chef's success. "When a space opens up next to where you are, it gives you the opportunity to open another restaurant, but to have it under control," he explains. Eliminating some of that entrepreneurial fear factor, "it allows you to be as creative as you want to with the next space without having any of the downside," he goes on.
In a twist on traditional storybook fates, hare chases cat…Black Cat, that is—Skokan's first restaurant that's now being followed through the farm and onto the table by his second, Bramble & Hare. A farmhouse kitchen and pub, the hare didn't have to go far in its pursuit, staking claim right next door to Black Cat's prime right-off-Pearl Street real estate.
Just open for business, the latest installment in Boulder's illustrious cuisine scene has the quaint character and charm of a spot that's been luring local foodies for some time. Right after calling dibs on an along-the-wall seat—each with its own plump, cream-colored cushion that's as comfy as it looks—detail-oriented diners will appreciate the strategically sawed-in-half tables spread around the intimate eating area.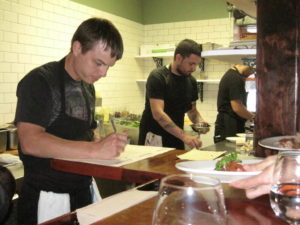 Skokan plans to split his time amid adjacent restaurants by "running back and forth between kitchens," he jokes, modestly attributing his ability to open a second location to the killer staff he's hung onto. "Each one of these guys could run their own restaurant, and they're all working side-by-side in this small kitchen!" Small is an understatement. The entire kitchen's parameters are contained between the wall—where walk-up window lunches will soon be served—and the bar, the tender of which appears to have just as much room. This equates to roughly the space allotted to workers within one of those oh-so-trendy food trucks, or so it would appear, with sous chef Josh Monopoli hard at work back there with two others. Skokan seems proud of his diminutive kitchen, and he should be, as it makes the full-sized flavors cranking out of it all the more impressive.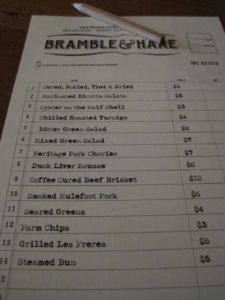 A chalkboard on the wall denotes that day's prix fixe. During our visit, the daily meal was roasted carrot and whey soup; slow-cooked pork shoulder with brown rice and roasted turnips; and a tough call between a sour cherry tart or the chocolate pudding for dessert—all of which looked delicious being brought out around us. But, if you're anything like me and won't be forced to fix, you may instead opt to select from a sushi-style menu. These lighter bites manage to combine fanciful and humble on every plate and are as fun to eat as they are to order.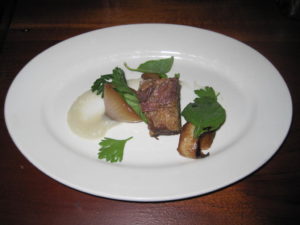 First out was the oyster, which I got traditional style by suggestion, taking me straight to the ocean as I slurped the half-shell's savory contents. The farm-to-table freshness is instantly apparent in the mixed green salad, with a crisp that packaged greens can't fake. Don't even think of taking one bite of the coffee cured beef brisket if you're planning on trying to resist another. This mouth-watering morsel is succulent enough to break the will of even those of us trying to be good about meat in moderation, as many Boulderites are so inclined.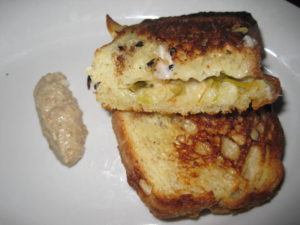 Good as that was, if you order only one item, make it the grilled les freres. Bramble & Hare's take on a grilled cheese starts with creamy Les Freres cheese from Wisconsin melted together with leeks and prosciutto (which my stronger-willed, mostly vegetarian partner in dine chose to leave off). Delivered perfectly from plate to mouth by way of warm, crusty bread, each bite took a detour into a glob of homemade mustard, eliciting an audible and hard-to-come-by "Mmmmmm!" out of my companion. This dish was also the talk of tables nearby and will no doubt be a hit with lasting power for this evolving menu—especially paired with a porter when Bramble & Hare transitions into a late-night locale worth losing your spot in the cab line for.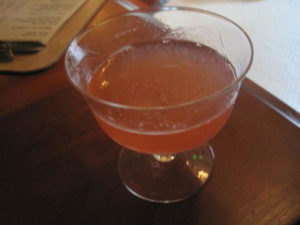 An adventurous and inventive drink menu features fun from-farm selections that mix in some sweet pea here and a little beet there. Consisting of bourbon, orange liquor, strawberry and black pepper, the Southern Gentleman was a charmer, getting my evening started right while remaining chivalrous without being overly sweet. The beer guy/gal won't go thirsty, with a crafty selection of reasonably priced bottles, a few bombers and plenty of "big" beers to sip. On the wine side, a connoisseur, I am not. But I do love it in every color and believe that someone who is an authority would call this a good selection of bottles and glasses. Sticking to the familiar, the Black Cat Meritage from Colorado's own Bookcliff winery did not disappoint.
If the success of Frasca's Pizzeria Locale and Caffè; The Kitchen's Next Door and Upstairs; and Arugula's Tangerine and Amaro are any indicator, Bramble & Hare will continue to bustle at capacity with more business than it knows what to do with. Not a bad problem to have considering there's a whole other restaurant that can similarly suit your palate nearby.