As adults, most of us don't play enough. I'm talking about the type of creative play that we did as kids, like putting together puzzles, making sidewalk chalk neighborhoods or creating plays for our friends to watch. Maybe it's because of my do-it-yourself Montessori upbringing that I love interactive art. It's a form of play for adults, a way to learn through doing. Its intent is to evoke a response and feeling to the art. This is the type of art that Rick Silva, new media artist and Colorado native, creates.
Since he can remember, Silva was always working creatively with technology. As a kid, he used MacPaint. He then started using cameras and DJ equipment in his teens and eventually rediscovered computers so he could make electronic music. He was a tech guru before he was even considered an artist.
Silva's work is now on display at the Boulder Museum of Contemporary Art's Visual Rhythm exhibit. Artists with strong connections to Colorado are highlighted, with special acknowledgment of the work of Stan Brakhage, who is widely recognized as a pioneer in experimental film. Brakhage spent most of his life in Colorado and taught at the University of Colorado Boulder. Silva studied under him and was strongly influenced by his work. According to Silva, Brakhage taught him how to look at film as visual poetry instead of a long narrative. This concept is evident in Silva's work as it appeals to the sense of seeing as an experience instead of just conveying meaning.
Brakhage is most famous for painting directly onto celluloid film strips, a type of  photographic film on which filmmaking was shot and reproduced. This method is exhibited in his work titled Persian 1-5 on view at BMoCA. In this piece, images are continuously projected onto a wall. Splashes of color come at you rapidly, evoking an energizing and trippy, almost psychedelic feeling.
Nature and landscape are prominent subjects in Silva's work as show in his piece La Région Decentralized currently on view. The video is a remix of Michael Snow's 1971 experimental film La Région Centrale. Recorded in the Canadian mountains over a period of 24 hours, Snow installed a camera on a robotic arm that had been programmed to move in a non-repeating pattern. As an homage to Snow, Silva took this abstract landscape notion and remixed it by adding his own take on the piece and creating something completely different while still leaving traces of the original work. In Silva's version he modernizes the piece by adding 3-D, resulting in a never-ending, self-playing videogame. While watching the film, you feel as if you're actually in the game, infinite in space in and time, perhaps flying in a plane that is out of control. Both cosmic and dizzying, it is worth a look.
Although his work uses the latest technology, Silva still feels that it is best viewed the old fashioned way (by visiting the museum) versus simply watching it on online. According to the artist, what's great about the viewing experience is moving through the space and experiencing it. He explains, "There's an interactivity at play there that you don't get clicking through YouTube videos." Silva describes one highlight of the opening of the exhibit was seeing a kid spinning in circles while checking out his work. And that's exactly what I wanted to do.
Visual Rhythm is on view at the Boulder Museum of Contemporary Art until September 9th.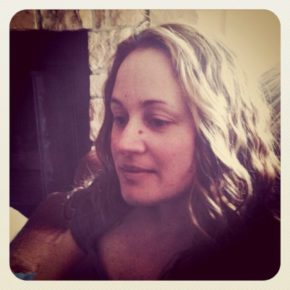 Megan Golliday is a multimedia journalist and writer for 303 Magazine.