It's wedding season and eco-chic is on the rise. More and more brides are wearing white while going green.
According to studies done through The Green Bride, an eco-friendly bridal salon in Littleton, the average dress uses 7 to 10 tons of carbon, which equals 1.8 acres of pine forest. There's a way to get a great gown, while also helping the environment.
Denver has a lot of easy, local options for the eco-conscious bride. Many boutiques like The Green
Bride carry gently used gowns. Dee Dee and Holly Marsh started this mother-daughter shop in Cherry Creek and recently moved it to the Littleton area. They carry 700 to 1,000 dresses starting at $50. All of the dresses are resale – some are brand new with tags, while others are pre-owned, samples, or overstock.
"A lot of the brides that come in are eco-friendly and not just looking for a great deal," says Dee Dee Marsh. "We really wanted to have a store would make an impact on the environment, but would also be affordable."
Other resale options in the area include Eco-Bridal Gowns, Altar Bridal Consignment Boutique and Celine's Designer Resale Boutique.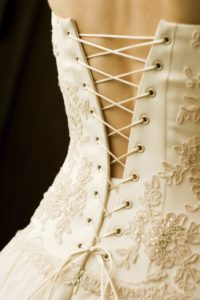 Another way to keep your gown eco-friendly is to buy one made out of sustainable material like the dresses sold at The Little White Dress Shop and Anna Be.
The Little White Dress Shop owned and run by Cate Malone sells gowns made from Windsor silk, cotton, and Dupioni silk, which are all organic. Their gowns are priced from $1,300 to $7,200.
You can cover your something old whether your dress is resale or made with renewable materials, and your special day can be more eco-friendly than you thought. You can also get more tips for greening your wedding at GreenBrideGuide.com.