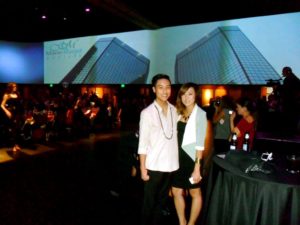 Regardless of language, national heritage or culture, there are certain things that transcend all borders and are unanimously understood by all: the draw of food, the lure of sex and the hatred for arithmetic, to name a few. And aside from one or two nude beaches in Brazil or west San Fran, one such universal art form is fashion and the joy of using dress to express oneself.
The World Trade Center Denver honored this binding thread and kicked off World Trade Week with a premier fashion runway showcasing modern designs from designers all across the globe's style spectrum. Among legendary designer Yumi Katsura of Japan and other designers hailing from Jamaica, Mexico, Ghana and Iceland, Colorado's own Maggie Burns of Marie-Margot Bridal Couture represented local talent with a stunning line of artistic, whimsical and highly detailed bridal designs. Ferociously chomping away at sweet inarizushi, I noted a palpable excitement pulsating throughout the room, growing with each designer's original presentation of garments. As models walked through the unconventional runway, clad in aesthetics from all across the globe, I couldn't help but feel pride that such a gloriously diverse event was being held right here in the 303. The successful, PWC-sponsored gala, held at Infinity Park Event Center, further proves that Colorado is clearly on the right track to slowly but surely becoming a regional fashion capital.
Proceeds from the event and silent auction went to benefit the Young Americans Center for Financial Education, a local non-profit program aiming to teach the essentials of international trade, foreign exchange and cross-cultural success to our community's middle-school students.
Click HERE for a gallery of photos from the event.