Wedding planning and organizing is a pain in the arse, but Bebe just made it easier. Yup, Bebe just launched a bridal collection. Unfortunately for me, I'm already married (sorry, Honey) so it won't do me much good. But for all you freshly engaged love birds out there (and wedding party members, for that matter), this is huge news.
First of all, I'm loving the way the website is organized.
What do you need? A bridal gown? Bridal essentials (think veil, jewelry, shoes)? Bridesmaid dress? Do you have a bridal event, like a bachelorette party, coming up? No worries. Bebe's website clearly categories everything so you just have to click and scroll the merchandise.
And with all the stress involved in planning a wedding, it's nice to have someone else coordinate things for you.
The bridal gowns, designed by Rami Kashou, are stunning. Just check out his original sketches. I'm drooling over the back of the lace ¾ princess sleeve wonder. (Totally Duchess Kate inspired, but I'm not complaining.) The simplicity of the drape top lace mermaid marvel makes me question my own wedding dress choice. (Did you see the train? And the way the dress hugs the booty? Are you drooling? No? Just me? Ok then.) And if you're all about the drama, look no further than the off-shoulder tulip trumpet design. The eyes of the congregation will never leave you. I promise.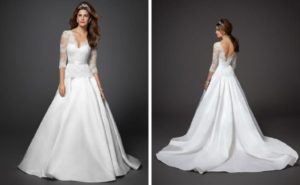 Worried about where to find bridesmaid dresses that won't make your best friends hate you? Bebe's got some hot little numbers. Whether you want your girls looking sexy in tight-fitting bandage dresses, romantic in flowy chiffon or on-trend in color-blocked patterns, you're sure to find something. And don't forget to get yourself something sexy for your last night of freedom. And bridesmaids, Bebe also has adorable bridal velour.
We're just sayin'.