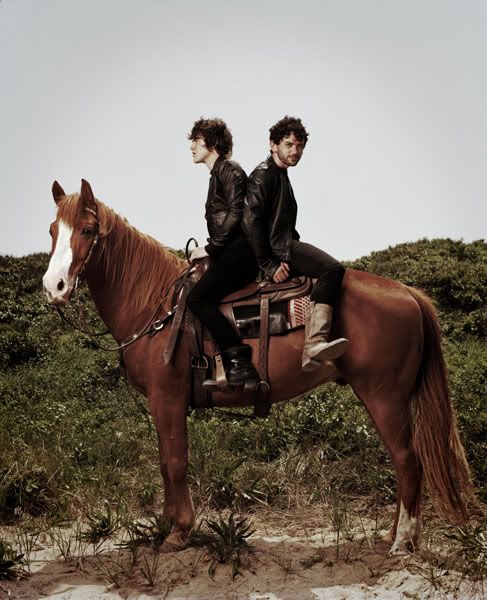 Alex Khadiwala deserves credit for first turning me on to MGMT. These days, Khadiwala is one of Beta's Noise Friday resident DJs. At the time, though, he played "Poptronica" on Beta's patio for the Beatport Pool Parties. One of his very first Poptronica mix CDs featured the MGMT track "Electric Feel." I won't pretend that I was immediately blown away, but the tune definitely grew on me over time. Apparently, I wasn't alone. Beta Entertainment Director Ms. Easy and I heard it months later at a Colfax cupcake place called The Shoppe. If what's left of my memory serves me correctly, Easy employed the iPhone app Shazam–for the first time in my presence–to ID the tune. Reason for the popularity of Apple's device eluded me no longer.
MGMT popped up again when L.A. friends of ours were in town. Rowe Morehouse put out a joint effort with one of my producers PJ Stroller some years back, and Amanda Walk is the Promotion Director for Columbia Records. Amanda was assigned with the ginormous task of getting MGMT added to KTCL's uber-tight playlist. At the time, KTCL wasn't listening. That was before she practically single-handedly broke "Time to Pretend" and then "Kids" in larger markets.
MGMT was certainly no stranger to regular, even heavy rotation on now online-only Indie 101.5 FM. On-air fave Lynne Ryan would likely attest to MGMT's popularity with the station's management and staff. As a regular listener, I honestly never tired of MGMT's irresistible psychedelic electronica. Channeling the Oracular Spectacular track "Kids" on acoustic guitar is immensely enjoyable. I even penned a customized spoof of "Time to Pretend" for a singing telegram in Greeley recently.
In case you missed it last night, MGMT was nominated for a pair of Grammys: "Best Pop Vocal Performance by a Duo or Group with Vocals" and the slightly less verbose "Best New Artist." Competition for the first included Black Eyes Peas, Hall & Oates, Bon Jovi and Colorado's own Fray. Contenders in the "Best New Artist" category were The Zac Brown Band, Silversun Pickups, Keri Hilson and The Ting Tings. The Peas nabbed one handmade-in-Colorado golden calf and Zac "Brown-Noser" ended up going home with the other (to be fair, though, Brown demonstrated some serious finger-picking chops during his performance). Country music fans obviously still outnumber indie electronica ones by a large margin, but I know I'm not alone in saying I eagerly await MGMT's Spectacular follow-up.