During the weeks between Thanksgiving and New Year's, the nation is overcome by a state of indulgence — excuses are marked on the calendar for us. Among Christmas, Hanukkah, and the handful of other recognized religious holidays are things like cold weather and comfort of the indoors. All seasonal impulses seem to fuel an unexplainable, yet socially acceptable urge to eat, drink and treat yourself more than the usual — this tendency to spoil ourselves is what Miette et Chocolat has built its brand on. Chocolate maker and co-owner Gonzo Jimenez has the holiday season and the shop's second year anniversary on the horizon. Jimenez is more than prepared with a portfolio of gourmet creations of the highest quality the Mile High City has to offer. His work is sought after by the city's highest regarded luxury hotels and resorts but is also available to the public over the counter at The Stanley Marketplace.
This slideshow requires JavaScript.
Jimenez's relationship with food began at the age of 17 when he dove head-first into his first restaurant job in Argentina. Pursuing his passion led him to attend and graduate from pastry and culinary school in Buenos Aires. Determined to masterfully craft cocoa, he toured the world working alongside celebrity chefs and for five-star hotels within the Hyatt Corporation and the St. Julien Hotel in Boulder. Jimenez also acted as director of the Chocolate Academy in Chile and successfully launched and operated a personal line of confections he sold exclusively to clientele in Manhattan before making a permanent move to the Front Range.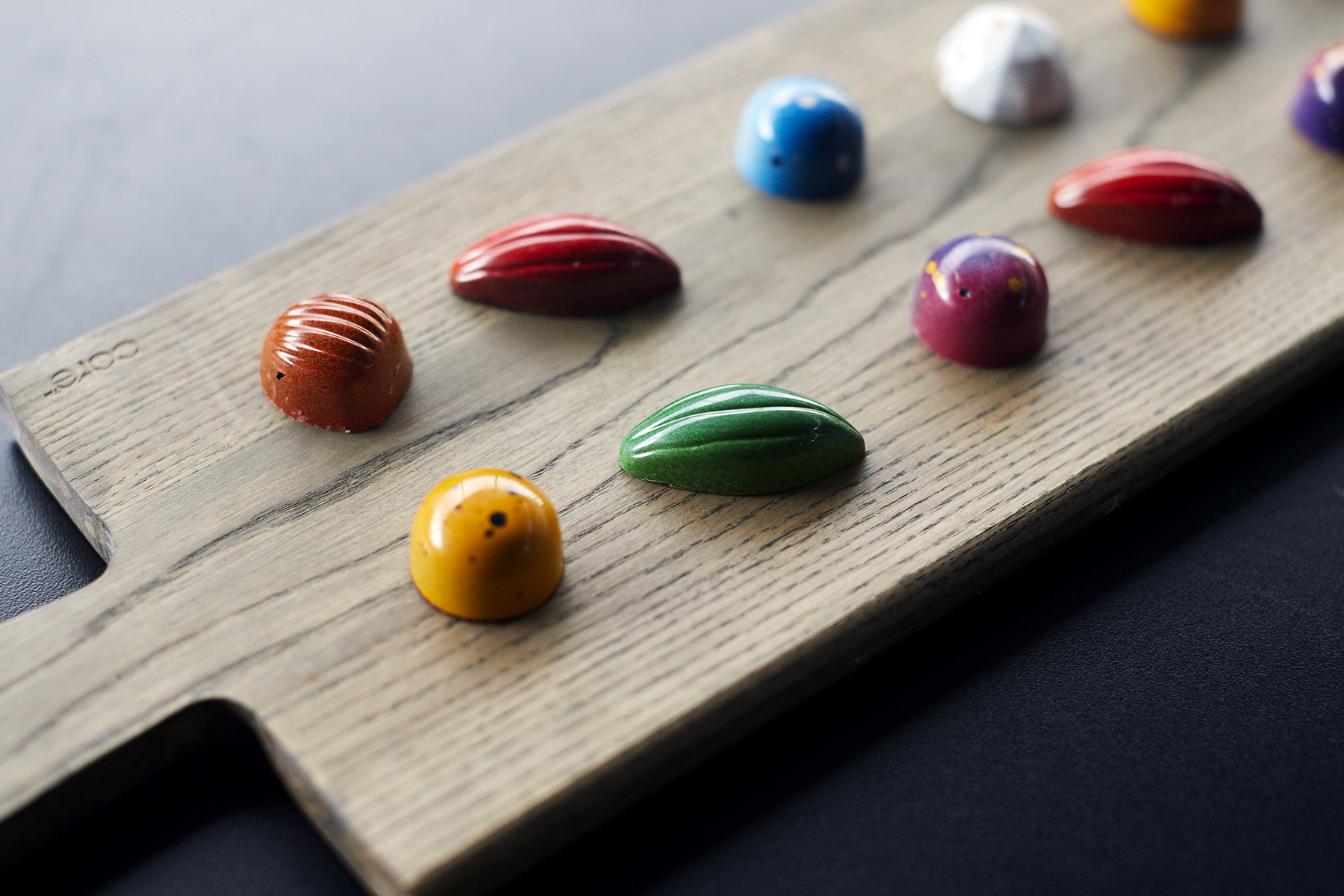 Jimenez is one of a handful of trained chocolate makers in Denver. This allows him to convert raw cocoa beans into custom blends of dark or milk chocolate. The confections on display at Miette originate from a variety of locations including Belgium, Ecuador and Dominican Republic. The blends are offered in a range of purity and can even be found blended with artisanal goat milk. An on-site, air-powered spray box enables the chefs to create vibrant multicolored truffle designs, accentuate elaborate detail and brush in realistic shading techniques that make his work fit to compete amongst the best. In fact, Jimenez and Miette's other co-owner, David Lewis, first met each other as participants in a chocolate competition in Atlanta in 2011 — an event that ultimately blossomed into a lifelong friendship and eventually formed Miette further down the road. They were a natural fit because like Jimenez, Lewis also has a background with hotels (also including an iconic Colorado staple — The Brown Palace). Lewis is an acclaimed pastry chef and chocolatier as well  —  with many competition awards under his belt. However, competition life seems to be behind them.
"Competing takes everything out of you, so I don't really think of this [chocolate] as a competition anymore… I don't feel a need to prove myself," said Jimenez
Jimenez is a classically trained chocolatier and pastry chef but when it comes to his cocoa he makes an extra effort to diverge from the predictable. In the corner display at Miette in Stanley Marketplace sits a 3-foot tall edible dinosaur egg made entirely from chocolate. The sculpture is posed mid-hatch with green arms breaking through the shell and a curious eye peeping from within. The "Gonzilla" — named after Gonzo himself — is a great example of the work he is capable of. According to Jimenez, "Gonzilla"  took him nearly 80 hours of tedious handwork to complete. Keep an eye out because the dinosaur egg will soon to be swapped out for an equally epic chocolate Christmas tree in time for the holiday season. Trophy items on display in the storefront have the "wow" factor and attention to detail that define a world-class chocolate maker. But it's the gloss-covered bonbon table that will widen your eyes.
This slideshow requires JavaScript.
When you first approach Miette, you'll immediately notice an array of vibrantly colored morsels shimmering in the display. On the first bite, they'll snap beautifully — a  trademark characteristics of a proper tempering. Try the Five–piece Bonbon Box ($15.99) — it gives guests an opportunity to comb through the spread of unusual flavors to create a custom collection tailored for that special someone. A few notable variations up for grabs include a lemon-yuzu, passion fruit and hazelnut cream gianduja.
Jimenez and Lewis have also added an interactive element to a few of their holiday-themed inventions with the intent of creating a talking point and a more memorable experience at the dinner table. The Hot Chocolate Snowman ($25) is formed from handmade hollow chocolate domes and stands around a half foot tall boxed with marshmallow snow. Each dome is filled with cocoa butter and sugar to create a gourmet hot cocoa over the stovetop. A short list of attached instructions turns the sculpted confection into an activity you can share with the family. A postcard chocolate bar ($13.99) turns an old-school picture and paper sentiment into a mail-ready edible for the pen pal or distant relative. Available in single origin Peruvian milk chocolate and a 60–percent Belgium dark chocolate — each stamped to send, hand painted in edible chocolate and packaged with room to write a few kind words to the lucky person who find this in the mailbox. The shop also offers many stocking stuffing–inspired candy bars based on some of your childhood, corner store favorites. Elevated variation of the Twix, Milky Way, Snickers and Almond Joy ($4.89) will forever skew your perspective of the Nestle product line.
Since opening, they have expanded Miette's operations to include an off-site commercial kitchen where they are able to match supply with growing demand for their high-end confections. They have jumped production from 500 bonbons a week to nearly 5,000 in two years since the launch. If you can't make it out to the Stanley Marketplace you can wait for the second location to open downtown at the Broadway Market in 2019 or you can check in at The Brown Palace, The Gaylord, St. Julian or Broadmoor hotels to find his treats at your pillow for turn-down service.
Miette et Chocolat is located at 2501 Dallas St Suite 176, Aurora and is open 11 a.m. – 5 p.m. on Monday, 10 a.m. – 8 p.m. Tuesday – Friday, 9 a.m. – 8 p.m. Saturday and 9 a.m. – 6 p.m. on Sunday 
All photography by Rebecca Grant.