This Friday, November 16, Cervantes' Other Side will host up-and-coming jam band Part & Parcel's Third Annual Corduroy Classic. The theme? Corduroy, of course — any and all articles of clothing made up of the fabric will do the trick. The bigger theme is charity. This year, profits from the evening's performance will be donated to Rip Medical Debt, whose mission is to help families settle their medical payments. Nothing makes a live show better than knowing said performances are directly helping those in need, but let's not forget about the most important aspect – the music.
Friday evening at the Other Side will boast, as Part & Parcel's mandolinist Mark Pietrovito put it, "the best musicians from all over the country," curated by his band for one incredible night of live music. The third annual Corduroy Classic really does have quite the lineup, one that includes a solid combination of heavy hitters and the hottest up-and-comers in the jam, bluegrass and string music genres. Other than host band and five-piece Part & Parcel, the 2019 Corduroy Classic will see performances from two full bands, the all-female trio The Sweet Lillies and the funk five-some Tenth Mountain Division. The evening will also include appearances from power-vocalist Emily Clark, Shawn Swain of Montana's Kitchen Dwellers, and one of the most incendiary fiddle-players in the business, Railroad Earth's Timothy Carbone. About the event, Part & Parcel guitarist Jacob Moss said —
"The Corduroy Classic is by far our favorite and most involved event on our calendar. After we pick the lineup, arranging these cover tunes and deciding who is going to play with each other is like Fantasy Football for musicians. It's unbelievably fun to pair people's strength and watch everything unfold on stage."
Host band Part & Parcel describes their sounds as "a tasteful mix of rock and folk with an upbeat bluegrass feel." As Pietrovito put it, "we were born out of the Denver bluegrass scene, embodying this rock 'n' roll movement that's emerging out of acoustic music." They've also got a debut album on the way, which means we'll be hearing more from them in the near future. They're just "five best buds" doing what they love, seeing the country and playing music with some of their heroes. The heart-warming camaraderie of the band and their Corduroy Classic exemplifies what makes Denver's live, local music scene so special.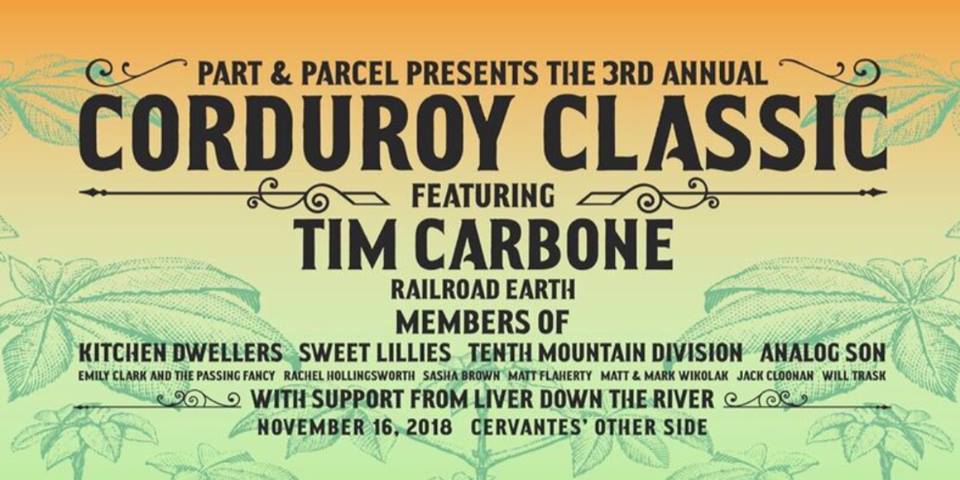 Of course, what makes the whole event that much better for the band is being in a position to give back. Moss explained, "if we can have help alleviate medical debt for folks in need while also throwing a party, that is an ideal situation." It sure sounds like a win-win, with $1 per ticket sold going towards the charity. It's estimated that for each dollar donated, Rip Medical Debt is able to forgive $100 worth of debt, essentially purchasing medical debt for pennies on the dollar. Just a little goes a really long way. For good music and a good cause, the Third Annual Corduroy Classic will be one for the books.
Tickets for the Third Annual Corduroy Classic from Part & Parcel are available here.