303 Style Profile is an ongoing series highlighting unique locals and their incredible style and stories. Go here to see past profiles.
Kenyan native, Koya Nyangi, oozes style and grace like no other. Her blog, Let Me Show You Different not only teaches people about how to achieve their own style, it is about what she believes is at the heart of fashion – being you unapologetically. "I never wait for an occasion to bring my best foot forward, I bring it all the time. I love a good sense of unique style. It makes me feel good and it raises my frequencies," Nyangi said. She recognizes that style is eternal and internal so she doesn't actively worship at the altar of new trends. Timeless, textured pieces that have lively prints and colors easily jump-start her imagination.
While Nyangi believes her love affair with fashion began during her senior year of college, it started much before then. She said, "I have a vague recollection of my mother coming back home with a bag full of clothes, most of them being strange looking pieces." Being the bold soul she is, Nyangi always questioned why her mom would bring clothes no one else wanted to wear. At that moment, her mom proclaimed, "Why do you want to wear clothes everyone else is wearing?" Nyangi was taught to never blend in and that's how fashion became her way of life. 
From her creation of "100 Days of Denver Fashion" — a challenge to wear a different Denver boutique every day for 100 days  — to the innovation of her jewelry line, DUTO BER, there is no denying that Nyangi is enlivened by local talent. Keep your eyes on this one — she's definitely going to make an impact.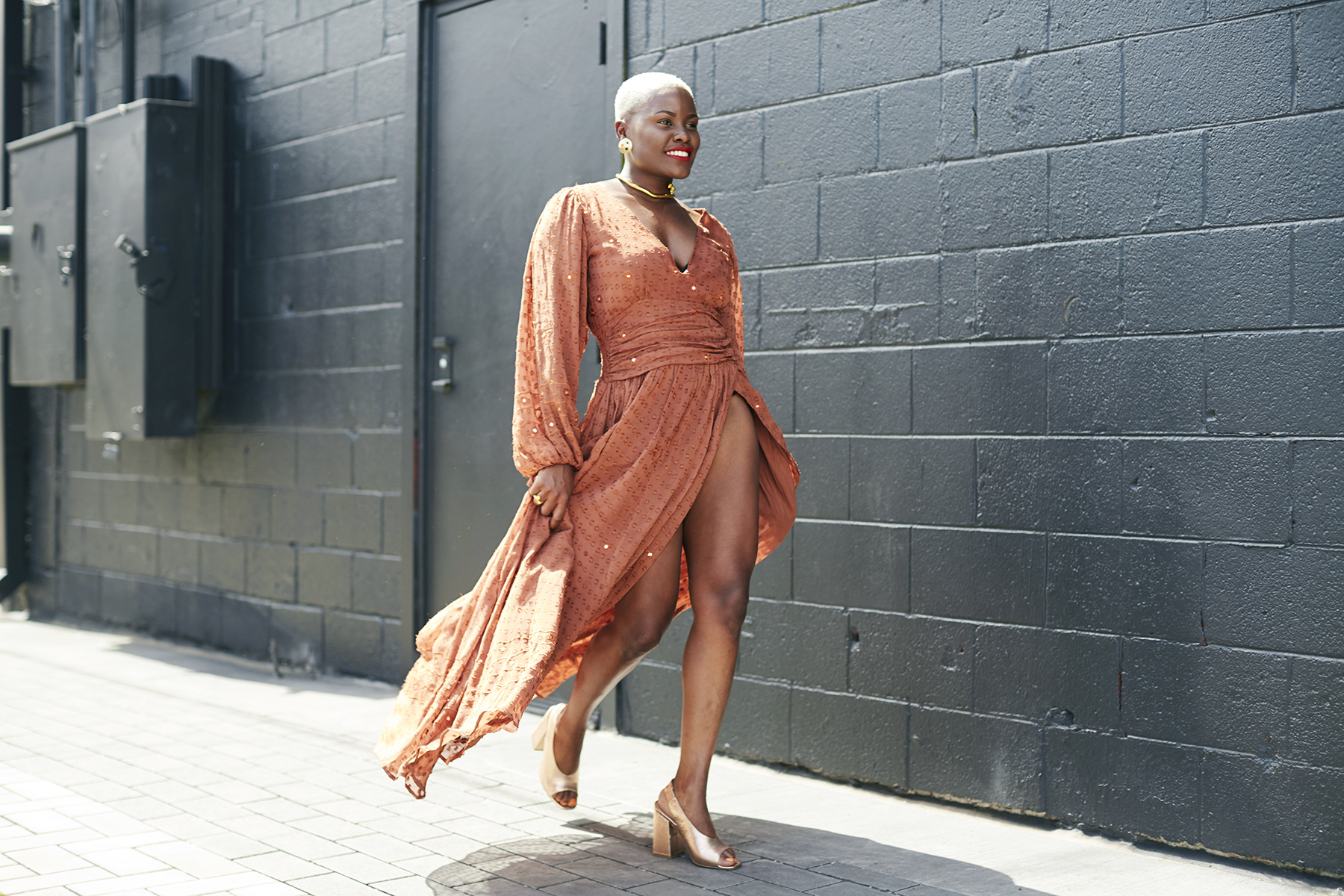 303 Magazine: When you created Let Me Show You Different, what was your goal?
Koya Nyangi: I created Let Me Show You Different because I wanted to share my love of styling, encourage individualism and embrace being different. I'm not into trends or the new "must haves." I love when you can mix different kinds of pieces from different eras and come up with a totally unique look — when people own and create their own unique style. It's quite boring when we all dress the same and go with the same flow. So ultimately, my goal was to create a community of people who enjoy style as much as I do, who push the envelope, who are daring and who go to unchartered style territories to create amazing fashion. Pretty much fearless with their approach.
I also wanted to give an avenue for individuals who appreciate fashion but are shy to be bold. I wanted to give them confidence and open them up to a world where they can experiment, be bold and still be true to themselves while fitting in on their own terms. My other goal was to share my love for African fashion with the masses, creating my company 'DUTO BER'. We offer bold African accessories that are designed by me and handmade in Kenya using ethically sourced materials.
303: You have a self-proclaimed penchant for style — a mixture of eclectic, vintage, African and bold style. How did you come to develop your sense of style?   
KN: My style has developed and evolved over the years. You need to know yourself before you can find your own style. I remember growing up as a little girl in Kenya. We didn't have big store names to shop and there were no magazine publications that acted as your point of reference when it came to what people were wearing. We wore what we wanted, nobody dictated, nobody told you this is "so last season." There was freedom to dress up, to indulge your creativity and sense of style. I grew up thrifting in Nairobi — something I absolutely love — and I could spot a gem a million miles away in the large open-air markets.
Thrifting allowed me to find hidden treasures and helped nurture my creativity. This brought out my experimental side. I go with my gut every time I shop — if I feel it but doesn't make sense, I get it. The idea of mixing elements that are so far apart and creating a new look intrigues me. Whatever I picked when I went thrifting was always unusual and a size bigger, knowing that I was going to style the heck out of those clothes. My friends who hated what I picked always wanted to borrow after I was done styling. If it's strange then it's perfect. Confidence, imagination and creativity were key elements as I developed my style.
303: What do you appreciate most about Denver's style scene?
KN: While modeling and styling for Denver Style Magazine and working on my "100 Days of Denver Fashion" project, I've had the privilege to meet and work with amazing local boutique owners who carry different styles and approaches to fashion. I've been exposed to the many fashion shows and talented designers that Denver has to offer. They never cease to amaze and nurture my own creativity. I love the eclectic, bold and amazing people who make up the Denver fashion community.
303: What would you like to see from Denver's style scene?
KN: The Denver style scene is coming into its own, I think it is evolving along with the continued growth of the city itself. As this trend continues it would be nice to see further highlighting of unique fashion, full of diversity and global influences that dare it to push the envelope. Be bold, Denver!
303: Where do you draw inspiration?
KN: I had a very large closet before moving to Denver, but moving countries forces you to downscale. I took this as a challenge which forced me to come up with different ways to wear one piece in many creative ways. I've had to channel my creativity. Another primary source is African history, Erykah Badu, old movies, my mood, men's style, characters in TV shows. For instance, Frankie played by Lily Tomlin in the show Grace and Frankie and street style from different countries all inspire me in one way or another. And definitely fashion icon, Iris Apfel.
303: As a woman of color, what do you value most about your freedom of expression through your style?
KN: My freedom of expression through my style has been influenced by my Kenyan culture and as a strong, actively engaged woman living in the States. I am very proud of where I come from and I love to showcase it. This keeps me true to my heritage while showcasing the beauty, creativity, style and designs of my homeland. I'm determined to bring the fashion style of Africa to the U.S. mainstream.
303: You did an amazing show of Denver fashion with "100 Days of Denver Fashion." What inspired you to go on this journey and why do you think it was important?
KN: Thank you so much! I think it is important to know what's happening around you, especially when you move to a different country. I am a very curious person so, of course, I wanted to explore Denver's fashion scene. My main reason for doing the 100-day project was to reignite my creativity and discover what Denver had to offer in terms of fashion. This led to meeting like-minded people who I could collaborate with. At the end of the project, I knew I was going to learn an invaluable lesson in discipline, tenacity and resilience while growing creatively. I wanted to be pushed out of my comfort zone, improve my skill set while forcing me to channel my creativity. Yet, it also had to be something I would enjoy doing every day.
This project had everything that I loved and all the challenges I could tackle. I was in a new city and had no clue about the fashion scene, which led me on this mission to get in front of 100 different boutique owners, bring their stories to my blog and immerse myself into the Denver fashion world with bold determination. It was the most challenging and rewarding experience I've ever had. When the project ended I had visited so many places, learned many lessons on the small business operation and met many strong business women along the way. I made friends with them, collaborated, introduced my readers to boutiques they had never heard of. It further developed my writing skills one blog post at a time!
303: What do you want the city of Denver to know about you?
KN: I'm extremely lucky to come from the continent of Africa — influenced and surrounded by my Kenyan culture — which I truly love. I created DUTO BER because I wanted to dispel myths about African fashion. I want to show a side of Africa that many people around the world don't see — a stylish, dignified and vibrant culture. My desire is to design and bring African style and elegance that radiates a global feel to the state of Colorado.
I look up to Denver entrepreneurs and I always seek to support women, especially within my local community in Kenya. Everything that I sell from DUTO BER is made by a group of women artisans and tailors utilizing materials that are ethically sourced and sustainable. Working with local artisans gives me great honor and joy knowing that I am helping my community by creating sustainable jobs while empowering aspiring artists within my culture.
Photography by Rebecca Grant.