If you stumbled into American Bonded without any context, you probably wouldn't think twice about the place. Instead, you'd go straight to the bar, grab a seat and start ordering. It may not hit you until you've chatted with your bartender, read through the drink menu and had one, maybe two drinks before realizing that you're in one of the most anticipated bars in America. Even then, looking around at the fairly simple space and your reasonable bill total, you'd probably still do a double take. Nothing about the spot has the makings of your typical high-end cocktail joint. Gone are the brass and velvet furnishings and instead there are high tops made of concrete and metal. There's no hidden entrance but there are big windows and a rooftop patio. You've traded in your $16 cocktail with 10 ingredients for one with three and it's only $8 — and chances are it's even better. It may look unfamiliar because you've stepped into the future of cocktail bars — or at least one that we're seeing Sean Kenyon, Justin Anthony, Lisa Vedovelli and Kevin Burke create at American Bonded.
This slideshow requires JavaScript.
"There are no secrets… everything is up front for us to bare," said co-owner Sean Kenyon. Kenyon, who you may know by now, is a third generation bartender and also happens to be one of the best in the nation. The highly decorated owner has always had straightforward and simple ideas about tending bar — but his dedication and execution to them are, at times, radical (even if it's not intentional).
It started with Williams & Graham. The prototypical speakeasy with all the bells and whistles has come to help define a generation of bars with its sense of mystery and intrigue paired with a keen sense of hospitality and complex drinks. Now Kenyon, who could easily make a killing off replicas of Williams & Graham, has since taken a different direction. With his last haunt, Occidental, and now American Bonded, it's clear Kenyon is dead set on bringing one thing that most new cocktail bars (and even some dives) don't have in America — access and inclusivity.
"I think probably everyone here has said something about access… Those aren't talking points for us. That's an ethos," explained Kenyon, and he's right. Between the three owners and the general manager, the concept of access or inclusivity was at the forefront of their minds. But unlike Occidental, which is admittedly designed after a dive, American Bonded is a beast of its own. It falls somewhere between the realms of cocktail joint, dive and even your neighborhood sports bar (hello, rooftop). However, the concept of American Bonded is not some master plan to uproot cocktail culture. Rather, as Kenyon and his partners explained it's really about what's at the heart of the industry— hospitality.
Burke, who's the general manager, left his eight and a half year stint opening Colt & Grey and later Ste. Ellie partially because he believes just as deeply as Kenyon does in this kind of hospitality. The kind where you can get a well-priced, well-made drink without all the pomp and circumstance of a cocktail bar or the requisite grime and gruff you'd get at a dive.
"We can take bartending seriously but we don't take ourselves too seriously or we can make serious drinks without being serious people," said Burke. "And I'm not sure exactly what combination that is, but in that Venn diagram, there's a big place for just fun drinks."
"I mean… we're going to put a slushie machine on the roof," continued Anthony, who along with Vedovelli own the nearby shot and beer bar Matchbox. The playful attitude is not just another kitschy thing either — it's a part of the hospitality aspect of breaking down the conception of exclusivity that craft cocktail spots have either purposefully or accidentally built up (depending on where you go and who you talk to).
If it's not immediately apparent that American Bonded is different from most cocktail joints you've stepped into, it'll become clear once you venture toward the back. There, you'll find J Street, a former food truck that landed its first brick-and-mortar gig at American Bonded. Self-described as "classic Americana low country food with a little spin on it," J Street serves up dishes like green chile mac 'n' cheese, chicken and waffles and cornbread. And like the drinks, the food is well-priced, well-made and will blow your mind. It's highly possible, that while American Bonded will have customers clamoring for drinks — a good chunk of their clientele may become regulars in part because of what's coming out of the kitchen, especially since they'll serve food until 1 a.m. every night. 
"We're making simple dishes with attention to detail in everything," said head chef Jason Bray.
This slideshow requires JavaScript.
However, the motivation behind all these elements isn't purely altruistic. It's no secret that a rooftop and comfort food will sell. But the locale is more than ready to tackle the foot-traffic of Larimer street. The trick, and what's also exciting about American Bonded, is that they want to sell as many drinks while still maintaining the quality and a low price point (everything is either $8 or $9).
"I have to think about not, how do I make 60 old-fashioneds but how do I make 6,000?" said Burke. 
However, that challenge primarily lies with the brass behind the bar being able to execute such a feat. If there's a group of people that could put together a team that can churn out thousands of handmade cocktails with a smile — it's these guys. Because both Kenyon and Burke are well-known mentors in Denver for budding bartending talent, and beyond whipping up a mean drink — their true talent lies in hospitality.
American Bonded is backed by a team of both new faces and whip-smart talent like Nick Lowe — who Kenyon calls an "encyclopedia of Bourbon." Each person was selected because they have a deep understanding of what it means to take care of people.
"That unifying factor is service above all else. Every single person has equal parts experience and gives a shit," said Anthony.
As a result of all these factors, the cocktails are both executable and excitable. Everything on the menu tops out at about four ingredients with each one painstakingly chosen to make the drink special and affordable. Take the Coconut Telegram ($9). The base spirit is Mellow Corn whiskey — which as Burke explained, "you could run your car on it," due to its 100 proof. But the whiskey, which you can buy right now for $18 a bottle, somehow makes for the most balanced and refreshing drink you'll probably have all year. The Two Can Tango $9 is similar in the sense it's made with 127 proof "dirty" Jamaican dark rum that Burke described as very grandmotherly. Burke loves these kinds of challenges and finds a certain type of joy being able to sell a mass amount of formerly forgotten or looked down upon.
When he talks about One Last Press ($9), which is a variation of an old-fashioned, he practically lights up with a mischievous joy when he explains he uses a lesser-known Galliano instead of yellow chartreuse.
"It has a reputation of being disco or kind of having a 'fuck off' [attitude]," he said. "I want to be able to give some of that stuff a second chance."
This slideshow requires JavaScript.
This drive of wanting to innovate and tinker is a hallmark of Burke, whereas Anthony would say, Kenyon, is a bit more focused on the background of the drink.
"Kevin is a mad scientist, Sean is a historian. And I think for me, I couldn't have two better people involved and I love that science meets history. And I think it's a really good combination," said Anthony.
However, Kenyon isn't the only historian who has his hand in making the cocktail menu. For the discerning few that stumble into American Bonded — there is one dead giveaway that it is a special place. Right when you open the menu, the two first cocktails have a short description written by none other than one of the most famous cocktail historians in the world — David Wondrich. Wondrich, who as Kenyon would explain, lovingly, is "the one that ruined all our great stories with the truth," by dispelling cocktail lore with historical research.
His forward, which describes the history of both a mint julep and an old-fashioned, not only denotes the importance of the two cocktails but also is a foreshadowing that American Bonded could also have its own place in America's spirited future.
"If you're going to have a legacy in any way, it's to make people better, not just better bartenders," said Kenyon. "You want them to leave your space in a better place than when you came in."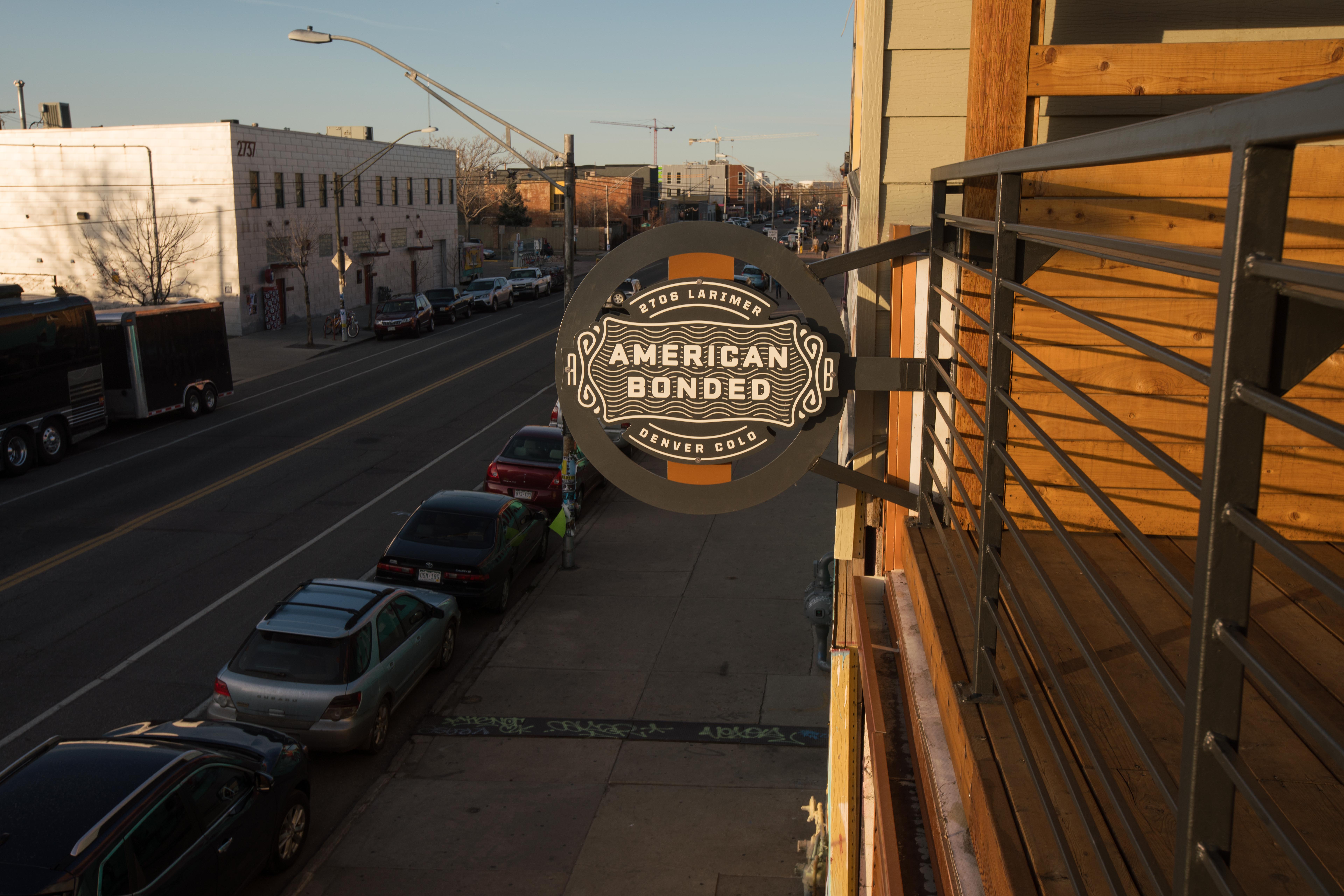 All photography by Kyle Cooper. American Bonded is located at 2706 Larimer Street, Denver. It is open weekdays from 4 p.m. to close and noon to close on Saturday and Sundays. The kitchen closes at 1 a.m. every night.