Coming from the rap scene of Denver, Trev Rich is a musical trailblazer. Being one of the hardest working rappers in the Denver community, people are taking notice. One of the newest members of Cash Money Records has a song featured on our Colorado compilation vinyl, 303 Music Vol. 1. The song, "Boys Don't Cry," finds inspiration in the effects of gang violence and societal norms. We sat down with Trev Rich to talk about the song, what's in store for the future and his 303 Music Fest performance in May.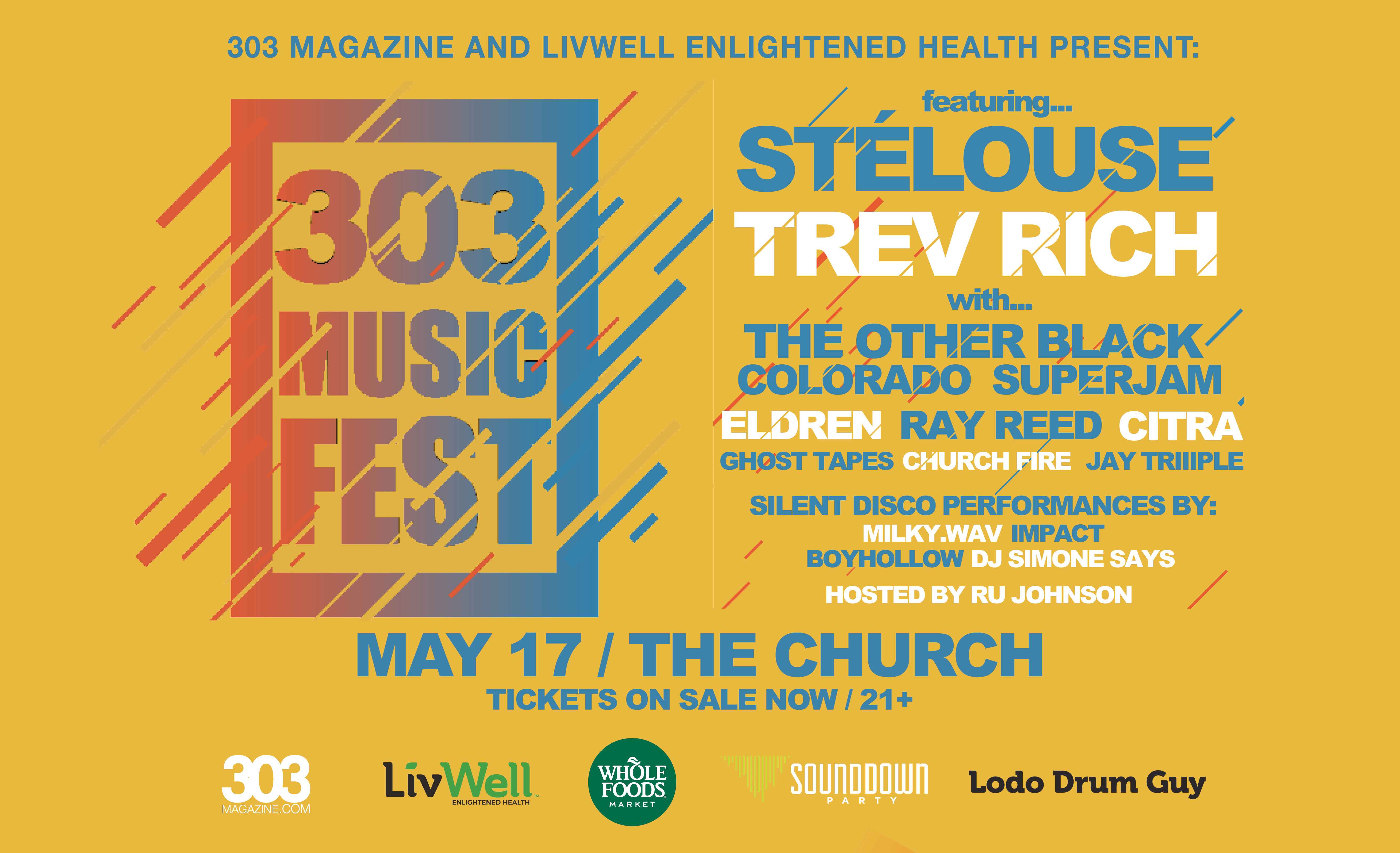 303 Magazine: You're headlining 303 Music Fest this year. Are you excited?
Trev Rich: Yes it's my first time performing at the Church and it's a festival so it should be fun! I can't wait to come back in town and do the show — as a headliner! On a festival! In your own city! Blessed!
303: How does it feel to be one of the most influential rappers in Denver?
TR: Honestly, I don't even really think about that stuff when it comes to making music. I do know I have a voice so I try to use it wisely, but as far as being most influential, I feel like a lot of people have dope styles, they have different styles. I just really focus on trying to create the best music I can create. So if I can influence somebody to do the same then my job is done, you know what I'm saying?
303: What do you think Denver's future of rap looks like?
TR: I feel like it's bright. At this moment in time, you have the newer generation about to come in and they kind of see the moves that our generation and the generation before us have made, so they're learning what to do and what not to do. So if they stay focused, they have very bright futures. It's not just gonna to be one or two artists signed and on tour traveling and figuring out this music game.
303 Magazine: What advice could you give an aspiring rapper?
TR: Move around. Travel as much as possible. Shake as many hands as possible. Acquire a team of people that want to see you succeed. Find a large support group that doesn't want what you want. Find a group of people that will help you. At the end of the day, you're a musician and you should learn the business. Learn it so you can find someone that takes care of your business the right way.
303: Can you tell us what influenced your song on 303 Music Vol. 1, "Boys Don't Cry."
TR: Growing up where I'm from a lot of people don't hear Denver and do not understand [that] we go through a lot of things that a lot of bigger cities go through too. It not might be on a scale such as a place like LA when it comes to gang violence and stuff like that, but Denver is growing up. Where I grew up you see that. You have a choice to either become a part of it or watch on the sidelines. I chose the latter to not be in a gang, but I still have a lot of people that I grew up with that are my friends who are gang members — who are on both sides. I just wanted them to know that I know where they're coming from and we actually have to change the next generation to think that it's okay to be in tune with your emotions. Because when you grow up thinking that it's not cool to show emotion because it's a weakness and it's just like, you have to be able to balance those emotions with being a man at the same time. So, I wanted to show other people that I know what they were going through. I've been through it. I was not in a gang, but I lost friends to gang violence. When it happens, it's like, do I cry? Do I not cry? Even outside of the gangs, just being a man. There are certain things that will make you emotional to feel like you can't cry because of how society portrays men who cry or men who show emotions. I wanted them to be like somebody knows where we're coming from and they understand it. And I understand it. It's relatable and it's possible through the situations I went through growing up.
303: What's your favorite thing to do in Colorado?
TR: There's a lot. I think it has to do with music because I love being in the studio no matter where I'm at, but if I'm not creating music I'm just relaxing and chilling with my people, you know, probably doing the club thing, the bar thing. I love Colorado's nightlife and what it's becoming. I know it's got room to grow and I feel like it's going to grow, but being a part of it and seeing where it's come from to where it's going is dope.
303: What are you currently working on?
TR: Right now, I'm working on [my] next EP and it's going to be totally different. I don't have certain pressures sounding a certain way. I get to travel and go to different studios and different states to create the project, so I'm really excited about it. We're in the process of mixing the master now, but the next EP is probably going to be like five or six track EP just to let them know I'm back. That's eventually going to lead up to another project. I got multiple projects on the way. I can't wait until the city really gets to hear what I'd been working on because I've been quiet for a little while.
Tickets for 303 Music Fest are available here. Pre-order for 303 Music Vol. 1 can be found here.