A clean compost is a valuable resource for any community. However, until recently, eco-friendly disposals were not an option for many downtown Denver restaurants and urban housing communities. Without a yard to compost in or a budget to afford expensive commercial pickup — the greater downtown area had been largely dumping compost into the landfill, according to Scraps Mile High founder Christi Turner. For the last year, Turner has pedaled the avenues and alleyways of our city to help bring affordable and dependable, clean composting to the metro area.
The Founder
This slideshow requires JavaScript.
"We are extending the useful life of a landfill… we need to keep the compost out of the landfill because all it's doing there is creating harmful methane gas… clean, finished compost is an extremely valuable resource." – Christi Turner
Turner founded Scraps Mile High just over a year ago with the intention of helping out a community in need. After working for several years overseas with the Peace Corps in Madagascar, Turner returned to Colorado to earn her graduate degree in Environmental Journalism at CU Boulder. While publishing articles for the likes of Boulder Weekly and High Country News she decided that reporting on the environment wasn't going to make the impact she wanted to see. Turner completed a masters in composting at the Posner Center for International Development and started her own composting business across the street from where she attended class in RiNo.
Win-Win Situations
A partnership between the Denver Housing Association and Denver Urban Gardens has allowed Scraps Mile High to construct sheds on city gardens to house her pedicab bicycles. Several sheds are scattered throughout the city and allow Turner and her six pedalers to make routes through the greater Denver area including LoHi, Lodo, Capitol Hill and as distant as the Sun Valley neighborhood. In exchange for the land she stores her bikes on, Turner educates the housing community how to make the most their urban garden. Some of the larger communities services at the moment include Promenade Lofts, Riverfront Tower and Monarch Mills — you don't live in one of these locations it's all good — you can apply to pick up from any Denver metro area. 
This slideshow requires JavaScript.
Scraps Mile High fills the gaps between accessibility and practicality when it comes to commercial and residential composting. Host restaurants — like Urban Farmer, Avanti Food & Beverage and Hop Alley — split the cost of gigantic stationary Alpine Waste & Recycling compost dumpsters with Scraps. The Alpine dumpster allows enough space for high output restaurants — like Avanti and Zeppelin Station – to utilize their onsite compost dumpster while Scraps fills in the extra space with compost from the surrounding housing and restaurant communities. When the Alpine Waste compost dumpsters are full, Alpine transports them to A1 Organics to be processed into the life-supporting soil. Although A1 Organics delivers compost itself, it relies on Alpine for a limited residential and commercial pick up in the downtown area. This is where Scraps Mile High services become essential. The company is playing a crucial part in helping to reach urban areas — residential and commercial — that are not easily serviced by Alpine.
"The conscious dinner aspect of the Denver food scene has really pushed people to ask what happens after you [the dinner] are done eating," said Turner. The restaurant community is simultaneously benefiting from this business model and making it possible. Each of the partner restaurants are home to an Alpine Waste compost pickup dumpster large enough to support several other restaurant compost programs. Restaurants already on board for pick up include Fish N' Beer, Cart-Driver, Port Side, There…(Restaurant) and Work & Class.
"We could not be more grateful to have Scraps onboard in our mission to decrease our environmental footprint. Scraps provides a service that makes composting effortless, efficient and fun," said Tabatha Knop the General Manager at Work & Class.
As a bonus, you can easily tell who's composting by looking for their sticker on the door.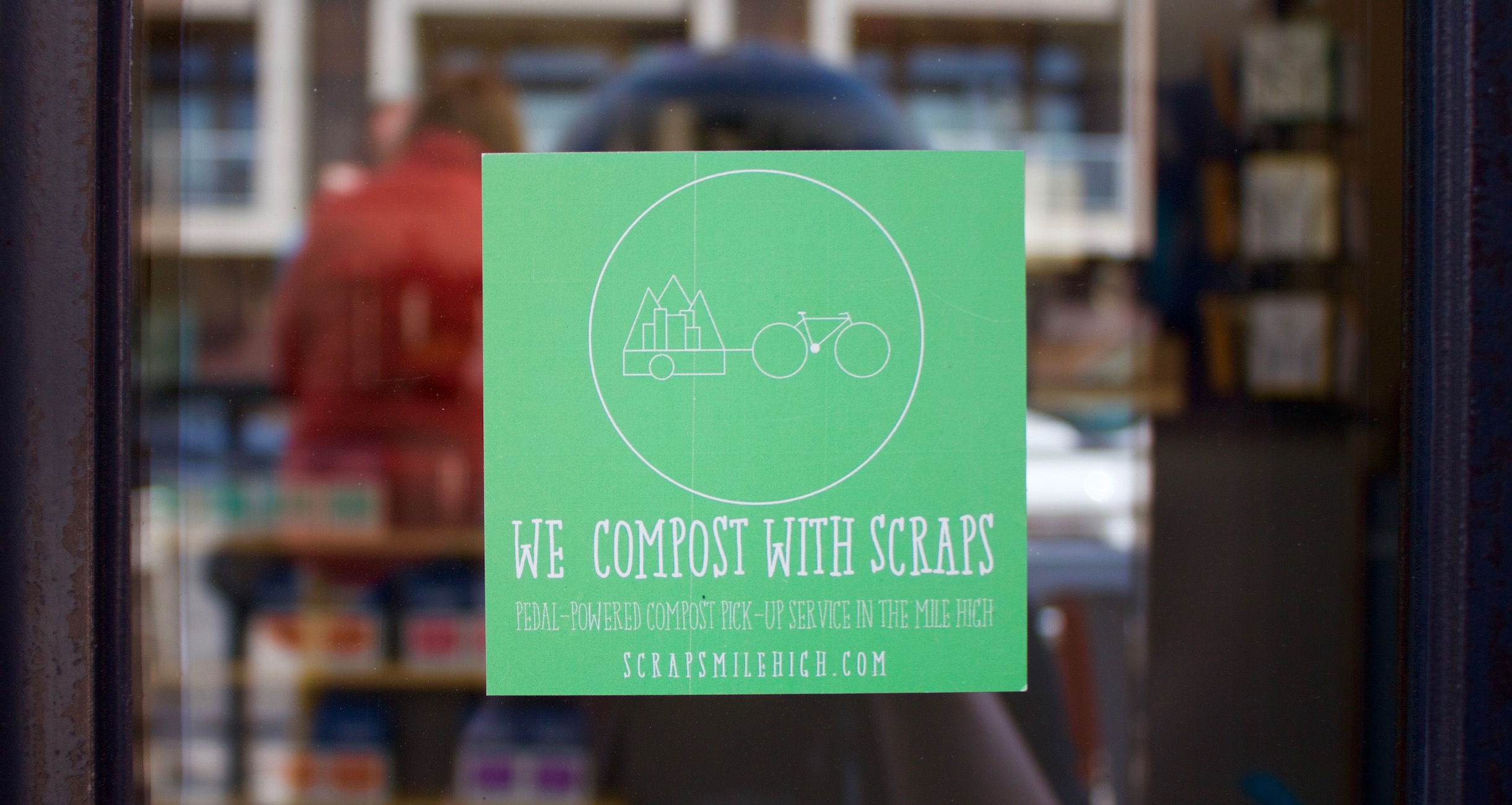 This is a business model based on partnership and it relies on mutually beneficial situations for success. Restaurants are getting a discounted onsite compost pickup and Scraps mile high adds to the already existing hauling and processing infrastructure provided by Alpine Waste and Compost.
"Bicycles [and pedicabs] are more than just gameday transport for the sports fan. In an urban environment, my bicycles are highly functional, environmentally friendly tools.." said Turner. The secret ingredients here are the no emission, all season,  cart pulling tricycles that easily and efficiently fill the gaps in Denver's composting infrastructure.  Turner and the Scraps team of pedalers run routes during all seasons that range anywhere from eight to 20 miles. Each route revolves around a host restaurant compost drop-off point where the compostable material can them be dropped and left for pickup by  Alpine. Each bike, trailer, and rider can haul hundreds of pounds of compostable waste at a time thanks to the addition of a battery pack and an electric assist.
With introductory prices starting at $15 a month for multi-family housing pickup, there really isn't a reason not to be composting with Scraps. Either Turner or one of her pedalers will pick up once a week and if you happen to be as passionate about composting as Scraps is, Turner will host or co-host an informational happy hour for your community to get you and your neighbors on-board.
The Future
The future holds a lot more pedaling for Turner and the Scraps team. Upcoming partnerships with Zeppelin Station, The Wines of Wynkoop and Organic Salon are on the horizon and truly seems that the extent of this company's reach is limitless. "We have nearly 200 residential and office customers, plus of course our restaurants and food producers. We're seeing more and more restaurants prioritize not just responsible sourcing but responsible disposal of their food "waste" – and there's a lot of it," said Turner. With just over a year open for business and with 61,000 lbs of compost collected to date — Scraps Mile High is most definitely getting Denver on track to leaving a cleaner greener planet for future generations. 
To learn more about Scraps Mile High or to subscribe for compost pickup visit the website here.
All Photography by Tyler Wernet