It was a cold night in Denver as indie rock fans gathered outside the Ogden Theatre.
From first glance, you wouldn't be able to tell who this sea of shivering jackets in knit hats was lined up to see. Until they shed their hoods and hats to reveal trademark Walk The Moon facepaint. Visiting the Ogden on their "Press The Restart Tour," the four men who make up Walk The Moon were a vision of electric energy and feel good rock that made us want to shut up and dance. The team emerged through the haze of smoke and blue lights, decked out in modern garb that made them appear like a vision from the future. The audacity of their approach had all in the attendance instantly on edge. And as the light shifted its focus to lead singer, Nick Petricca, he leaned into the mic and gave the crowd a "buckle up" look that sent us all to the moon. 
Opening the show was Chicago hailing indie rock group Company of Thieves. And it was clear to all from the moment lead singer Genevieve Shatz opened her mouth why Walk The Moon had chosen this three-some to join their tour. Decked out head to toe in red, Shatz pranced around the stage like a rock 'n' roll fairy. The boldness of her bright red leather skirt mingled with the quirky sexiness of her voice and fluid movements had us instantly locked in. And unlike many openers, Company of Thieves made it clear that they would demand just as much love as the headliner.
"Like we said, we're from Chicago," said Shatz gleefully, before dropping her hand down to answer a prop-telephone, a perfect segue into their next hit.
Each song, the band managed to create an intoxicating concoction of drums, tambourine, guitar and keyboard in a musical foreplay that perfectly prepared us for a night with Walk The Moon.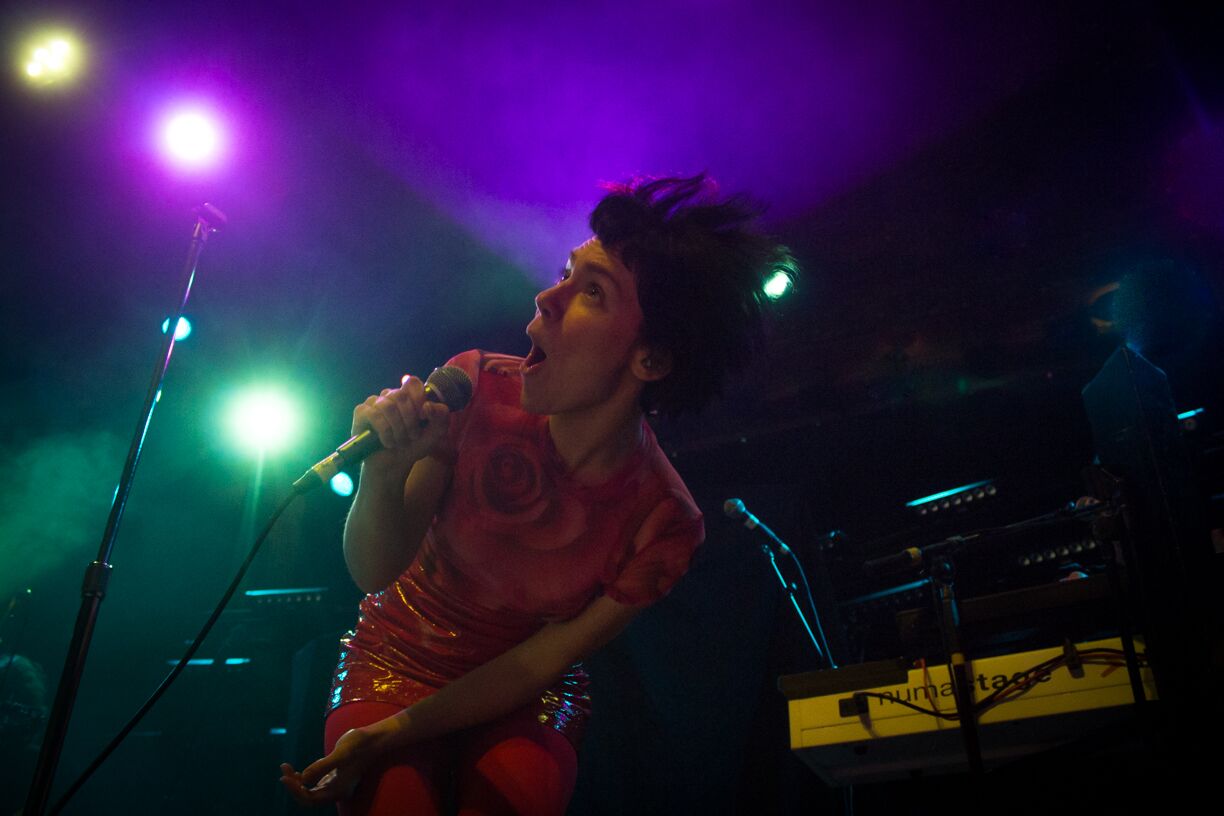 Stepping out first in white sneakers, tight and white skinny jeans, a long and thin white tank and white jacket was lead singer Nick Petricca. From his bleach blonde faux hawk to his skin-tight pants — he was as modern as he was seductive. With clean clue lights flanking the band, the foursome delicately pressed "go" on the night with an electrifying performance of "Press Restart."
The first half of the show was a perfectly compiled combination of hits both old and new, followed by a half-time of sorts as Petricca faced the crowd with a big "Denver, Denver, Denver… hello! I'm going to bring a special guest on for this next one," as he proceeded to re-open the opener by bringing Company of Thieves lead singer Genevieve Shatz back on stage for an unexpected duet.
The energy then took a mellow turn as Shatz and Petricca painted a lyrical love story, dominated by the words "I want to be here with you, from now on."
What happened next brought everyone in the crowd from the brink of tears to a cold sweat as the spotlight settled on bass player Kevin Ray and his black leather pants. Ray kicked off their ninth song of the night with a seductive bass solo that had everyone willing to walk to the moon and back to see it again. All in all, the night was a banger. And we have to admit, we were surprised. Following the success of their international hit "Shut Up and Dance," Walk the Moon seemed to be headed into the ground, rather than into the stratosphere. But last night at the Ogden they showed us that they're more than a one-hit wonder.
This slideshow requires JavaScript.
All photography by Kenneth Coles .