It's easier to write about bands that suck. Criticism flows freely, glaring flaws observed and disagreeable attributes acutely noted. That being said, trying to sum up a Railroad Earth concert — for me — proves challenging because they're my absolute favorite band and have been since I first saw them play eight years ago — it was love at first sight. Over the years, Railroad Earth has evolved and continued to put out new music, cultivating a devoted following of "hobos," whose population is thriving locally in Colorado (despite most of the band hailing from New Jersey). This past weekend, the colorful bunch of Railroad Earth fans packed into the Fox Theatre on December 29 and 30, and then again into the charming Paramount Theatre in Downtown Denver on New Year's Eve, dancing the soles off their boots and smiling until their faces couldn't stand it any longer.
While the setlists varied from night to night, the band's inventive and vibrant music sent us all hurtling into 2018 on a fluffy magic carpet of joy. If we could've swung from the rafters, we would've. If it was socially acceptable to hug and kiss everyone at the show, we might have. The pure positivity and cheer radiating from the speakers were as pleasurable as it gets. Railroad Earth's music makes your heart swell, overflowing with the kind of love only live music can generate. Not a romantic love, but a compassionate kind of love — one that smudges out all of the day's prior frustration. The traffic jams, the work emails, the technology glitches and general irksome chaos that tends to muddle up your brain space all melt into the abyss. And you're left with pure, unadulterated love. The Rolling Stones said it best with, "What a beautiful buzz, what a beautiful buzz."
During their three-show run in the Front Range, Railroad Earth sponsored "A Celebration of Human Kindness" — in conjunction with Denver Rescue Mission — collecting hats, scarves, sweatshirts and winter coats for those in need. The band wanted to "give back to Colorado, which has given so much support to them." Additionally, there was a raffle at all three shows to raise money for the non-profit organization.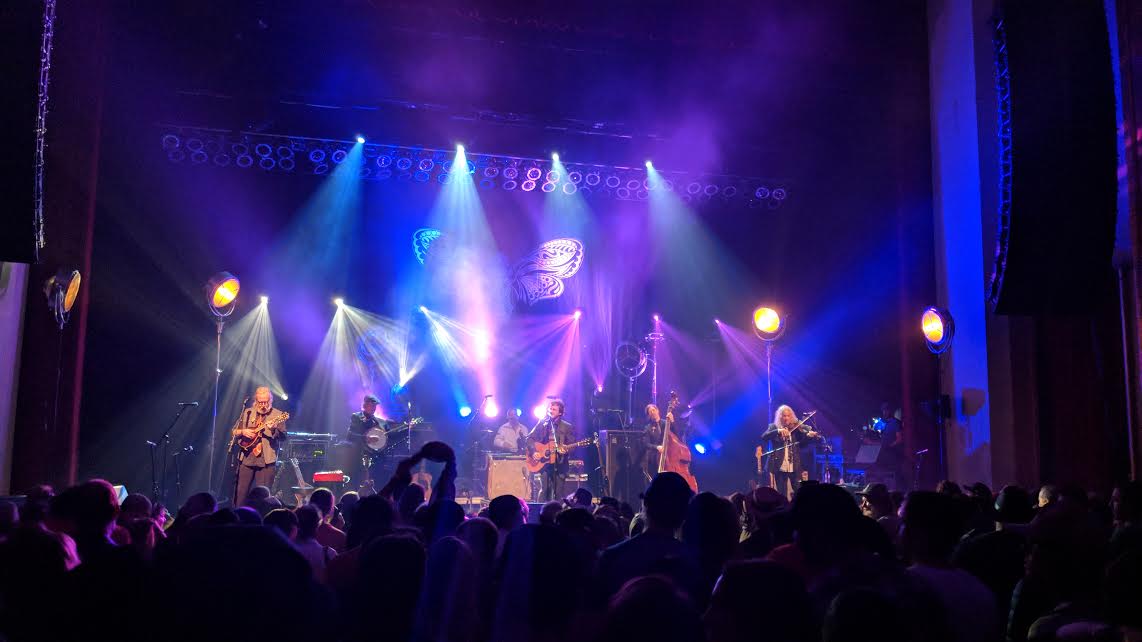 Saturday's show at The Fox was an especially cheery one, which is obvious from the song titles alone which included "When the Sun Gets in Your Blood," "Happy Song," "The Good Life," "For Love" and many more. Our favorite part of the first set was a sweet version (but aren't they all?) of "Lonecroft Farewell," which is one of those tracks that invokes a strong sense of burning nostalgia.
Railroad Earth's music tells stories of ramblers, gamblers and wanderers. Their songs range from whimsical to sinister in the drop of a hat. But perhaps their most significant characteristic is their ability to produce such dynamic music, whether it's over the course of one long track or dramatically switching up their sound from song to song. Andy Goessling will be pickin' on the banjo and then crooning away on the sax before you've even had time to realize that he's made the switch. Mandolinist John Skeehan began to incorporate the piano into the band when they recorded The Last Of The Outlaws (2014) and it has since become another shining element in the band's vast instrumentation lineup, texturing songs with an additional velvety layer. Skehan's piano playing infuses tracks with a cooling calm, counterbalancing the whine of the fiddle and the strain of those tightly tuned string instruments. While typically the lead vocals are left to Todd Sheaffer, occasionally fiddle player Timothy Carbone takes a turn at the mic, swapping out his fiddle for an electric guitar.
READ: How John Skehan came across his new piano during the recording of The Last Of The Outlaws in 303 Magazine's Q&A with him from 2014. 
It had been since 2011 that Railroad Earth played in Denver on New Year's Eve, so, for the hobos, ringing in 2018 with their favorite band was long overdue. The evening was even more special thanks to Denver's hidden gem, the Paramount Theatre — a historic and ornate venue smack dab in the middle of downtown Denver's bustling 16th Street Mall. The band matched the theater, with all six members donning black suits and looking just as bonafide as the art deco-inspired room in which they were performing. In just under four hours and within two sets of music, we were treated to some of the best we've yet to see from this band.
Andrew Altman kicked off the first set by leading a funky rendition of "Walk Beside Me," before jumping right into fan favorite "Head," resulting in a rowdy crowd singalong. From there, the tempo of the music moved up and down, while transitioning flawlessly between songs. Highlights were "Dandelion Wine," which riled everyone from their theater seats, and the magnificent "Said What You Mean" — thus far, a superbly well-rounded first set that showcased each members' unique skills and gave us a full taste of what this band is capable of.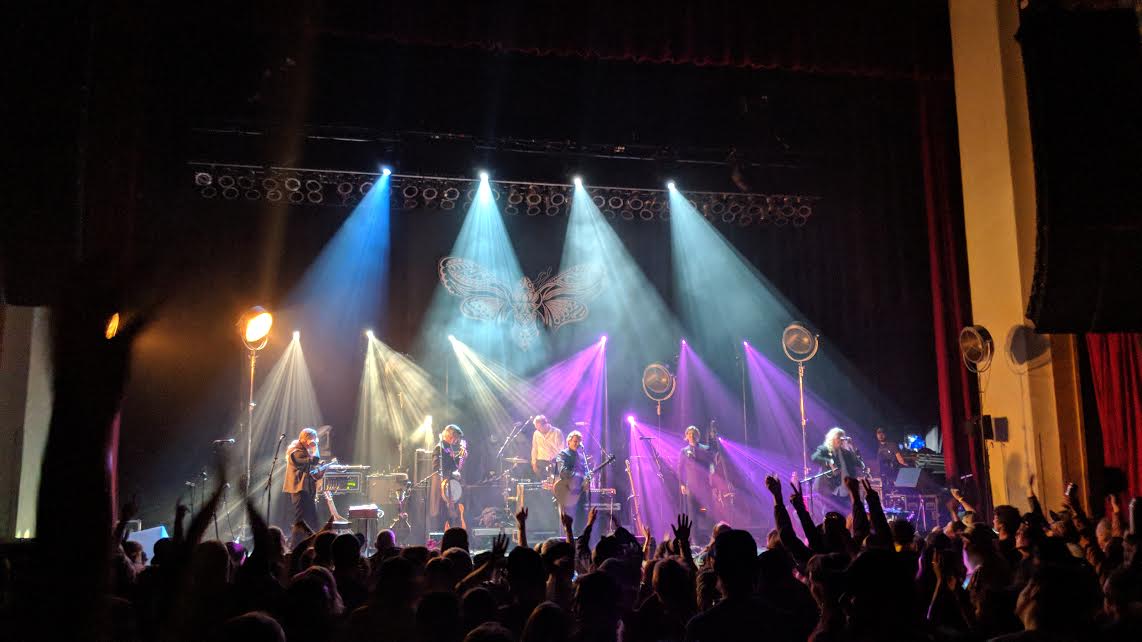 Railroad Earth returned to the Paramount stage for their second set just before midnight, starting off with "Storms," a song that tells of perseverance and togetherness. The band busted out a deep track written by Bob Dylan entitled "Ramblin' Gamblin' Willie" as the countdown began, seamlessly jumping into their signature party jam "Elko" as balloons aplenty cascaded down from the ceiling at midnight, mixing with the handfuls of cards being ceremoniously tossed into the air to accompany the lyrics, "Need a card, I need a card, hit me, lord, not too hard!"  "El Cumbanchero" showcased John Skehan's madman skills on the mandolin and all-star multi-instrumentalist Andy Goessling whipped out the flute for "Fisherman's Blues," – he'd previously played the saxophone, the clarinet, the banjo and dobro. Altman took over vocals for a jammy "12 Wolves" before the band somersaulted into the ever-joyful "Like A Buddha," the crowd roaring.
A two-song encore was our special treat for this New Year's Eve, with a stirring rendition of the Grateful Dead's "The Wheel" and — the highlight of the evening — the extremely rare and highly sought-after original tune, "Waggin' The Dog." Folks with posters begging for the tune to be brought out of the woodwork must have wooed the band successfully, who finally performed it after years of fan requests. And as you can see, it's nearly impossible for me to do anything but gush over this band, and with my heart full and ready for more, even after this packed weekend, I'll say to you… see you in Aspen!
You can still catch Railroad Earth in Aspen this week at Belly Up on January 2, 3 and 4, before they head southbound to Telluride's Sheridan Opera House on January 5.