[Update November 26 at 9:05 p.m.: a protest in opposition to ink! took place this weekend on Saturday morning. Also Cultivator, the ad agency in charge of creating ink!'s sign has issued an apology on Facebook. The company's website has also been taken offline.]
An Open Letter to Our Neighbors
Dear residents of River North District, Curtis Park, and Five Points, as well as the greater Denver community,
As a company, our intent is – and always has been – to create communications that spark dialogue, open minds and change perceptions. We have sought to be a force for good, helping local individuals and businesses to grow and be more successful, and helping our community and its residents enjoy a better quality of life.
Yesterday, we found ourselves embroiled in a communications controversy that served to help open our eyes. We developed a curb sign campaign for our longtime client ink! Coffee that intended to offer a cynical perspective on the rapid development of our RiNo District neighborhood. What we quickly and painfully realized, however, is that we uncovered an enormous blind spot on the true meaning of gentrification and its most legitimate and honest interpretation.
In hindsight, our campaign was callous, naive and uninformed to the true character of the neighborhood and to those who have long called it home. We assure those within the local community and throughout Denver that the literal contents of the sign do not represent the values we hold as an agency or as individuals.
There is no response that we can offer that can justify this decision. We made a mistake, and for that we are deeply, and sincerely, sorry.
Cultivator Advertising & Design, Inc.
[Update November 24 at 9:50 a.m.: ink! has issued an official apology from the owner, as seen below. The shop was also vandalized over the holiday with graffiti.]
"I have been following the comments on social media and listening to our customers, and I want you to know that I hear you. I have used the last 24 hours to listen to your perspectives, and to better educate myself on gentrification. I am embarrassed to say that I did not fully appreciate the very real and troubling issue of gentrification, and I want to sincerely apologize to those who understand firsthand the hardship and cultural consequences that gentrification has caused in the Five Points neighborhood, throughout the City and County of Denver and in communities throughout our state.
When our advertising firm presented this campaign to us, I interpreted it as taking pride in being part of a dynamic, evolving community that is inclusive of people of all races, ethnicities, religions and gender identities. I recognize now that we had a blind spot to other legitimate interpretations. I sincerely apologize – absolutely and unequivocally. Over the coming weeks and months, I will continue to educate myself and my colleagues about this issue, and we will find ways to demonstrate the depths of our contrition by taking meaningful steps to support our local community and its residents." Keith Herbert, founder, ink! Coffee
[Update November 22 at 5:04 p.m.: RiNo Arts District has issued a statement to 303 about ink! Coffee.]
"Our position at the RiNo Art District is that this type of divisive rhetoric is very damaging to everything we are trying to achieve collaboratively with our artists, historic neighborhoods and stakeholders. We do not condone it and we are pained and disappointed to see these things happening in RiNo. We hope Ink! will recognize the severity of their actions, reconsider their position, and take intentional actions to repair this situation," said Jamie Licko, president, RiNo Art District
[Update November 22 at 4:02 p.m.: Shortly after publishing, ink! issued an apology via Facebook. See below.]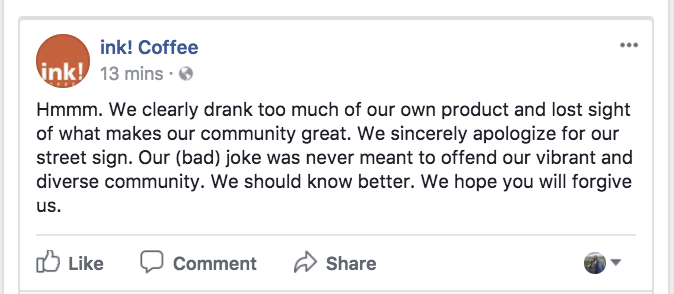 Over the last several years, the RiNo Arts District has seen a rapid transformation. What was once an area filled with business-to-business companies and warehouses, has now become the upcoming area in Denver. Like all change, this has caused some tension between old and new. This has been exacerbated by rising rent prices and changing demographics that have made artists, businesses and residents feel unwelcome or caused them to leave the neighborhood.
For most business owners in the area, the issue of gentrification is a tricky one and usually results in careful communication. However, it seems Denver's ink! coffee is taking a different approach. As seen on Facebook, the coffee shop posted a sign outside its RiNo location saying, "Happily Gentrifying the Neighborhood since 2014" on the front and "Nothing Says Gentrification like Being Able to Order a Cortado" on the back. The photo of the sign, which was posted online around noon today quickly went viral and seems to have been already stolen. We reached out to ink! and while they have not commented on the matter, or why they have put the sign there, an employee at the RiNo location confirmed its existence and that it was indeed taken from the store. 
Overall the response to the sign has been negative, to say the least. People have already taken to reviews to leave negative thoughts about the shop in response. Over 250 people (and counting) have left one-star reviews on ink!'s Facebook in the last hour. For ink!'s neighbor and competitor coffee shop, Crema, the sign ultimately points to ink!'s intentions.
"When Crema opened eight years ago, it was meant to compliment the neighborhood, not change it. We have always tried [to] recognize and respect the neighborhood that we choose [to] open our business in, to be a place for all aspects of the community. There is a lot of tension regarding gentrification in the RINO Arts District. A lot of artist[s] have been priced out of upper Larimer and the surrounding neighborhoods. It is a sensitive issue and I'm surprised ink! would take such a polarizing stance, But it clearly shows their intentions," said Crema Coffeehouse in a statement to 303.

So far it's unclear if the sign will be returned or if ink! will issue a new one.  It seems the sign could be a part of a larger campaign and therefore may not be the last we see of this type of marketing from the local shop.