Flying Lotus, otherwise known as Steven Ellison or simply FlyLo, returned to Denver last night, Friday, November 17 for his highly anticipated 3D show. The outcome was nothing less than exactly what you would expect from Flying Lotus — fantastic and utterly strange. That strangeness didn't wait to go into effect until the show started, rather, it kicked in well in advance — even upon the show being announced fans found the venue choice peculiar. EXDO Event Center is home to a variety of events from Denver Fashion Weekend to Chef & Brew and the Colorado Bloody Mary Festival, but concerts aren't all that common for the RiNo event space bordering Tracks Denver. In the past, notable artists like Kanye West, Train and Pretty Lights have taken the stage at EXDO, but it's not a venue Denverites are familiar with attending concerts at. Nonetheless, we all gave it a chance. We gave it a chance for Flying Lotus, and for the rare opportunity to see a 3D concert. This 3D tour is quite the addition to Flying Lotus' resume, now joining a long list that includes filmmaker, producer and rapper.
It would be a shame not to mention one of Flying Lotus' tour openers, So So Topic. This hip-hop lyricist and producer from Dallas teamed up with FlyLo for his first-ever tour. On Facebook, So So Topic claimed earlier this month that he was added to all of FlyLo's current tour dates, and upgraded from a five-minute opening set to a full-fledged hour — an understandable move considering the great performer he is. The poetic lyricist spit well-written verses effortlessly, sometimes in spoken word fashion and sometimes without any music at all. Making him even more impressive — So So Topic claimed he produces all of his beats himself. Something tells us we will be seeing a lot more of this musician in the future.
PBDY played a 30-minute intermission before Flying Lotus finally took the stage. This whole time, FlyLo's production stand was mounted at the center of the stage, left in plain sight for the crowd to stare at it both amazement and anticipation. The stand was a tall, hour-glass shape that was large at both the bottom and the top, but thin in the middle. Dripping from the top were what looked like stalactites of a silverish substance solidified on the ceiling of a cave.
Flying Lotus' live music and production combination always make it easy for anyone to zone into a trance-like state, occasionally forgetting to move your body or even how to. And the 3D experience was perfect for that exact scenario — fans found themselves entranced by the screen, often standing still in mesmerization. This was especially true for the beginning of FLyLo's set, which began slower and more experimental. Eventually, he moved into his funk, electronica and hip-hop infused selections, but the set didn't entirely feature Flying Lotus material. In a way, the night was one long DJ set which included Flying Lotus songs, but it also included samples in the mix from Beyonce, Kendrick Lamar and hints at fellow Brainfeeder artists. "People don't realize this is all improvised every night," Flying Lotus said as he instructed the light-crew to mess with the lights for a minute on-demand. "We've got the power and the electricity. See that's a real thing." The audience roared and FlyLo responded by teasing us with a preview of new material, "I'm feeling some new things but wanna bounce around a bit."
Being improvised, the show was quite impressive, especially due to the amount of coordination required between Flying Lotus, the music, the light technicians and the visuals. They playfully evolved through entrancing scenes including jellyfish swimming, sunglassed skulls talking, mannequins moving, 3D x-rays evolving and even spaceships abducting the crowd. The screen didn't just project patterns, it projected objects and settings and at times got pretty strange. Some of the effects extended out into the crowd, but the majority of the 3D element was adding background depth to the screen. Audience members were mesmerized, even holding phones up behind their glasses to try and capture the three-dimensional effect with little success.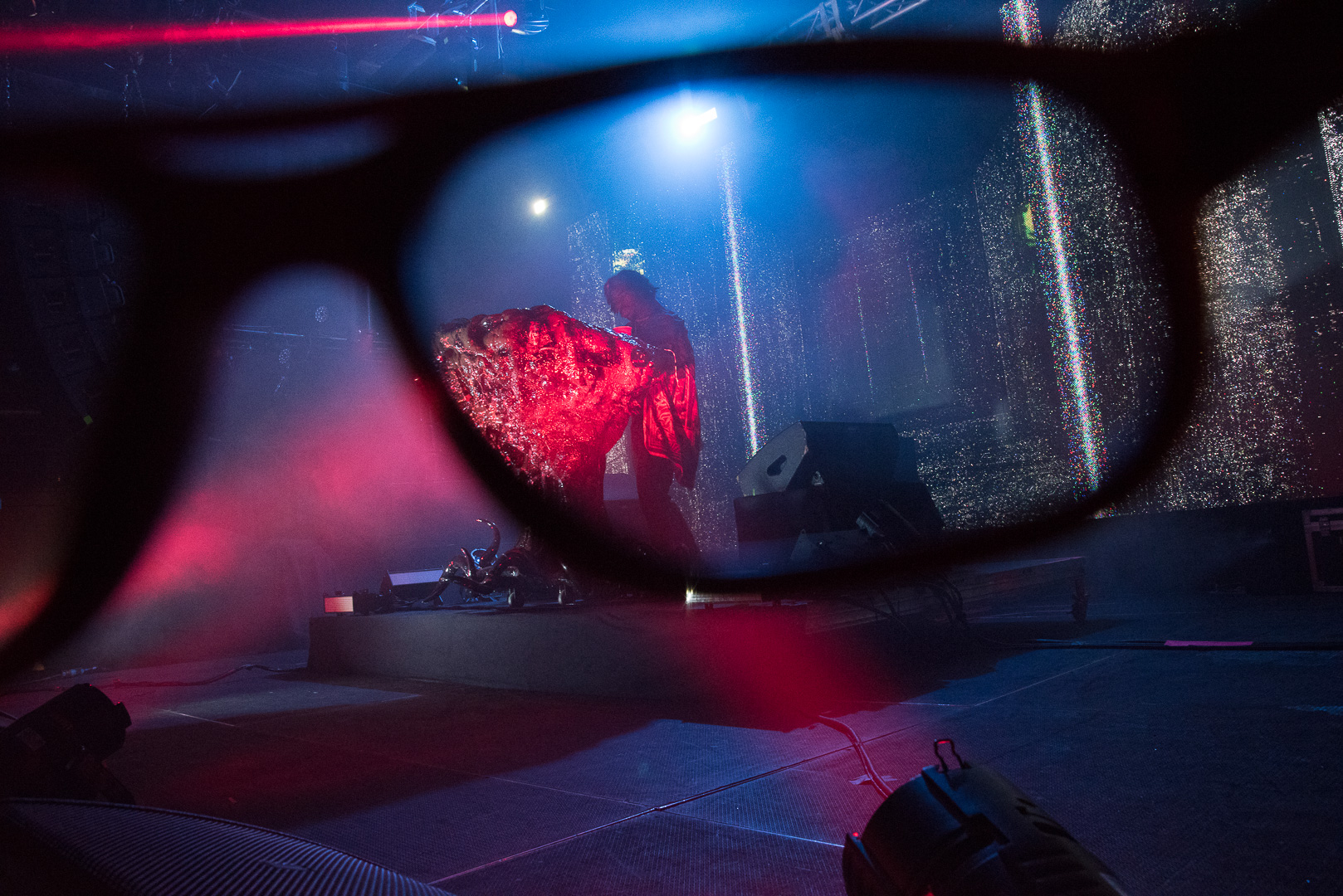 Flying Lotus was artistic, not only with the light coordination but also with his music — but that was to be expected. The man has a flawless sense of sound and the ability to intertwine musical elements into a feverish combination of one-of-a-kind, weird and experimental mix. He moved from beat to beat with fluidity — but not every time, occasionally starting a beat and then revoking it because he changed his mind in regards to direction. But that's only normal for an improvisational set. At this point in the evening, So So Topic had been wandering around the venue, enjoying the show himself but he wasn't done for the night — the opening artist stormed the stage one more time to rap on top of FlyLo's production and in front of the 3D screen.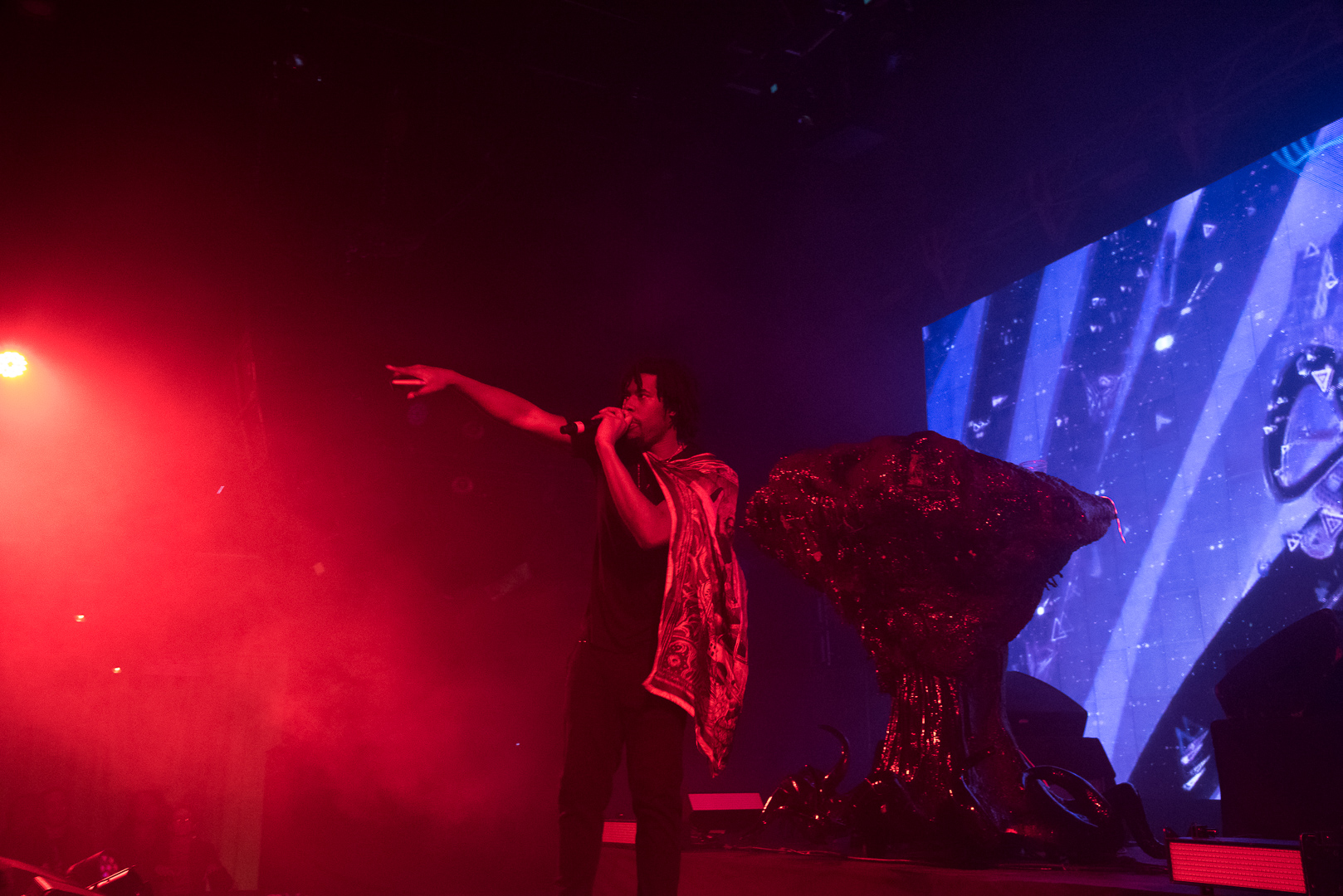 The venue itself wasn't perfect but it was nice for an event like a 3D show. The sound may not have been incredible and the bar lights may have shined far too bright during the show, but there was enough room for everyone to see and the venue houses better bathrooms than most. The 3D aspect was fun and entertaining, but didn't entirely live up to the hype and wasn't drastically different from Flying Lotus' usual sets — his production and projections always have some sort of depth to it with or without 3D glasses. The 3D stopped feeling special after a while and eventually became a distraction, rather than a complement to the incredible music at hand. It was an experience, but maybe not balanced well enough. However, there's no doubt that Flying Lotus is pioneering the future of electronic concerts while doing it all improvised.
"The album is almost done. I promise it will be bigger and better next time I see y'all. But it was a pleasure. I love coming out to Denver. Admittedly, I haven't been this nervous in some time. I know y'all motherfuckers — I've been here before."
FlyLo spent the last half an hour of his set teasing new material or as he called it, "see you next year things." But eventually, he returned to some of his own released music like "Dead Man's Tetris" which he rapped along to and a version of "Never Catch Me." He made promises to be even bigger and better the next time he comes to town, and we're excited to see what the artist has in store.