New Belgium Brewing's Tour De Fat, presented by its flagship beer Fat Tire, was scheduled to arrive in Denver on August 26. According to a post on the Facebook event page, the cancellation comes in response to the changes made to this year's Denver edition. This included moving to The National Western Complex from City Park and canceling the bike parade. New Belgium also made general updates to its overall event format by expanding Tour De Fat to be in 33 cities (last year it was nine), focusing more on music and adding an entry fee (previously it was free).
SEE: [PHOTOS] – Crazy Costumes of Tour De Fat Denver 2016
New Belgium will still host its original Tour De Fat in Fort Collins on September 2. Boulder and Colorado Springs Tour De Fats are on schedule for August 25 and 26, respectively. The remaining Colorado events will have headlining bands including Los Angeles' Wilderado performing in Boulder and Colorado Springs and All American Rejects and X Ambassadors in Fort Collins. The bike parade will also continue on in Fort Collins.
Full refunds are available for ticket holders, but New Belgium will front the cost for the anticipated funds dedicated to the selected the non-profits — BikeDenver and Denver Cruisers. Event-goers can also exchange their Denver tickets for entry to Fort Collins, Boulder or Colorado Springs. New Belgium is asking people to send requests for refunds or exchanges to [email protected] See below for the full announcement and go here for more info on the additional Tour De Fat events.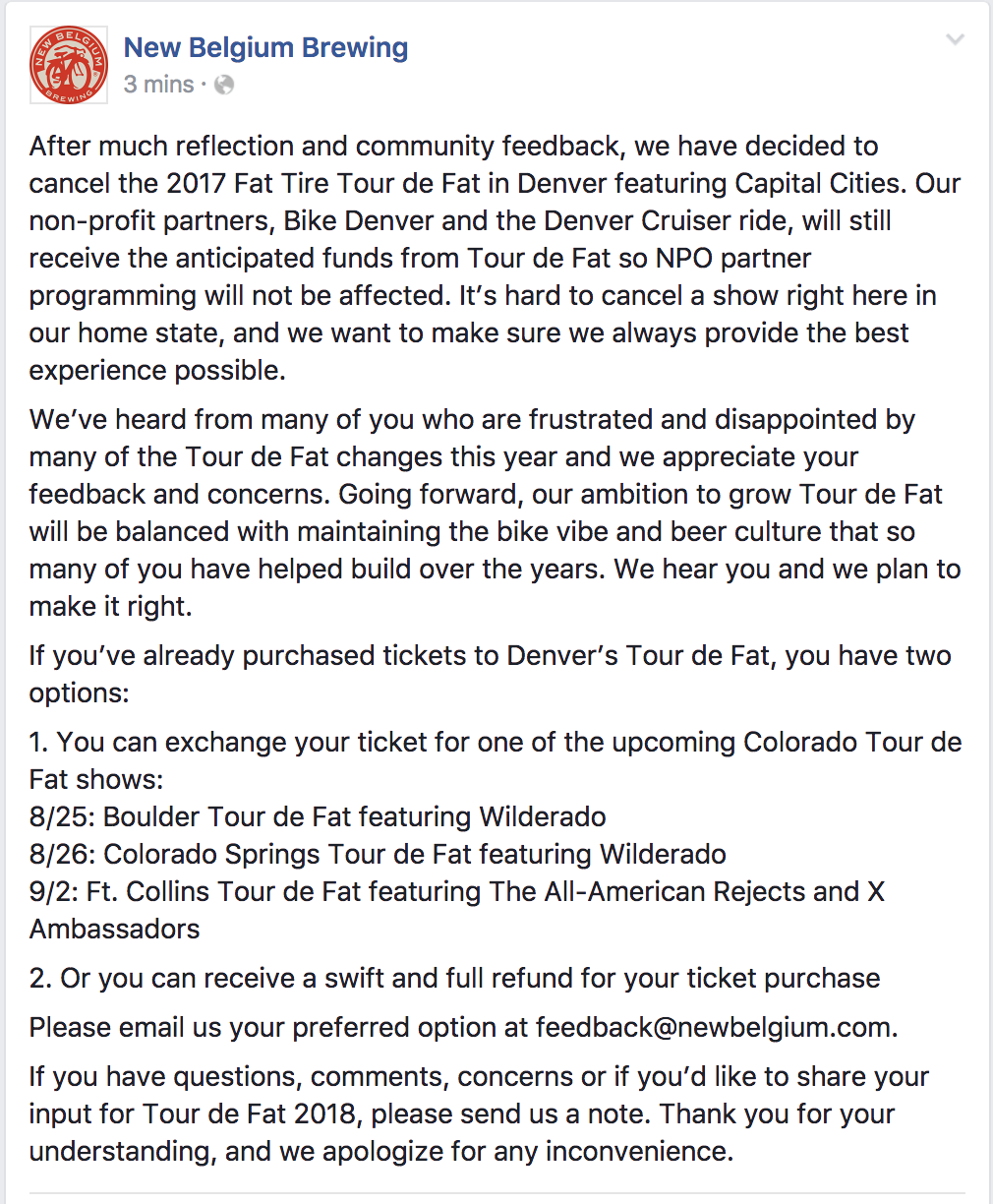 Additional reporting by Alysia Shoemaker.