Jerky has come a long way since Macho Man Randy Savage peddled gas-station Slim Jims.
In the past, "jerky" was often used as an adjective to describe meats that have been overcooked — particularly steak that's too dry — but not anymore. Over the last few years, jerky has been reimagined as a healthy, portable snack — particularly within boutique grocery stores.
Gourmet food is certainly no new thing, but gourmet snacks have been making a bold stand lately. With brands like Epic, RX, Kind Bar and Clif taking off, snacking smartly is the new fit trend that shows no signs of stopping. But why should meat take a back seat to dried berries, nuts, seeds and protein bars? Meat is the OG protein — it's reliable, easily-sourced and readily available in dozens of ways.
With an increased focus on sustainable and ethically-raised meat, gourmet jerky is having a long-overdue resurgence in restaurants, too. We wanted to witness it first-hand by going behind-the-scenes at Butcher's Bistro — a restaurant known for its jerky. 
The chefs at Butcher's Bistro in the Ballpark neighborhood are no strangers to sensibly-raised beef. The team is dedicated to nose-to-tail processing and commitment to local farms. Sustainability has been the food-fad of the decade — particularly within the meat industry — and finding farmers and products that fit that mold is a mission that Butcher's takes very seriously.
Scott Bauer, Tyson Holzheimer and Bryce Norblom make up the restaurant's meat-carving team, but during our visit with them, Norblom was the man with the plan.
Norblom came to Butcher's Bistro from a corporate training position at Snooze, and with him came his knife skills and focus on ethical meat-sourcing. Not only did Norblom let us peek behind the scenes with infinite questions in tow, he also allowed us to sample other meats that he chops, slices and grinds daily — like the uniquely-spiced Linguicia, a traditional Portuguese sausage spiced with cinnamon, clove and sherry and a hybrid Kielbasa and Italian sausage, which was as exactly as delicious as it sounds.
With all those diverse and delicious meats available, Norbloom said he still sells out of jerky as quickly as he can make it.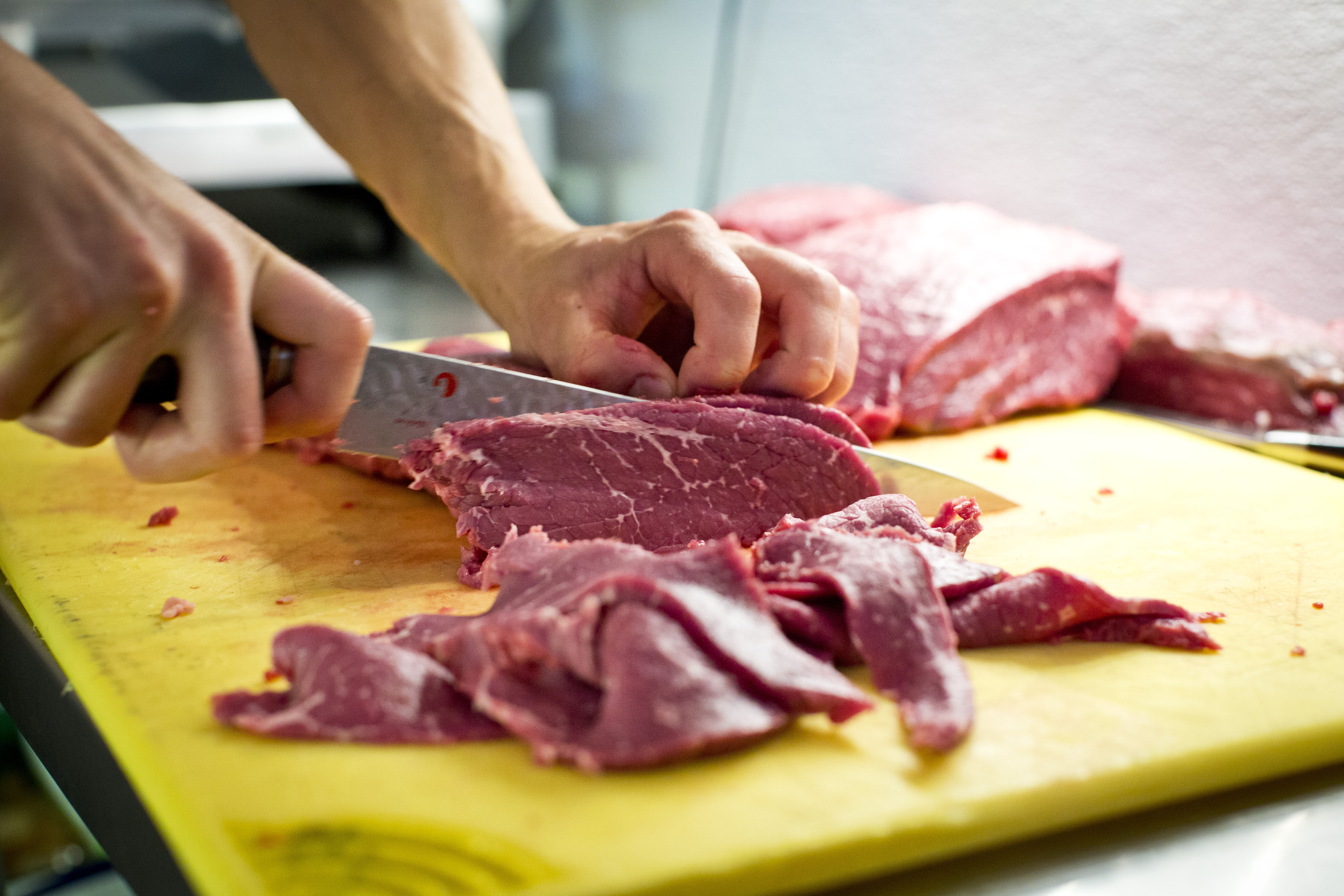 Restaurant guests watched in awe as he lugged an 85 pound half cow through the restaurant at set it behind the meat counter. Watching him break down the cow was as efficient and educational as it was entertaining. During the 45 minutes it took him to fully carve it, he described his method as "working a puzzle, with each muscle group being a maze." 
Using mainly top round and the outside round of the cow, Norblom skillfully sliced uneven and inconsistent pieces to give the cut an authentic, gourmet look. He carved eight pounds before tossing it into a special marinade — which is, of course, a secret. After the meat marinates overnight, he will dehydrate it for six hours at 165 degrees.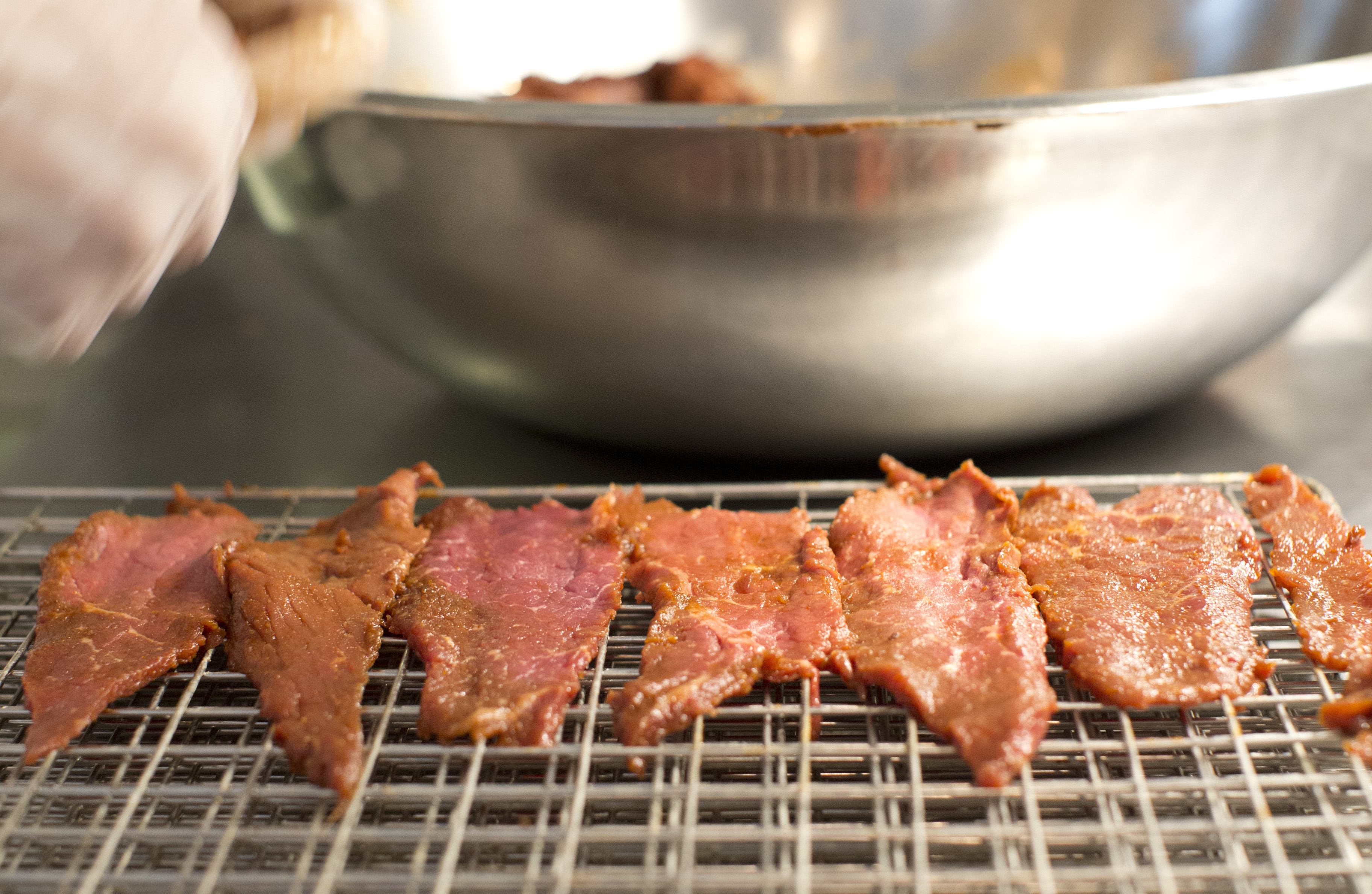 Although the jerky sells for $10 for a quarter pound, Norblom said that an eight-pound batch — like we watched him prepare — will sell out in just a few days. 
Norblom said that he thinks customers rave about the jerky because it's a carefully-prepared, good-quality snack for road trips, before Rockies' games or camping. It fits perfectly with the Colorado lifestyle of healthy, organic and mindful living.
Butcher's Bistro is located at 2233 Larimer St., Denver. It is open Monday through Saturday 10 a.m to 11 p.m. and closed on Sundays.
All photography by Rachel Muich.