Joining the brewery scene in Denver requires more than just good beer. The brewery needs a certain kind of style in order to stand out from the pack. It doesn't need to be flashy, it doesn't need to be incredibly daring, but it does need to be something that the beer drinkers of Denver can appreciate.
TJ Slattery and Willy Truettner, the owners of Zuni Street Brewing Company, not only created a place that Denver beer drinkers could appreciate, but they made it feel like home when they opened their doors in March.
Slattery and Truettner are something that is harder and harder to find in Colorado — they are both natives. Their friendship started at West Middle School in nearby Greenwood Village more than 17 years ago and has crossed several states and even oceans since. In the end, both found themselves drawn home to Colorado for its people and everything else the state has to offer.
Their Colorado vibe is reflected in the taproom's concept. Both have a love of the outdoors and being active. Slattery referred to it as, "The great outdoors atmosphere."
Walking into Zuni Street you are immediately struck by the lighting. There are multiple industrial-style wooden trees with branches lit up by colored light strings. The two founders wanted their customers to feel like they were out exploring while drinking their beer even if it was the middle of the week just outside the heart of Denver. Slattery said the brewery was, "A reflection of what the people in this neighborhood do in their free time, the lifestyle." That lifestyle shows beyond the lights when you see the bar, the huge windows and hear the music in the background.
The brewery also boasts not one, but two huge pet-friendly patios. The environment is fun and welcoming — from the staff to their weekly events like trivia and yoga. When asked what their goal was for people walking in, both responded in the same way — this is the neighborhood brewery, and they are trying to build community and camaraderie.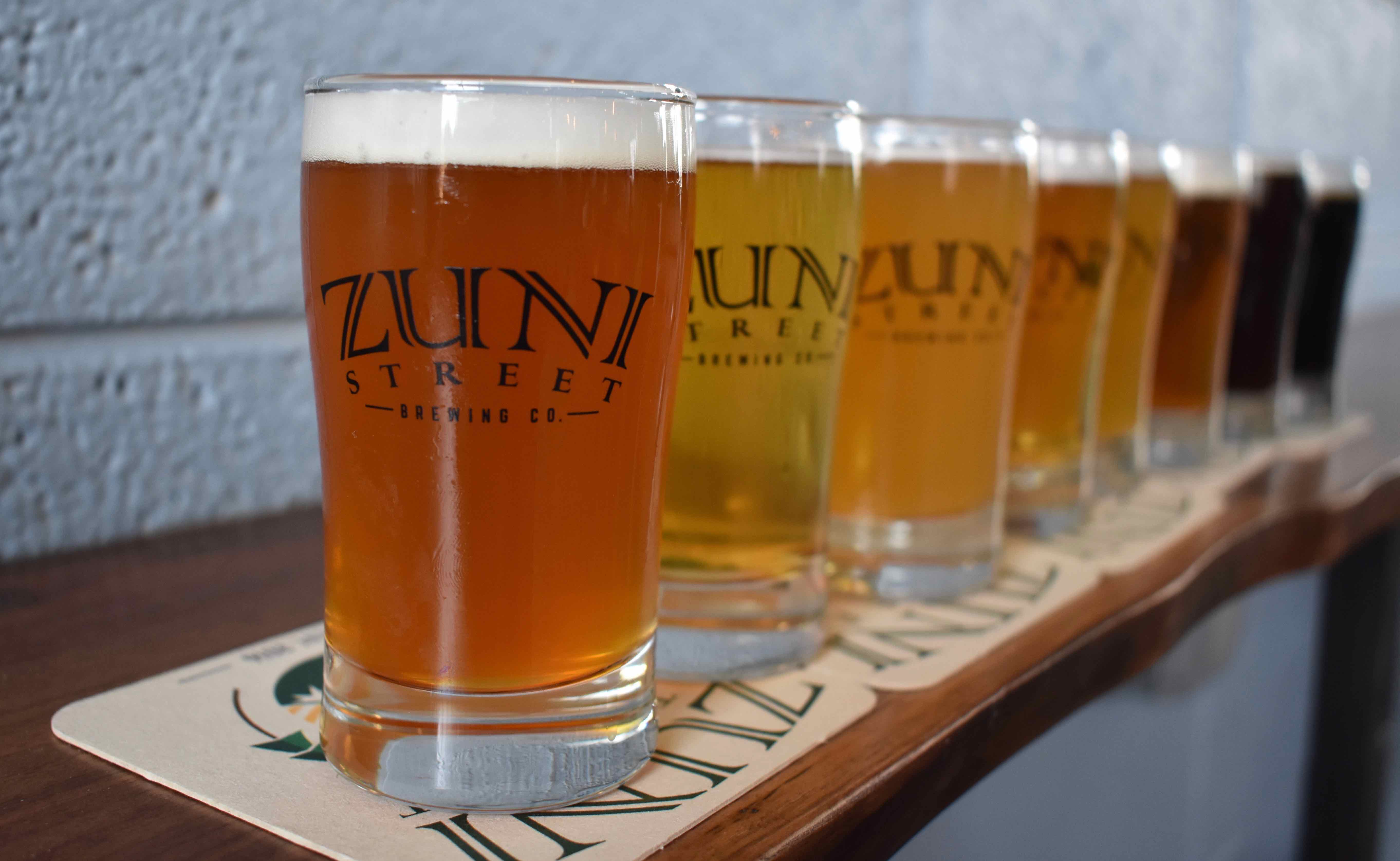 You can feel an extension of the neighborhood vibe when it comes to the beer list. In their planning, both agreed that it was important for all of their core beers to be approachable. These are the types of beers that anyone can walk in and find something to enjoy.
"I love having people drink my beer and telling me it tastes great," Truettner said. "There is no better feeling."
The last thing they wanted to do was to intimidate. This isn't to say that the beers aren't exciting, though. The list is diverse ranging from IPAs to Porters to the immensely sessionable Kolsch style. There is something for beer geeks and casual beer drinkers alike. Try the "Midnight What?" It's a unique take on a Belgian strong dark ale to explore the depth of what is to come from this brewery.
Truettner, head brewer and a graduate of the Siebel Institute of Technology in Chicago, gained his experience from both Bell's Brewery and New Belgium Brewing Company. He promised that the beers were going to evolve as time moves forward.
"I don't put a style or any limitations on what I am going to make," he said.
The only thing you can expect from Truettner's beers is that they will be what he enjoys drinking, and he enjoys a lot of styles. In the future, expect to see its beers list grow. Expect to see them push boundaries with styles such as sours while still keeping the beers true to the brewery's comfortable roots.
As Zuni grows, they are also going to introduce their Homebrew Workshop concept. This workshop will allow customers and beer lovers a chance to dig in and fully understand the brew process — with the help of professionals and hands-on experience. Groups of people will be able to come in, select from a group of recipes and then brew (on a smaller brew system) with one of the staff brewers. It will give people the chance to experience the full brew process in a fun and controlled environment. This project is currently in its beginning stages but is something to keep an eye on for the future.
Zuni Street Brewing Company has carved out its niche in the Denver beer scene. This is a brewery that is truly embracing its role as the community watering hole. If you need to get away from it all without leaving the city, drop in for a beer or two and enjoy the relaxed, uniquely-Colorado atmosphere.
Zuni Street Brewing Company is located at 2355 West 29th Avenue, Denver. It is open Sunday 12-9 p.m., Monday through Thursday 2-10 p.m., Friday 2-11 p.m. and Saturday 12-11 p.m.