Konstantin Dimopoulos embodies the classic quote from Dr. Seuss' The Lorax, "Unless someone like you cares a whole lot, nothing is going to get better, it's not."  Armed with a wealth of knowledge about global deforestation and the consequences, Dimopoulos has traveled to 19 other cities before Denver, painting trees blue in order to call attention to the trees and to speak for them. He started painting trees in downtown Denver at the end of April (see our description here) and this week he's focusing his attention on schools in the area, where he will present his ideas to the generation he believes is our best hope. For those of us who won't be at those school presentations, 303 Magazine talked to Dimopoulos who answered five questions about the Blue Trees.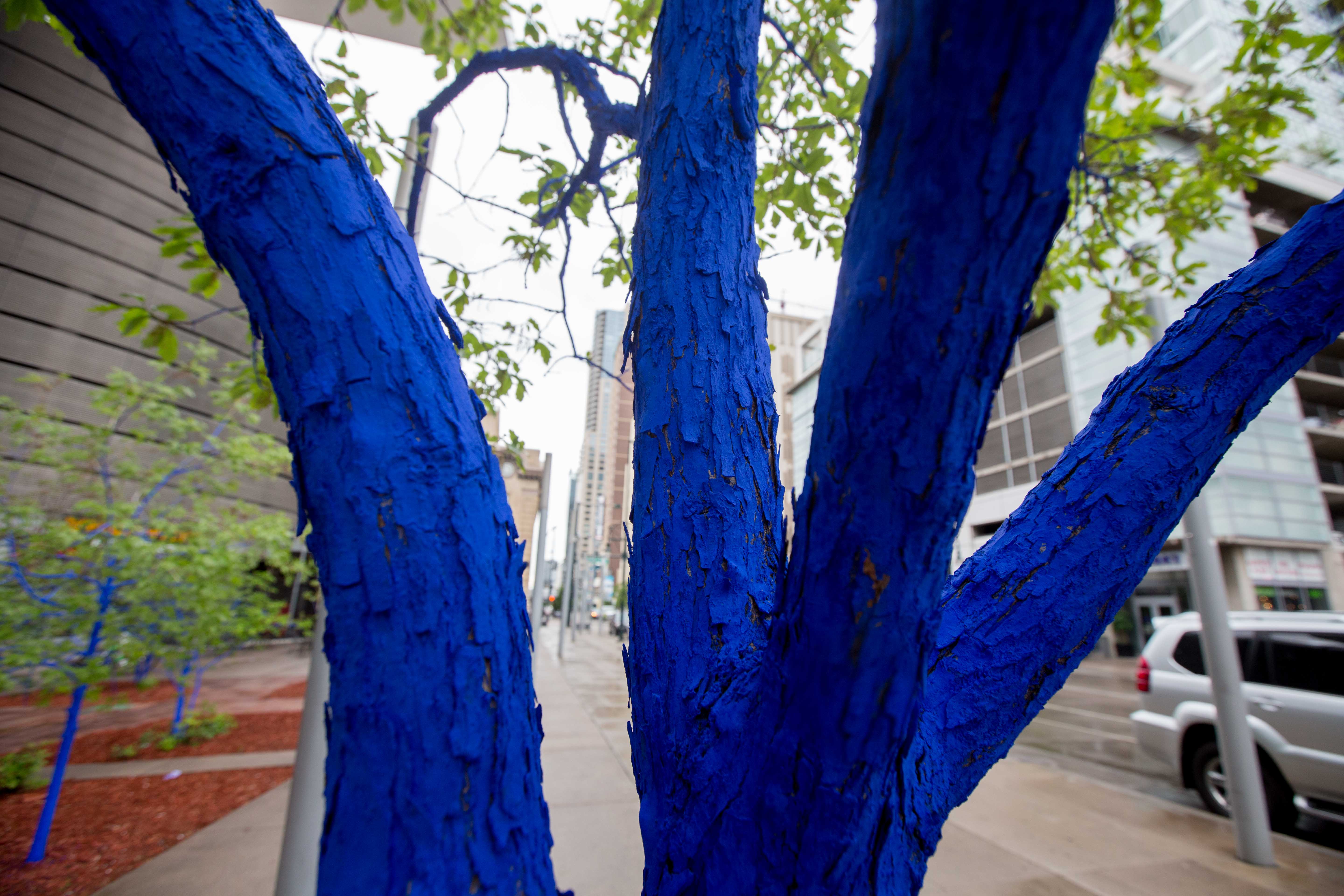 303 Magazine: What's with the blue paint?
Konstantin Dimopoulos: It's a dye. I created it with a company in Australia and we spent a lot of time developing it. I always give the city I want to paint trees in all the information about what's in the dye. There's a process to be able to do something like The Blue Trees and no city would let me do it without full disclosure. Every city checks what's in the pigment. And honestly, as an artist, I would be destroyed if any of my work hurt trees. The last Blue Trees I painted were in Breckenridge and the blue is gone already. I also never paint trees that are stressed, which led me to avoid many of the trees in Denver along 14th and Curtis. I hate when people paint dead trees as I find it to be a desecration of that tree, of the life it had and supported. So I am very careful about which trees I paint.
303: What inspired you to create this traveling artwork? 
KD: In the 1980s, GreenPeace painted white seals with a harmless blue dye in order to make their pelts worthless. It was controversial but I say the choice was 'either be blue or dead.' And I think I can speak for the seals when I say they'd rather be blue. But really, all of my artwork highlights social issues. I started as a sociologist and since 1984 I have created art around ideas stemming from sociology. The Blue Trees is more about the humanitarian crisis that comes from deforestation — the fact that our species relies on oxygen supplied by the forests that are in most danger. The thing is that the planet will survive, but we won't be on it if we don't change our ways. We can do better. I will never forget seeing images of industrial deforestation and how that made me feel. My hope is that someone will see the blue trees and never forget why they I painted them blue.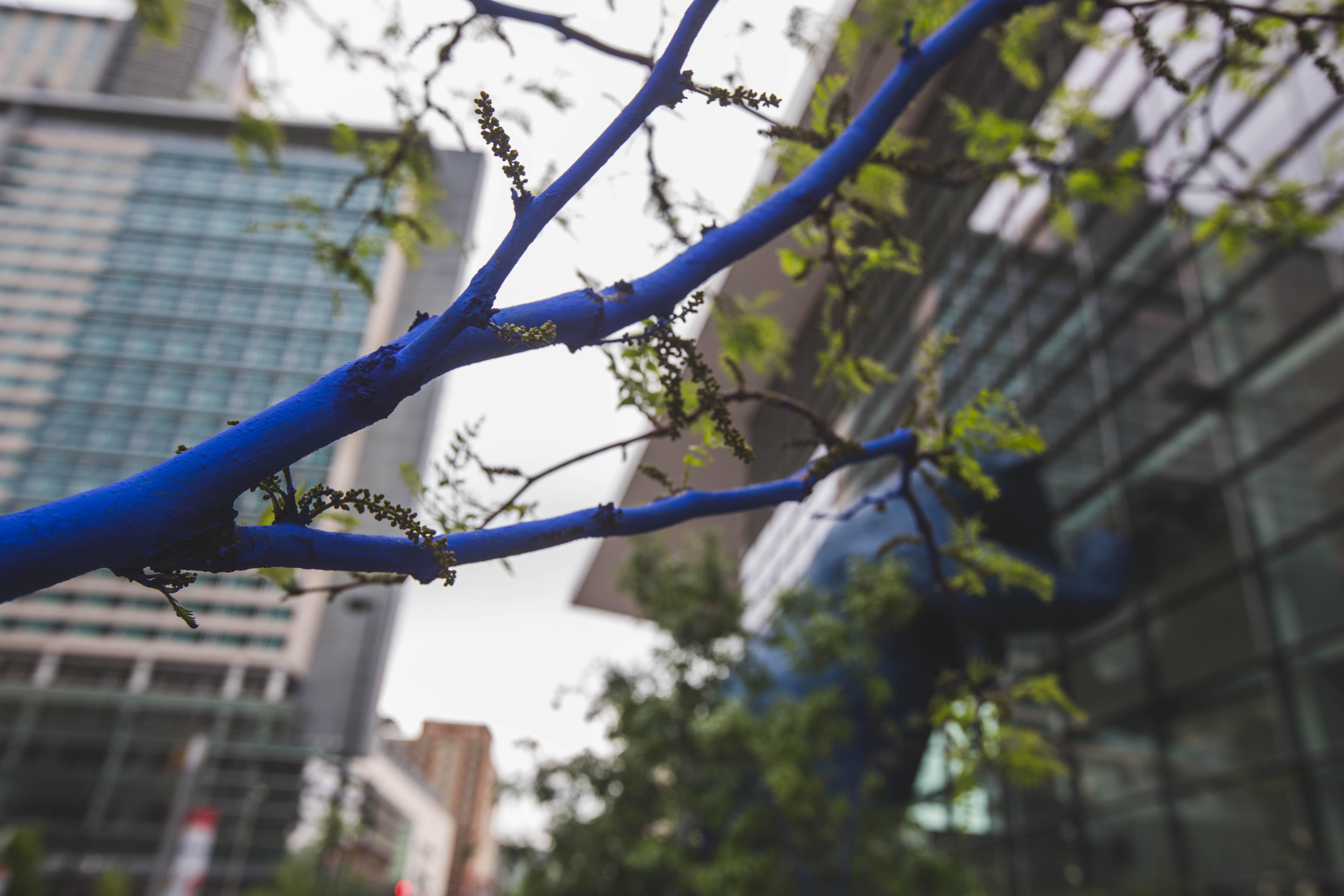 303: How does this kind of art open discussion about global deforestation?
KD: People get incredibly attached to the trees in their city, the new growth. But the old growth is disappearing because it's thousands of miles away from home, out-of-sight. The oxygen from those old growth forests provide the whole world, affecting every city. I like to describe it like an airplane — it doesn't matter if you're in first class or economy, we all breathe the same recycled air. So I paint the trees blue in order to represent a kind-of Munch-ian 'scream' from the new growth city forests for their old growth counterparts. If people care about the trees close to home they should care even more about the trees that are disappearing at alarming rates far from home because those are more essential to our survival. Shocking people with the bright blue paint is just a way to focus attention on the bigger issues.
"We are already planning our exit strategy from this planet, but this is paradise."
303: What can an everyday person do about these issues? 
KD: Conquering global deforestation is too big a thing to do on your own. Just focus on one small thing. I have a friend who decided to stop using plastic straws and started asking for drinks without them. That's a small action that doesn't require him to rearrange his whole life but ultimately makes a difference. We are already planning our exit strategy from this planet, but this is paradise. We need to wake up to that. One of the reasons I am excited about going to schools this week is because kids are our only chance for the big issues. I'm banking on the kids. And I've seen children respond to the Blue Trees in the best way — by coming up and hugging one of them. That happened here in Denver, among other cities. It's as if they've really seen the tree for the first time.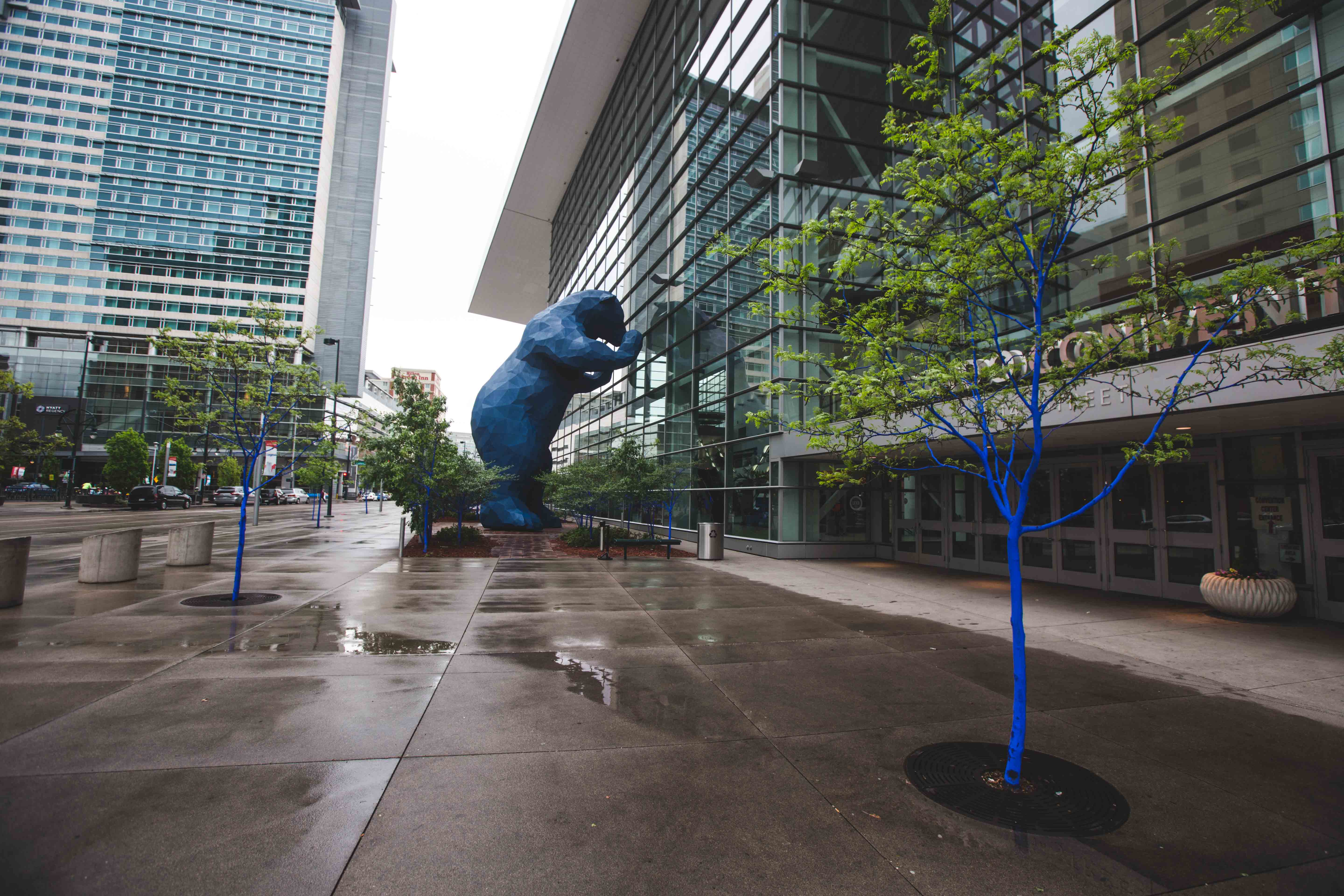 303: What's your favorite part about the Blue Trees series?
KD: Blue Trees started as a guerrilla work. We were going to go into cities, paint the trees and put information about deforestation up around them. But it morphed into a community involvement project. And I love that. No one on their own can change the world. An idea starts at one point and becomes alive and that's when real change happens. I came up with the idea to paint the trees blue, but then each city has their own way to highlight or complement it. That kind of collaboration is really the best part. Some artists want to be alone to paint but I enjoy talking to kids and strangers and the act and journey of creating more than the result.
——
The Denver Theatre District collaborated with Dimopoulos to create a series of Blue Tree-inspired special events throughout May, culminating in a family day on May 21 from 10 a.m. – 5 p.m. at Skyline Park on the 16th Street Mall in downtown Denver. The other special events are listed below. For more information about The Blue Trees visit the Denver Theatre District website. For more information about Dimopoulos, visit his website.
Sacred Art: A Free Open Meditation
When: Every Monday, May 8, 15 and 22, 11 a.m. – 2 p.m.
Where: In front of the Colorado Convention Center, 14th St. and Stout St.
The Lowdown: Sit down amid The Blue Trees with noise-canceling headphones that either play a guided meditation or ambient music. The meditation is led by Life Coach and Thought Leader, Kimberly Allyse Johnson. Even if you only have five minutes to spare, this will provide a relaxing break from the hustle of urban life.
Blues Music in the Galleria
When: Every Wednesday, May 10, 17 and 24, 5 – 7 p.m.
Where: 14th St. and Curtis St., in front of Denver Performing Arts Complex
The Lowdown: Free music from local blues musicians, curated by Swallow Hill Music beneath the glass ceiling of the Galleria. The Glasstop Bar at 14th Street will be selling beer, wine and cocktails to enjoy with the music. The line-up for musicians is: May 10 – Al Chesis and Delta Sonic Blues Band, May 17 – Felonius Smith Trio, May 24 – Arthur Lee Land.
Block 1750 Presents: Street Cyphers
When: Every Friday, May 12, 19 and 26, 6 – 8 p.m.
Where: 16th Street Mall, in front of the Rialto Cafe
The Lowdown: Musicians and dancers from Block 1750 (a Boulder-based dance collaborative) perform in front of audiences on the mall with entertainment inspired by The Blue Trees. 
Nature Songs Amid The Blue Trees
When: Friday, May 19, 6 – 8 p.m.
Where: Throughout the Denver Theatre District and Blue Trees
The Lowdown: Aimed at encouraging people to amble through the areas with the blue-painted trees, instrumentals and vocals from Opera On Tap Colorado will be played only once, so don't miss out.
Write Denver Explores The Blue Trees
When: Saturday, May 20, 1:30 – 3:30 p.m.
Where: 891 14th St., tour will begin and end at Uncle Joe's Hong Kong Bistro
The Lowdown: Write Denver presents a tour led by a member of Lighthouse Writers Workshop, where the guide will give writing prompts influenced by The Blue Trees while leading the group throughout the installation. The tour begins and ends at Uncle Joe's Hong Kong Bistro, with complimentary food and beverages at the end to enrich group discussion about the art.
Urban Jungle- Can Art Save the World? Digital Art Presentation 
When: Saturday, May 20, 12 – 1 p.m.
Where: 14th St. and Champa St. LED screen
The Lowdown: A one-hour video, presented by Denver Digerati which is a "visual celebration of nature, beauty and community brought into the urban context, with a nod to some of the challenges of this world in the face of a rapidly changing climate," according to the Denver Theatre District.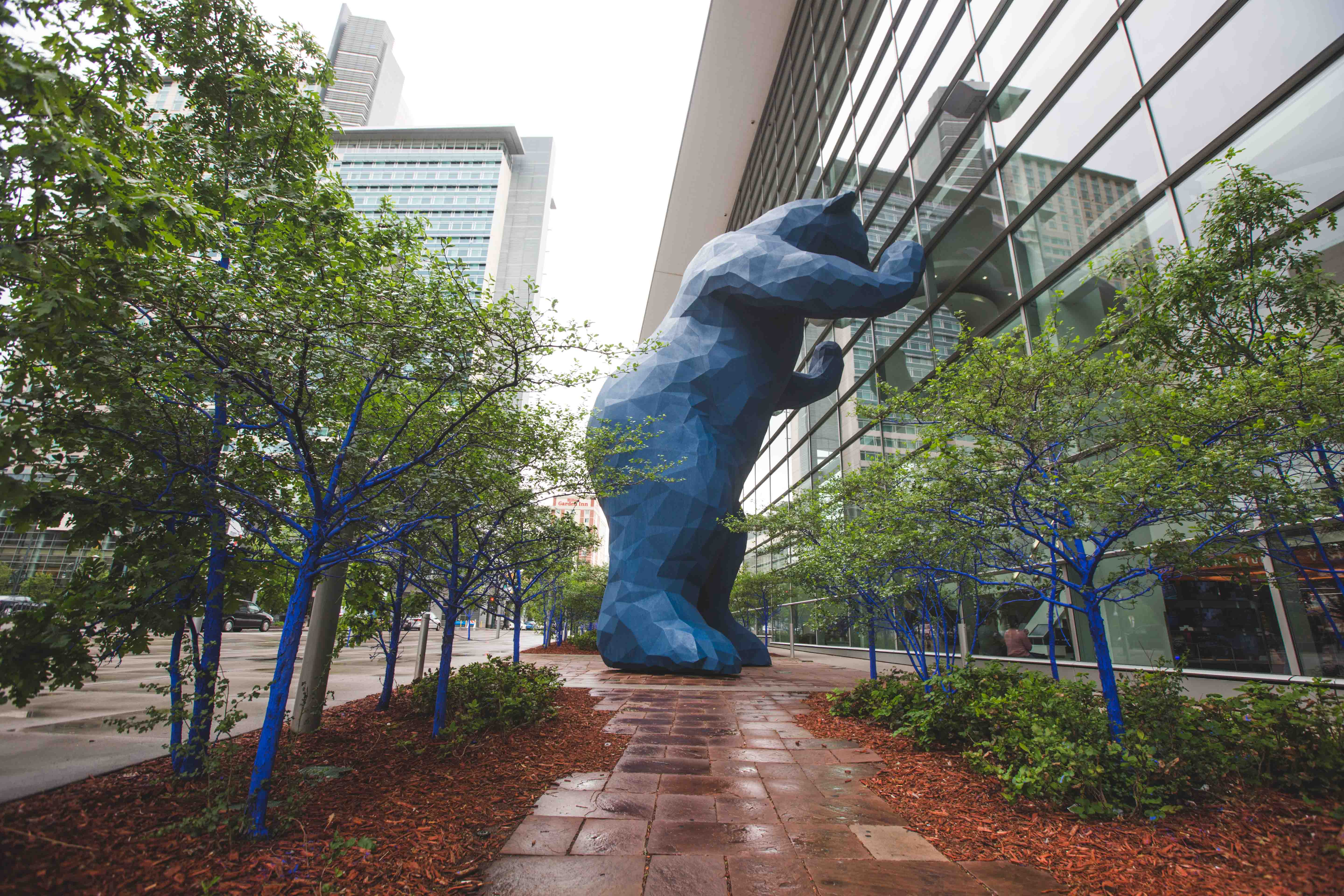 All photos by Kyle Cooper unless otherwise noted.