No, this is not an article on how many humans I've seen carted off by security inside the amphitheater (it's four by the way, in case you were curious). Instead, it's time for you to discover the glorious moments our beloved and shining Red Rocks has seen throughout a tumultuous relationship with that one ex no one can shake: Booze. Join us as we take a dive into this lawless history and next time you're at a party trying to impress someone, maybe you can regurgitate half-heartedly what you read online about the boozy state of Red Rocks. Disclaimer: please don't use this illustrious history as an excuse to go be stupid. Please, drink responsibly.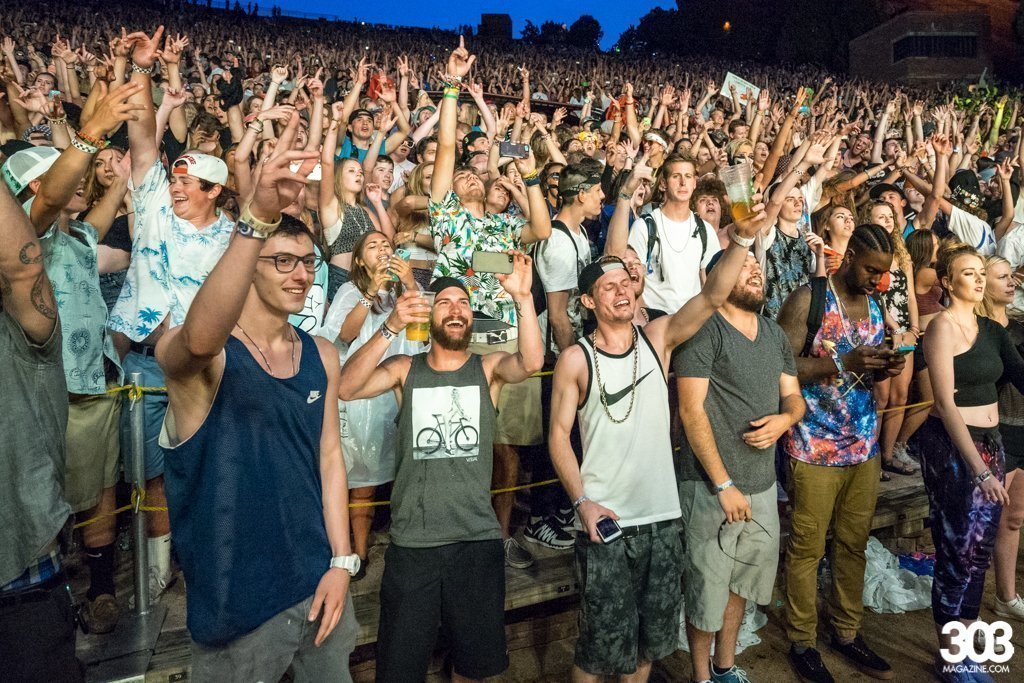 The 1920s – 1960s
If you had around $50,000 in the 1920s, you could have purchased Red Rocks. The City of Denver bought Red Rocks for an estimated $54,000 and some extra change in 1927, but before then, a man named John Brisben Walker had previously spearheaded concerts in the first decade at the park. Since Prohibition didn't end until 1933, we can gloss over this depressing time. After the fall of the stock market, not much was done with the land up until the 1940s when funding could be supplied to complete full construction for the venue. It wasn't until 1964, however, that the Rocks had their first rock 'n' roll headliners. (I bet you can guess who it was — The Beatles). The band needed oxygen canisters on stage and the concert was the only show they did not sell out on their world tour. But the 7,000 people who did show up knew a precedent had been set  — Red Rocks was a fully-fledged concert venue. No longer did it just host Opera singers or Easter Sundays.
It is in the 1960s that we begin with our first, storied alcohol incident. At a Ray Charles concert, fans showed up in the middle of summer day heat for the artist even though he was set to perform at six. When the band entered the stage without him, beer-fueled anger came from many attendees (which is not surprising after a six-hour day drinking binge). Beer was thrown and Charles played a short 45-minute set — and only did so because if he decided to not play, which he very well considered, he would have to pay back every fan who purchased a ticket. Since there was only 25 police present, security was unable to appease the crowd and the emcee only worsened the reactions. It's safe to say Charles did not come back. After that show and a 1964 Peter, Paul and Mary concert (where fans once again threw beer), an alcohol ban was set in place but only lasted for two years.
The '60s were a trying time for rock music. After another riot in 1968 at an Aretha Franklin concert, a second ban was put in place for the year of 1969, but this time the ban was on rock 'n' roll music. Apparently, Miss Franklin did not want to perform because of contract discrepancies, and the crowd destroyed chairs, equipment and even lit some fires.
The 1970s – 1990s
Ah, we have reached the '70s. Where perhaps the most talked about boozy riot, the Jethro Tull Red Rocks tale, lives on. In the summer of 1971, around a thousand people took to squatting in the parking lot to hear the band play. But give a mouse a cookie, and it's going to want a glass of milk. Soon, the ticket-less fans wanted to see the band inside the venue and they raged against the police to get in. Gates were knocked down, fists were thrown and it escalated from there. Violence, tear-gas, police helicopters — oh my! The amphitheater swiftly turned into an alcohol-ridden war mess while the lovely band members of Jethro Tull continued playing to try to keep some level of peace. You can guess what happened next, as the mayor banned rock 'n' roll from the beautiful venue. Luckily, a couple years later, the famous Red Rocks promoter Barry Fey sued against this ban and won. So, in 1976, rock 'n' roll returned with a vengeance. Jethro Tull actually just recently played the venue on May 26, 2017, but things have calmed down a bit and no riots were spilled.
The 1980s were relatively quiet and I assume because those in Denver did not want another ban to occur. After the riot, Red Rocks began hosting two or three-night runs for popular bands so more people could snag a ticket. But even a four-night run for the fabled band Phish didn't stop an alcohol-infused riot. In 1996, Phish followers took over and the town of Morrison was not happy. Fans camped out for the week and threw endless parties in the town of 400 people. Therefore, the band was unofficially banned from the Rocks for 13 years but have returned to Colorado fairly constantly since 2009. Please do yourself a favor and watch this 1990s video report below, where you will discover chants of "freedom!, neo-hippy, Phish heads" and some great mustaches:
Early 2000s – The Current State
The only more news-raising alcohol incident in this decade from Red Rocks would be the shooting that occurred after a Nas and Schoolboy Q concert in 2014. Three people were injured and many wonder if the target was Schoolboy himself. But outside of this violent event, the Rocks have been pretty tame in term of legal consequences in its more recent years. Another controversy that has come of late is the noise level ban. The town of Morrison (they seem to incite a lot of these bans…) called for a cap on how loud the noise coming out of the amphitheater can reach. This law mostly affects Bassnectar fans and…nope, that's about it. And even with the legalization of marijuana, it's still illegal to light a joint up inside the venue.
But security has tightened very strongly since even the '90s, so it doesn't surprise me the amount of massive alcohol incidents have gone down. Sure, your friend Jimmy may have been man-handled out the gate because he passed out on a bench inside the venue, but the rock 'n' roll days of alcohol plundering are gone. And may they rest in peace.