Following the tidal wave of upgraded social media platforms back in 2012, fashion blogging took the Colorado fashion scene by storm. From Instagram to Pinterest, all the way to independent web platforms, Colorado fashion bloggers have become the online fashion hot spot you've been dreaming of. Featuring style tips, outfit inspiration and even some lifestyle columns, you're guaranteed to find your next style icon right here in Colorado. Whether you need a wardrobe revamp or just a little inspiration, these 20+ Colorado-based fashion bloggers will take Colorado style and show you how it's done. Pick your favorite one or follow them all and take advantage of your very own Colorado stylist waiting at your fingertips.
Cayla Jean
Website: Thecaylajean.com
Started over two years ago, this self titled blog by Cayla Jean is a style haven. Born in Orlando, Jean made her way out west to find her place in the fashion industry. She quickly found it as an advocate for equality in the fashion industry and equal representation of curvy women. Having previously worked in the marketing industry Jean noticed how little curvy women are presented in the industry, so she started on a journey to change that. Jeans's style is full of color and quirky details that make everyday wear fun. Jean's main message to her followers is "be yourself." Her goal is to create an environment of fun, unique and beautiful fashion that's one of a kind. Jean is on a mission to change things and she's going to look great doing it, join her and follow her journey by subscribing.
Chasing Whimsy
Website: Chasingwhimsydesigns.com
Yearning to capture the moments and scenes that inspire her, Mackenna Johnson created Chasing Whimsy. Through fashion, interior design and life, Johnson captures beauty in the small things she loves. While taking a college writing class, Johnson quickly grew fond of her blog as a creative platform to express herself. Johnson is a Boulder raised girl who spends her days as an interior designer in Downtown Denver. For Johnson, it's all about the statement piece of her outfit — the piece that wows — her style is all about subtle details being brought to the forefront. Join her as she navigates her mid-20s through fashion, design and inspiration.
Chic Talk
Website: Chictalk.com
Carolina Hellal started Chic Talk as her way to share her passion with others and inspire them. Originally from Cucuta, Colombia, Hellal now lives in Denver. After attending school to study fashion she went to work in the retail industry and has since used her blog to share her love of fashion. Perhaps the coolest thing about Hellal's blog is that she blogs in both Spanish and English. Her style is all about intricate and unique pieces. She mixes details, cutouts and lace for a stylish combination of vocal points throughout her outfit. Combined with varying posts about beauty, travel and shopping destinations — plus her bilingual prowess — Hellal and her blog Chic Talk will keep you looking your best at all your favorite places in Denver.
ChiciBiki
Website: Chicibiki.com
Over a year ago B.K Turner found her passion and started her blog ChiciBiki. Born in Vietnam and raised in Germany, Turner found her way to Denver after she finished high school and attended CU Denver. Before starting ChiciBiki, Turner — along with her mom and sisters — owned an award winning natural beauty spa. After six years in business, Turner decided to find her next road to wander which, lucky for us, was blogging. Turner loves supporting local businesses. Some of her favorite local shops include, Stitch Boutique and Inspyre Boutique. Her style is unique, casual and very put together. She started her journey as an outlet and escape from the ever-present responsibilities of work and home life. Join her as she reclaims her identity and expresses herself through fashion and lifestyle.
Darling Be Daring
Website: Darlingbedaring.com
Founded by Desiré Falk, Darling Be Daring was created as an online magazine full of glamour and glitz. Falk aims to celebrate an extraordinary lifestyle on her blog with lavish fashion, beauty and lifestyle tips. Darling Be Daring is the place where girls can be girls. Falk —  a total cheese ball as she says — loves to write about fashion, beauty, travel and all the things that make her heart full. Falk's blog was named for her two sides, darling and daring, and her style holds true to both. Mixing fun prints, flirty dresses and always an amazing pair of heels, she is the perfect inspiration for a Denver girl looking to be darling and daring.
Denver Darling
Website: denverdarling.com
Born and raised in Denver, Abby Miller began Denver Darling to share her love of fashion, food and having fun with her friends. Miller — together with her husband Johnny and her Golden Retriever — lives in LoHi and is a true Denver girl at heart. Creating the perfect balance between her clean cut and timeless style and just a dash of fun prints and colors, Denver Darling is the perfect blog to follow for the woman who loves to put together classic pieces and funky finds. Her bubbly personality and easy-to-relate-to content gives her blog a unique and personal feel. Not to mention that her blog features lifestyle tips, travel diaries, a guide to Denver and much more alongside her style tips and outfit inspiration posts. Miller is a true darling and go-to-best-girlfriend for any Denver made woman. Complete with her Pinterest-worthy photos, Miller and Denver Darling are easy to love.
Eat Pray Wear Love
Website: Eatpraywearlove.com
A California girl planting roots in Colorado, the mind behind Eat Pray Wear Love is Leah Behr. Living in Colorado with her husband and Goldendoodle, Behr is a 30-year-old fashion guru taking on Denver one day at a time. As a self-named 'serial shopper' it's no surprise that Behr's style is one of a kind. Leah mixes tame, staple pieces with unexpected and eye-catching details. She keeps comfort and versatility in mind with every outfit, making her style easy to recreate for any woman. Blogging about travel, food, fashion and things to do Behr is the girl to go to for inspiration.
Every Once in a Style
Website: Everyonceinastyle.com
Longtime fashion lover Amber Wilkerson created Every Once in a Style as a way to express her creativity. Her passion began when she was a young girl visiting her grandmother — a fashion designer — in Los Angeles, at this point she was sure that she would become a fashion designer. Fast forward a few years and Every Once in a Style graced the Denver fashion community. Featuring fashion advice, product reviews and insight into life, Wilkerson's blog bares a creative atmosphere that anyone could spend hours perusing. Wilkerson's style is edgy, fun and just a tad girly all balanced with classic silhouettes and sophisticated pieces. Her style is the perfect inspiration for the modern Denver woman looking to revamp her out-on-the-town and date night looks.
Everyday Chiffon
Website: Everydaychiffon.com
It's clear in the name of her blog that Courtney Oldencamp can't help her love for chiffon. In her eyes, it's the best staple piece to dress up any outfit, that and shoes of course. Oldencamp, a self-proclaimed addict to an amazing pair of shoes and Denver girl, believes in following her passion no matter what. Oldencamp started her blog with the thought in mind that fashion is a fun and creative way to express the self. Oldencamp's style is flirty, simple and always features a daringly amazing pair of shoes. With glimpses of cooking tips, product reviews and beauty tips Oldencamp's fashion blog offers all kinds of tips and tricks to being a fun-loving Colorado girl.
Lauren Kay Sims
Website: Laurenkaysims.com
A passionate woman living a radiant life, Lauren Kay Sims is a Denver-based fashion blogger quickly gaining popularity. Originally a Dallas girl, Sims ventured to Denver with her husband and her dog after attending Baylor and briefly working as a buyer for Neiman Marcus Direct. Born with a love for clothes, Sims has set out to help other women feel look their best. Including workout posts, eats and beauty advice Sims is a woman on a mission to help inspire her readers. With a fun, flirty style that has a touch of southern flair you'll be scrolling through her blog for hours so follow her and let her inspire you to be a more beautiful you.
Modaprints
Website: Modaprints.com
The brain-child of Alena Gidenko, Modaprints is a fashion blog worthy of praise across the Denver fashion scene. Based in the Mile High City, Gidenko seamlessly mixes colors, prints and funky silhouettes to create a quirky and unexpected style. Her goal is to inspire women and remind them of the beauty found in being different. Whether it's an oversized tassel earring or a to-die-for "Dirty Dancing" graphic tee you'll always find something unexpected and stunning in every outfit. If you're looking amp up your everyday wardrobe or simply looking for a beautiful fashion blog to follow, Gidenko is your girl. By adding a vintage-style flair to every outfit, she builds a wardrobe suited for many occasions from work to date night. Alongside her fun and funky outfit posts she includes content such as hair tutorials, recipes and even workout videos. She is a girl after the heart of every Denver woman, with an eye for uniqueness and great attention to detail Gidenko's blog would inspire any fashion lover.
My Boring Closet
Website: Myboringcloset.com
The creative mind behind one of Denver's most popular fashion blogs — My Boring Closet — Lacey Spruce is a woman who's style is anything but boring. Spruce is a believer that the clothes we wear say a lot about who we are as people, whether it's denim jumpsuit or a colorful sundress, we are what we wear. She created My Boring Closet to explore her personal style and inspire others to express themselves. An adventure and shopping loving Denver woman, Spruce showcases outfits full of color, funky finds and subtle details. Along with outfit inspiration, Spruce features content about beauty, travel and things to do in Denver that make her blog a hot spot for all things Colorado culture and style.
Peach & Pepper
Website: Peachandpepperblog.com
Owner of Peach & Pepper Apparel and blogger, Allison Ruchaber has an effortless boho style focused on soft and comfortable fabric. As a wife and mother of two, Ruchaber juggles her family — a husband and two kids — her blog and apparel line with ease. With this in mind, Peach & Pepper is the perfect style blog for a busy working woman who has the desire to be fashionable and practical all at once. Her simple yet fun boho-inspired outfits are sophisticated, breezy and always feature an eye-catching item that makes the whole look pop. However, Ruchaber doesn't only offer her readers outfit inspiration. She also posts about style tips and tricks that will help you take your outfit from day to night without the hassle. With the many responsibilities in life, who needs the hassle? Ruchaber sure doesn't. Check out Peach & Pepper for a style that's comfortable, versatile and — as always — fashionable.
Pish to Posh
Website: Pishtoposh.com
After deciding to let her posh side out, Amanda Maxwell created Pish to Posh, a quickly growing Denver fashion blog. Born in a small mountain town, then moving Denver and calling it home for 12 years, Maxwell has also traveled and lived abroad in London. At 35, Maxwell is a wife and mother who features content on her blog ranging from fashion, to family, to lifestyle. Her travels have given her blog an elevated style that is practical and glamorous all at once. Her Pinterest-worthy outfits and photos encompass the style any woman would want. Sharing her love of fashion, her family life and collaborating with her fellow Denver bloggers, Maxwell is a woman you want to get coffee and go shopping with any day of the week.
Polished Avenue
Website: Polishedavenue.com
The beautiful creation of Natasha McKinney, Polished Avenue is a go-to blog for a girly style that mixes prints, ruffles and lace. If you love a beautiful dress or ruffled top this is the girl you need to know. Combining basic pieces with elegant details, McKinney's style is polished and timeless just like the title of her blog suggests. With an eye for mixing patterns, fabrics and styles McKinney's blog is always creative and inspiring. Working as an event planner in Denver, McKinney is highly connected in the Colorado fashion scene, her creativity and love beauty shines through her posts for awe-inspiring blog you can't help but love.
Rae Everyday
Website: Rae-everyday.com
An advocate for positive body image and self-love Reann Langas has definitely found her niche in Denver's fashion elite. Started in 2015, Rae Everyday is place for women to talk fashion, beauty and a positive lifestyle. With her favorite shops being Nordstrom, Free People and ASOS, Langas's style is easy to emulate. Her relatable personality and minimalist style has earned her popularity as a Denver trendsetter. Her upbeat, positive approach to life and fashion make her the girl you want to know for style inspiration. Langas's closet is full of neutral colors that find uniqueness in the details, her eye for mixing in pops of color through her accessories make her style a good fit for any Colorado woman.
Ranti in Review
Website: ranti-in-review.blogspot.com
Blogger, stylist and creator of Ranti In Review, Ranti Onayemi-Blanchard, was originally born in Nigeria and now resides in Denver. With a B.A in Marketing, Onayemi-Blanchard has always been drawn to fashion, art and anything else that requires creativity. She started Ranti In Review to inspire, connect and evolve her reader's personal style. She describes her style as clean and eclectic. She has a keen eye for design — which she expresses through her work in interior design and fashion — that makes her a woman to watch. By mixing shades of color, fun prints and funky silhouettes Onayemi-Blanchard has a unique style that inspires. Follow her for style inspiration as she grows in to the woman she's meant to be.
Sweet & Sauer
Website: Sweetandsauer.com
Sweet and Sauer is the perfect name for the blog created by Mallory Sauer. A born and raised Denver girl, Sauer attended Colorado State University for fashion design. When she graduated, she began working as a designer and product developer for Sports Authority where her boss gave her the final push she needed to start her blog. Since starting her blog, Sauer's job has become what she's wearing. Keeping that in mind, her style is versatile and comfortable. Featuring a statement piece in every outfit, her looks always have a vocal point that you just can't get enough of. From metallic shoes, to vintage inspired finds, Sauer's style is fun and timeless. Read more about her and her style from our interview with her here.
Teddy Bears & Lipstick
Website: teddybearsandlipstick.com
How could a name like Teddy Bears & Lipstick not catch the eye of the fashion world? Created by Denver stay-at-home mom of three, Alyssa Walls, Teddy Bears & Lipstick is a fun and chic blog for fashion loving moms in the Mile High City. Walls aims to inspire her readers with fashion inspiration, beauty tips, tips to living a healthy lifestyle and honest truths about mom life. Relatable and fashionable Teddy Bears & Lipstick is the whole package when it comes to style and life advice blogs. Walls features styling tips for outfits ranging from everyday wear, to date night bound, to inspiring stylish women in the Denver area. With a trend setting style and a love for all things at affordable prices, Walls is the perfect woman to follow for fashionable and playful moms.
The Annie Issue
Website: Theannieissue.com
Originally from Houston, Texas, Annie Mescall is a married mom of one. Mescall moved to Denver when her husband Tommy was stationed in the area. Excited to escape the Houston heat Mescall came to Denver with high hopes. Finding her first love for fashion through magazines when she was a young girl Mescall's passion grew and drove her to create her blog The Annie Issue. With content ranging from fashion, to health, Mescall's blog is a fun creative outlet bound to inspire. Mescall's style is all about the details. She combines simple, elegant pieces with pops of color and elements of design in the details to create an effortless, chic style every Denver girl wants.
The Black Velveteen
Website: Theblackvelveteen.net
Stylist and creator of fashion blog, The Black Velveteen, Lucille Wenegieme talks about music, fashion and lifestyle with her readers. This scientist by trade, created the blog to find balance between her love of science and creativity. Though finding that balance wasn't easy, Wenegieme decided to take her passion from part-time to full-time and has since become one of Denver's most favorite fashion bloggers. Wenegieme's style mixes bold pieces with basics for a casual and comfortable feel that retains its quirky appeal. Her great taste in music and bold, versatile style has earned her a sought after spot in Denver's fashion community.
The Cashmere Gypsy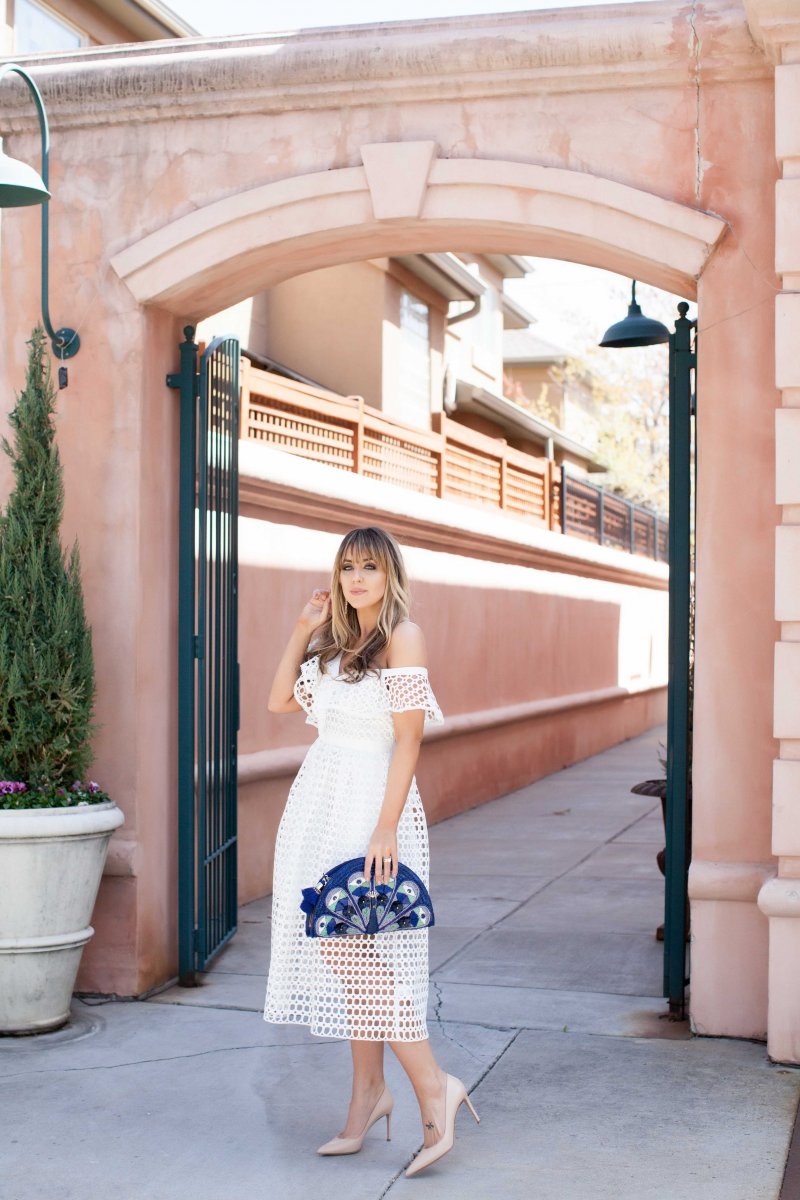 Photo by Miranda L. Sober Photography, courtesy of Brittany Pillard
Website: Thecashmeregypsy.com
Created by the lovely Brittany Pillard back in 2015, The Cashmere Gypsy blog is a must-be-following, go-to blog for a woman who loves to dress up no matter the occasion. Dresses are a staple piece for Pillard, any color, any style she will show you how to make it fabulous. Her blog was created to be a place for any woman seeking honest advice on everything from fashion to travel to interior decor. With an eye for classic beauty, Parisian flair and femininity this hopelessly charming blog is the place to go for any dress-up-loving woman. A Cashmere Gypsy is a woman on the go, she isn't defined by one just one thing but many, she is a strong and motivated woman that fills her life with beauty and meaning. Sound like you? Then join Pillard on her creative journey filled with fashion, interior designs, beauty and travel.
The Middle Closet
Website: Themiddlecloset.com
Founded by sisters Hailey and Paige Middleton, The Middle Closet is a quickly growing Denver blog. The dynamic duo works together shooting, writing and styling the content. Hailey — a former high-end fashion runway model — is the face of The Middle Closet while Paige works behind the scenes shooting and creating content. The idea behind this blog is the successful mash-up of high-end brands and affordable pieces to create a style for everyone to love. Their style is classic and versatile, one that is relatable and easy to recreate for any women. With inspiring photos and creative content, there is nothing left to be desired after a trip to The Middle Closet blog.
The Novice Native
Website: Thenovicenative.com
Rebecca Barrilleaux created The Novice Native fashion blog to share her favorite moments in life as they relate to fashion, food and adventure. A Texas girl at heart, Barrilleaux now lives in Denver with her husband and Portuguese Water Dog, Fitzgerald. Barrilleaux focuses on more than just fashion for her blog. She features recipes, travel advice and beauty tips as well. Barrilleaux is the girl best friend you've always wanted. Barrilleaux's style is simple and polished that's easy to recreate. Barrilleaux is all about embracing personal style and using items that are already in your closet in new ways. The Novice Native is the place to be for women looking to revamp their style using items they already own and wearing them in new ways.
The Savoie Daily
Website: Thesavoiedaily.com
Based in Fort Collins, and a student at Colorado State University studying Apparel & Merchandising, Jack Savoie runs The Savoie Daily, a fashion blog for men. Featuring stylish outfits, travel stories and even interviews with industry players, Savoie builds a lifestyle and personal style that's seamlessly creative and inspiring. Using the idea of simplicity and an emphasis on small and intricate details, Savoie's style is classic and can be recreated with ease. Through his travels and interviews, Savoie is highly in touch with the fashion scene and is a great blogger to follow to keep up with men's fashion in Colorado. Subscribe to his blog or follow his carefully curated feed on Instagram for everything you need to know about men's fashion and lifestyle. You can even shop his looks right off his blog.
Vanessa Land
Website: Vanessalandlt.com
Vanessa Land is the creative and stylish mind behind Vanessa Land, a Denver fashion blog that has quickly grown to find its place in the Denver fashion world. Land's blog inspires readers to find their style through an exciting life, she believes that everyone has their own distinct style in the same way they have their own life. An electrical engineer by day and a stylist/fashion blogger by night, Land has a creative style all her own and that's what she wants to create for you. Follow her and embrace — or elevate — your personal style through living life and dressing for yourself every day.
With A City Dream
Website: Withacitydream.com
Started as a YouTube channel when she was in high school, With a City Dream has become one of Denver's most popular blogs. Emma Walker started her blog to share her passion and build a community where readers can unwind and share tips and tricks of their own after reading Walker's tips. With a City Dream features a style that's flirty and trendy while staying casual and laid back. Her fun photos set a stage that's full of inspiration and creativity bound to help amp up her style. Walker even has beauty tips and shopping lists on her blog here and there, creating a blog that has everything you need to stay in touch with Denver style.