Confession — I'm almost 10 months into my time in Colorado, and I've never seen a show at Red Rocks. I moved to Denver at the end of the concert season last year, prompting me to "save myself" for the perfect moment to lose my Red Rocks virginity. 
On May 24, Chris Stapleton came swooping in to claim it. I've been a long-time fan of Stapleton's, and I've been dying to see him live since this legendary performance with Justin Timberlake at the 2015 CMAs. The time was right, and I had waited long enough.
It was a clear, chilly night on the rocks. Hoards people piled into the amphitheater in cowboy boots, hats, blankets, gloves and scarves. I made the ultimate virgin move of only bringing a raincoat, and decided to don a beer blanket instead.
The openers of the All-American Road Show tour warmed the place up quickly, though. Lucie Silvas — an ironically British singer-songwriter given the tour's name — opened the night with a bluesy sound that was very reminiscent of Stapleton's wife, Morgane Stapleton. Silvas is a jack of all trades, playing the mandolin, guitar and keyboard while on stage. She is married to John Osborne— one-half of the Brothers Osborne — the act that followed her performance on stage.
A few minutes after 9 p.m., the sounds of The Band's classic song "Cripple Creek" filled the air, and the audience went wild as Stapleton took the stage to kick-off the show with "Might As Well Get Stoned" with the full band, including his wife Morgane singing back-up. Stapleton noted the energy of the crowd almost immediately.
"Is it Tuesday night?" he asked. "Because I can already tell some of y'all are going to jail tonight."
To be so rowdy, it was a seriously coupled-off crowd. Chris Stapleton must be the ultimate date-night for most, because the number of people swaying back and forth in that awkward prom pose position was alarming.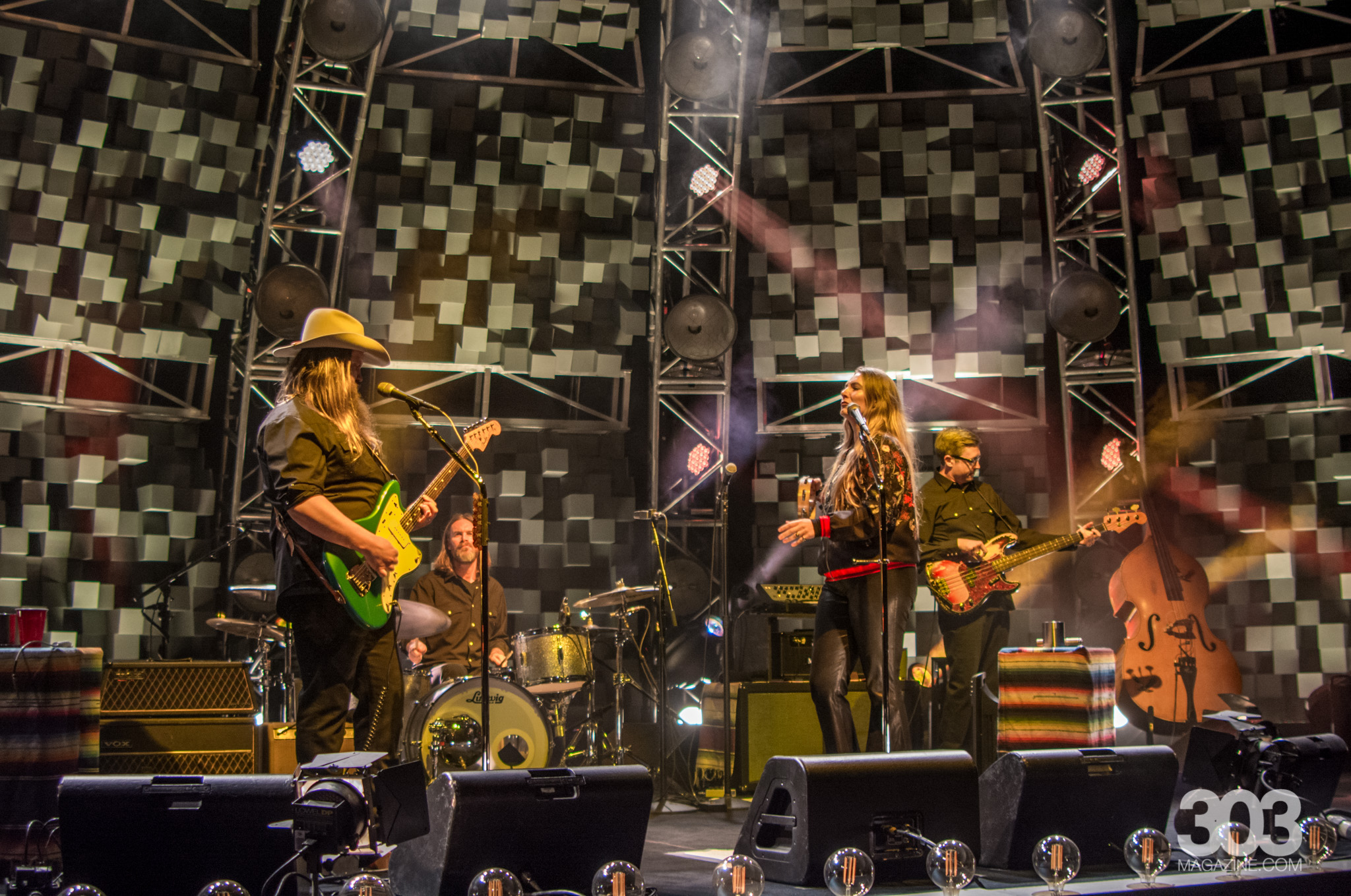 Nothing compared to the electric chemistry between Chris and Morgane, though. Their eyes stayed locked on one another for most of the show, almost as if she was anchoring him to the stage. Although he had quieter moments alone on stage with his guitar to songs like "Death Row," the concert was at its best full-band with his wife by his side.
This was perhaps most evident when the two sang their version of "You are my Sunshine" together. Morgane sang lead with Chris as backup, and I've truly never heard something so pure in my entire life. As her voice cut through the chaos of the crowd, I'm not even ashamed to admit that I cried. The tone of her voice was absolutely stunning, warranting a solo career of her own. 
Stapleton just released a new nine-track album From a Room: Volume 1 on May 5, but that didn't stop the crowd from knowing almost every lyric. The band did play a solid mix of hits from the new album and the award-winning favorites though.
"I know a lot of y'all are probably here for the last album we put out. So here's the title track off that one." he acknowledged while introducing "Traveller." "It seems like y'all want a sing-song."
Nearing the end, Stapleton spent at least 10 minutes introducing his band in a sing-song way to the tune of "Tennessee Whiskey," including his producer and bassist that has played with him for more than 20 years. When the time came to introduce Morgane, Chris said one phrase that caused the crowd to erupt in applause — "She is the beauty that tames this beast." Perhaps the crowd could relate. 
Stapleton closed out the show with "Tennessee Whiskey" — a predictable move turned totally unexpected when former Bronco's Quarterback Peyton Manning took the stage to finish out the final chorus. My vocal chords broke from screaming. Because I'm from Knoxville, Tennessee, and have idolized Manning since his college football days at the University of Tennessee, it was the cherry on top of a first-time experience.
Chris Stapleton and Peyton Manning at Red Rocks
Whether it was a hyped up, full-band tune like "Second One to Know" or a stripped down cover like Lynard Skynard's "Tuesday's Gone" alone with the guitar, one thing remained clear the entire show — fame hasn't shaken Stapleton's humble attitude one bit. 
"It wasn't long ago we played a little place in Denver called The Blue Bird," he said, looking out across his first ever Red Rocks sold-out crowd. "We never dreamed this. We're so humbled by this so thank you."
Thank you, Chris. I'm so glad we could experience our first times together. 
All photography by Ryan Lewis.