Perfectly placed in the middle of a busy Denver intersection, Lucile's Creole Cafe immediately transports you to a New Orleans street corner with its French Quarter aesthetic. A wrought iron gate bearing the Lucile's logo, a roaring fire pit surrounded by brick and stone and the whisper of jazz playing faintly in the background while you wait for your table are only the beginning of your southern-style experience. And if you happen to be there to celebrate Mardi Gras, a delicious Sazerac and a nibble of beignets might complete the journey you've been craving.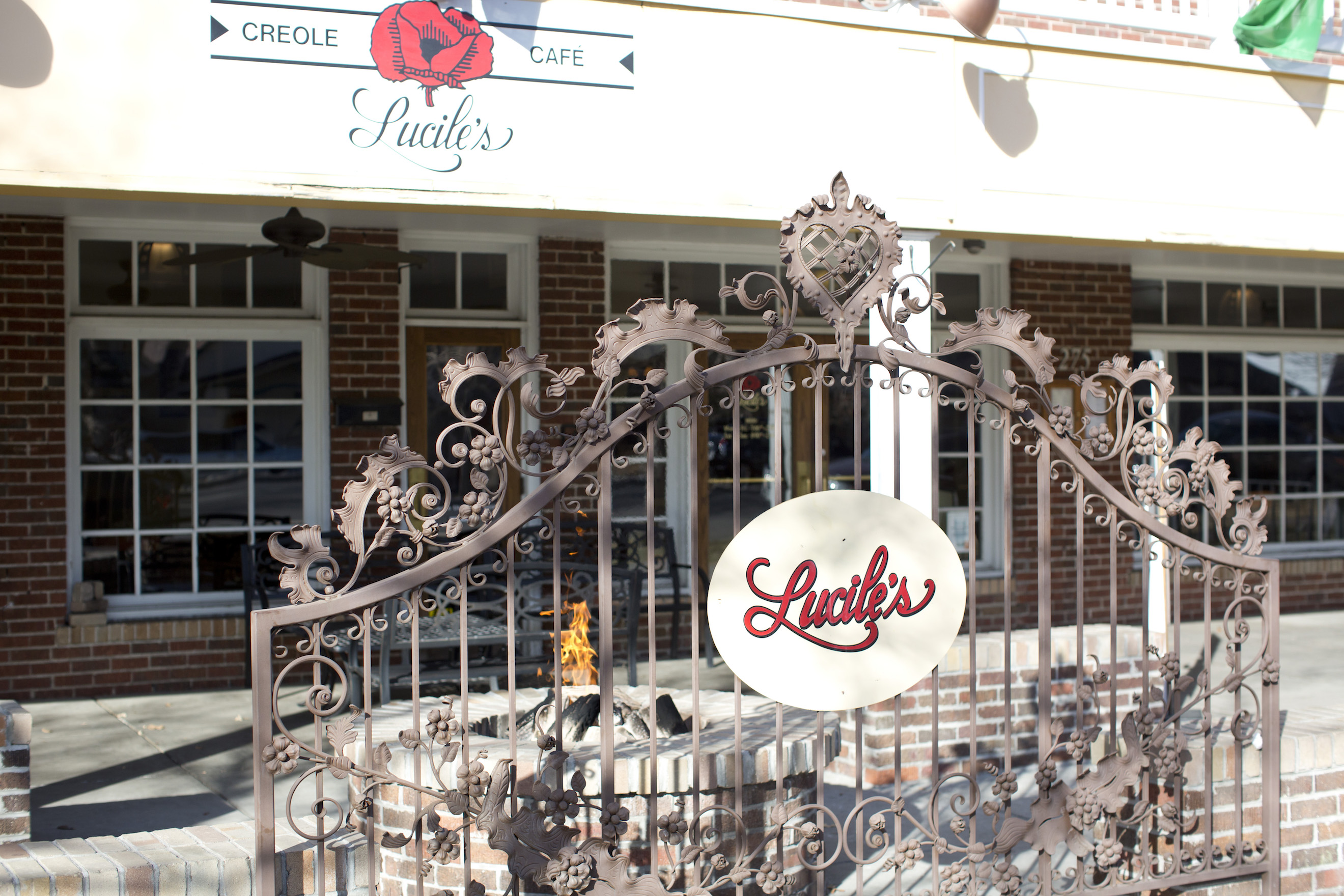 Walking inside, it's not surprising to see Lucile's in full swing on a weekend with a hungry and diverse crowd, proving that southern style gravy will unite us all. You are greeted with a friendly smile at the host stand which is aptly placed next to the bar, equipped with an espresso machine, hot chicory coffee and all the beautiful breakfast booze you can imagine including fresh-squeezed orange juice mimosas and the beloved Mardi Gras cocktail, the Sazerac. New Orleans-style jazz is represented not only in the energy of the music, but by vintage decor of horns and brass instruments precariously hung from the exposed brick walls. The smell of creole ingredients busting out of the from-scratch kitchen and loud-patterned cloth napkins washed in-house, just make it feel like the south.
Indulging in a Sazerac is nothing new for Mardi Gras and Lucile's gives it the attention it deserves. This simple but tasty concoction dates back to 1838, when Antoine Peychaud, owner of an apothecary, treated his friends to a version of a brandy toddy, made from a secret family recipe. The drinks were made using a jigger or a "coquetier" (pronounced "ko-k-tay") from which the word "cocktail," is derived. In 1873, the drink was changed when American Rye whiskey was substituted for brandy, and a dash of absinthe was added. In 1912, absinthe was banned, so Peychaud substituted his special bitters in its place. Since then, the drink has seen many iterations, but the tradition of drinking them lives on.
Lucile's Sazerac ($7 and the drink of the month) adds a special flare to this classic cocktail. Starting with an absinthe rinse, the bartender uses a spray bottle to spritz the inside of the glass. A technique that results in offering the essence of absinthe. The rest of the drink is perfectly balanced with a two ounce pour of Bulleit Rye, a squeeze of simple syrup, and of course, a few generous dashes of bitters. Stirred gently and strained into a rocks glass, the cocktail is finished with a peel of a lemon, expertly carved using a channel knife and rubbed along the rim of the glass before making the final plunge into the golden liquid. The taste is complex without being overdone, allowing the subtleties of every ingredient to make a stand, beginning with the herbaceousness of the absinthe, followed by the punch of rye, and finishing with the sweet and slightly medicinal bitters. The pith from the lemon twist adds the final component of bitter citrus, softening the sting of the rye. It was surprising how easily and how quickly that cocktail did a disappearing act.
This slideshow requires JavaScript.
What's a sazerac without a plate of beignets to go with it, however? Fried dough is the key to any successful meal and brunch is no exception. It is said that beignets (pronounced "ben-YAY") derives from an early Celtic word, "bigne," meaning, "to rise." Aptly named, beignets are made using a yeast dough that are fried into roughly two inch squares. The finished product is then coated with a metric ton of powdered sugar, the only true way to garnish any fried dough. Beignets have been associated with Mardi Gras in France as early as the 16th century. It has been suggested that French colonists brought the recipe to New Orleans as early as the 18th century, pairing them with the abundance of fresh fruits that flourish in the southern sun and soil.
The beignets at Lucile's are straightforward, and more importantly, they hit the table before you even know what you've gotten yourself into. Offering both a half order (two for $3.75) or a full order (four for $5.35) these baby trampolines of yeasty sweet goodness arrive nearly seconds after ordering them. Still warm from the fryer and bathed in so much powdered sugar you can barely see the fried crisp edges of the dough. You lose track of time the second the first bite hits your lips and within a minute you have no memory of them even existing; only the powdered sugar peppering the table, your hands, your shirt, and even you hair. A little time passes and you come back into your experience and remember that they were doughy without being too dense and crisp without being over-fried. Finally, you scrape the remnants of powdered sugar off your fork with your teeth and revel in the tradition of eating fried dough before partaking in your main meal, something Lucile's has continued to master from your basic Cajun Breakfast, complete with grits, red beans, a poached egg and the must-have biscuit to new twists on New Orleans favorites, like the Fried Oyster Po Boy, served with Artichoke Mayo.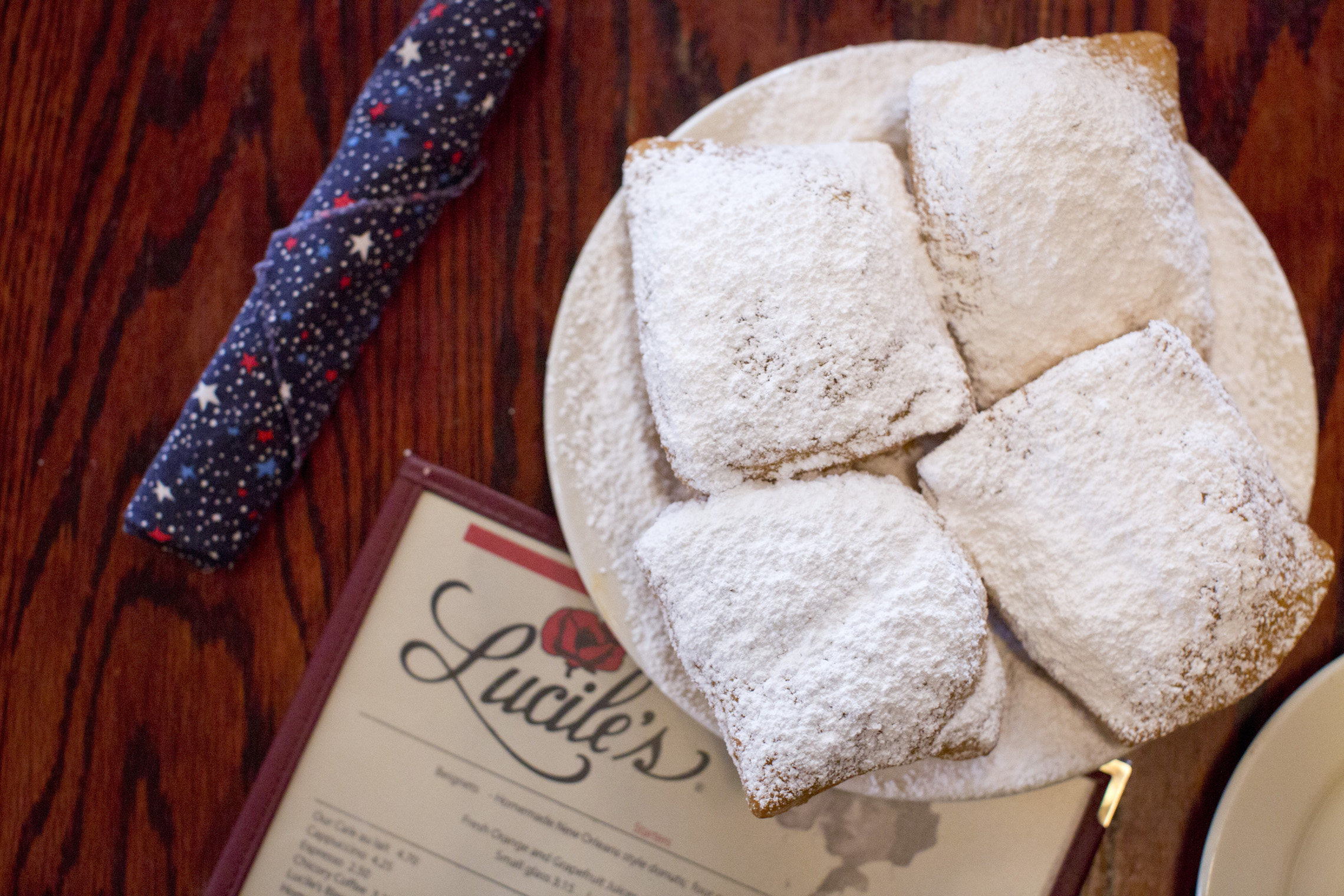 With six locations and counting, you can sniff out those sazeracs and beignets in almost any part of the state, which makes Lucile's the perfect stop before the bead-throwing begins this Mardi Gras.
Lucile's Creole Cafe, 275 S Logan St, Denver. Open Monday through Friday 7 a.m. – 2 p.m. and Saturday and Sunday 8 a.m. – 2 p.m.
All photography by Rachel Muich.