While limelight has streamed over Colorado's craft beer wonderland for the past decade, the state weighs in with the third most distilleries in the country. Though you may have overlooked the labels of prominent contenders, these local liquors sneak into some of the best drinks in the city. Bear Creek Distillery rolls barrels to more than 250 stores in Colorado and also happens to mix wizardly cocktails in its South Broadway tap and production emporium.
Echoing the storied beginning of many boozy businesses, the distillery idea sprouted out of a campfire conversation gone awry or maybe a-rye, free associated from a long night of related activity. Childhood friends, Jeff Dickinson and Jay Johnson from Lakewood's Bear Creek School system preserved the title that brought them together. MC of distillery operations, Dickinson went from touring other distilleries around the country to firing up a full fledged tap room featuring weekly tours from his business partner Dbo a.k.a. David Baker. "I was pretty tired of being a barista, now I get to drink the best booze and run my mouth," Baker boasts about the transformation of dream to actuality. The aesthetics of the facility ooze Western culture with reclaimed Wyoming snow fence walls, boxcar flooring repurposed into tables and Gothic adornments such as a bighorn sheep skull, petrified sticks and other hiking souvenirs.
Although Jim Tom and the 'moonshiners' on Discovery Channel crudely cover the basics of making liquor, Bear Creek's tour integrates the reality and tribulations of the process, droning out the drama of Appalachia. Baker did however mention that just a few years ago he was sleeping in the production room amidst the bourbon vapors taking shifts all Halloween night. "We chatted with our role models up in Chicago and they recommended that we call it quits at night, just come back fresh in the morning and go all day," muses Baker. That was back before Bear Creek was considering to branch out of state to Washington and Nebraska.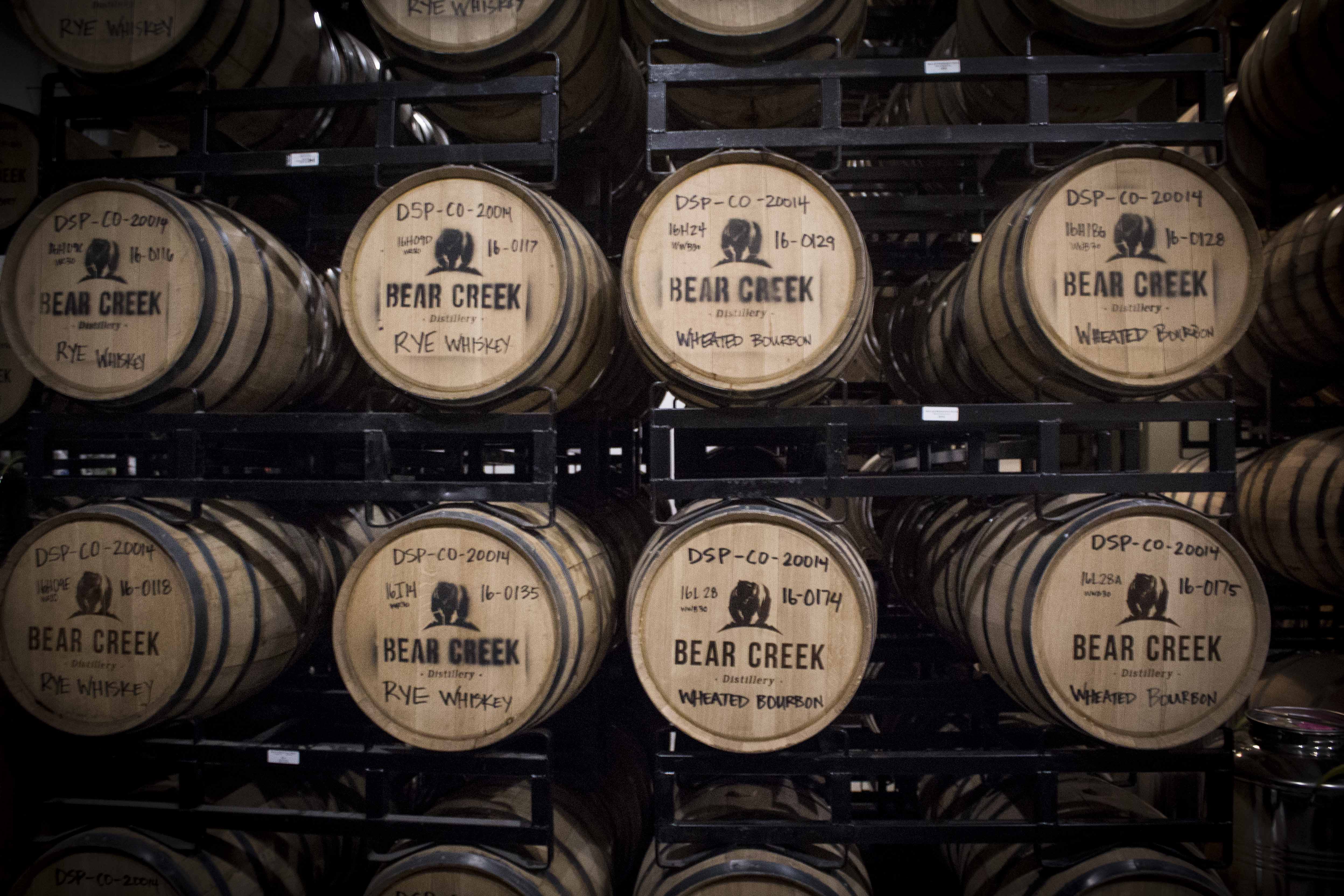 While the hilarious anecdotes and recycled decor are laudable, Dickinson's perfected recipes sustain the hype here. Currently spotlighting eight spirits— silver rum, spiced rum, cask strength rum, rye whiskey, white whiskey, straight bourbon, rye vodka and wheat vodka, Bear Creek flexes its muscle and well-rounded ability with each distinct bottle. The whiskey scene pervades the traditional Coloradan cocktails around the city, so the straight bourbon is the pride and joy of Bear Creek.
Though moonshine sometimes throws a sipper cross-eyed — the white whiskey is surprisingly smooth clocking in at 90 proof, remaining clear simply because it barely touches oak. If the shine doesn't shift you into high enough gears, sample the Distillinois gold medal-winning cask strength rum. In moderation please — it's a thick beast at 120 proof. "We've got a lot of respect for Laws Whiskey House down the street, so we like to collaborate with them and age our cask strength rum in their barrels," Baker includes. Somehow the booze isn't steaming out of your ears after a swig, in fact the cask strength descended from bourbon barrels sits comfortably on the tongue and goes down without so much as a dent to your demeanor. The rye vodka must be one of the most bizarre descriptors out there for spirits, yet the taste is precisely how one might imagine — instead of the sterilized cooling flavor of vodka, the rye stokes the embers leaving piney smoke on the mouth.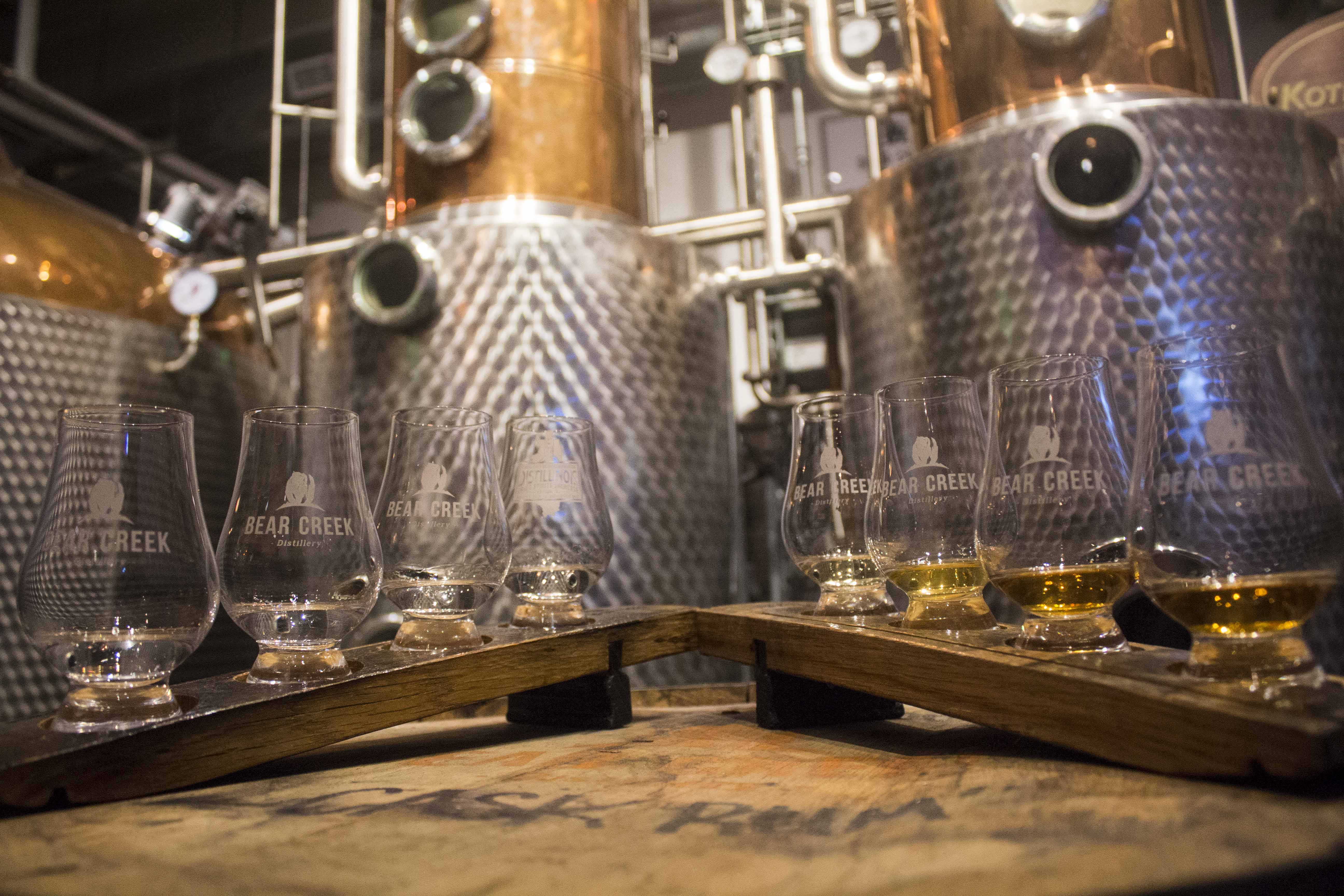 If straight booze isn't really your gag or it makes you gag, let mix master Dillon Higgins whisk something off the expansive cocktail list featuring muddled blackberries and blueberries, local ginger beer, Backyard Soda's simples and fresh mint and basil tangled above the bottles. Bourbon mules, jalapeño rum-ritas and an old fashioned to trump them all sweep the showroom Wednesday through Sunday and Higgins won't mess around. A Bear Creek original, the blue bear combines mashed blueberries, plucked basil, lime juice, ginger beer and Silver Rum. The strawberry balsamic smash hearkens back to its name and spins the rye vodka, introducing new possibilities to your taste buds. The hailed old fashioned spikes rye whiskey with a Demerara sugar cube, bitters, syrup, a Luxardo cherry and an orange peel.
The gentlemen at Bear Creek less brazenly reflect the motto of Mr. Lahey from Trailer Park Boys, "I am the liquor." They represent their product with personal favorites, genius cocktail curation and bar festivities. After wrapping up the tutorial, Baker was striding around the showroom slapping hands with almost all of the patrons whether acquainted or not. Higgins talked local music and Dickinson, though absent from the evening, spoke clearly through the ridiculously impressive spirits. Fueled by the outstanding craftsmanship, Bear Creek makes it an absolute pleasure to hang out.
Bear Creek Distillery's hours are Wednesday through Friday from 4 till 10 p.m., Saturday from noon till 10 p.m. and Sunday from noon till 6 p.m.
All photos courtesy of Kenneth Coles Photography.