Two years ago a mysterious artist by the name of ZHU came out of nowhere with a groundbreaking EP called Midnight. His fresh new take on house music combined deep, dark melodies with R&B vocals. This new combination got ZHU a grammy nomination for his hit single "Faded", featuring an extremely catchy vocal hook. Since then, ZHU's name has exploded while at the same time has kept his identity irrelevant keeping the 'art' on the forefront. ZHU is now in the middle of a huge North American tour where he has made a groundbreaking appearance at Coachella and is also showcasing the new Genises Series EP, a collection of six songs featuring huge and diverse names like Skrillex, Aluna George and Bone Thungs-n-Harmony. Thankfully, ZHU made time to visit Denver alongside singing sensation Gallant, where they both brought their amazingly original music
After receiving an enormous amount of praise from critics at Coachella and SXSW this year, opener Gallant generated much anticipation before his opening set. This up-and-coming R&B sensation opened with the energetic crowd-pleaser "Talking to Myself." Gallant filled his set with breathtaking falsettos and emotionally static dance moves that were jokingly (but quite considerably) compared to a modern-day Bobby Brown. He finalized his rather short performance with momentously popular single "Weight in Gold" provoking impressive applause and cheering from the crowd. Gallant did not disappoint, leaving the audience already satisfied and even more excited for ZHU. Read our Q&A with Gallant here.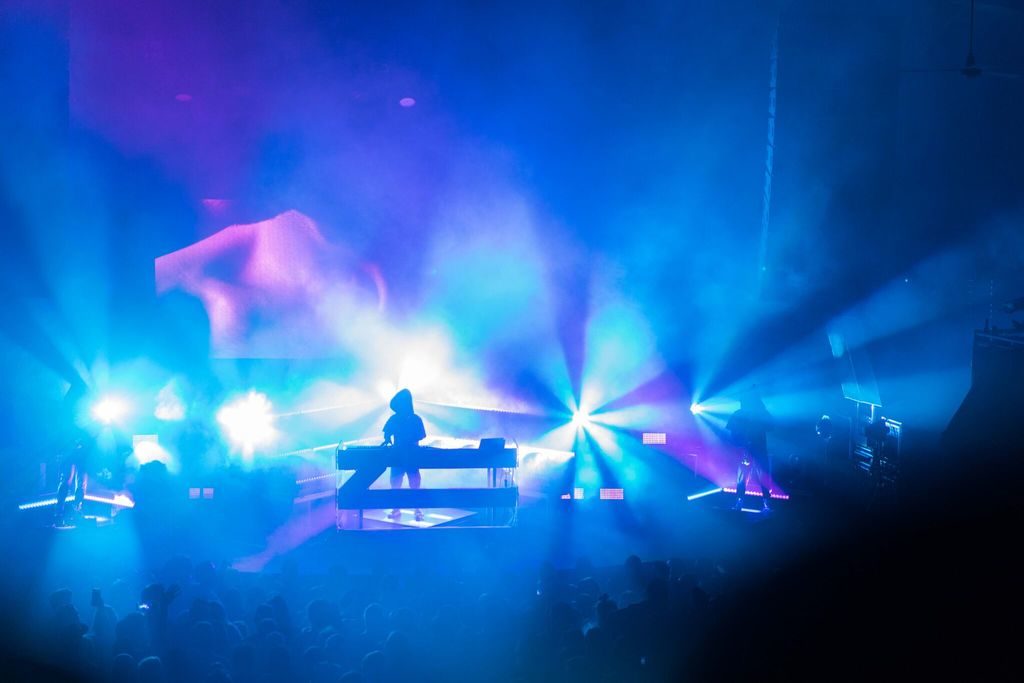 Huge clouds of smoke rose from the stage as three hooded figures came to the front. In the middle was ZHU, standing behind his beautifully illuminated logo. On either side of him a live saxophonist and guitarist, equally as mysterious and guaranteeing a more immersive and organic live performance for this electronic artist. With so many hits to choose from ZHU had no problem keeping the crowd going. His live singing brought a whole new meaning to house music, and all through the covering of a giant hood, making him look like the wizard of dance. However the true highlights of the show was the songs we have never heard before, being played while his visualizer read the date "7-29-16". Maybe the date of a debut album?
I wish I could tell you more on whats next for ZHU, but his plans for the future are just as mysterious as the man himself. Stay on the lookout for more shows around the country, and maybe see what July 29th has in store….