This is an entry in an ongoing series for 303 Magazine, which will profile a range of industry professionals and the stories behind their tattoos. It is our intention to highlight the talents of local tattoo artists where possible, while demonstrating the narrative power of imagery by putting front and center a form that continues to fascinate the curious.
Whitney Ariss wears her roots on her sleeve. Her botanical tattoo, which colorfully covers her lower left arm, is as much a homage to cyclical abundances as it is to her upbringing. Growing up in the central valley of Fresno, California, in the midst of the California Cuisine movement, Ariss' admiration of seasonal produce and ingredients began in childhood.
"The whole connection to seasonal food and ingredients really comes from the way I grew up, my parents being crazy, hippie, urban-homesteaders," she said. "That instilled the connection in me really early. I've always been fascinated by the idea of where food comes from and how it's grown."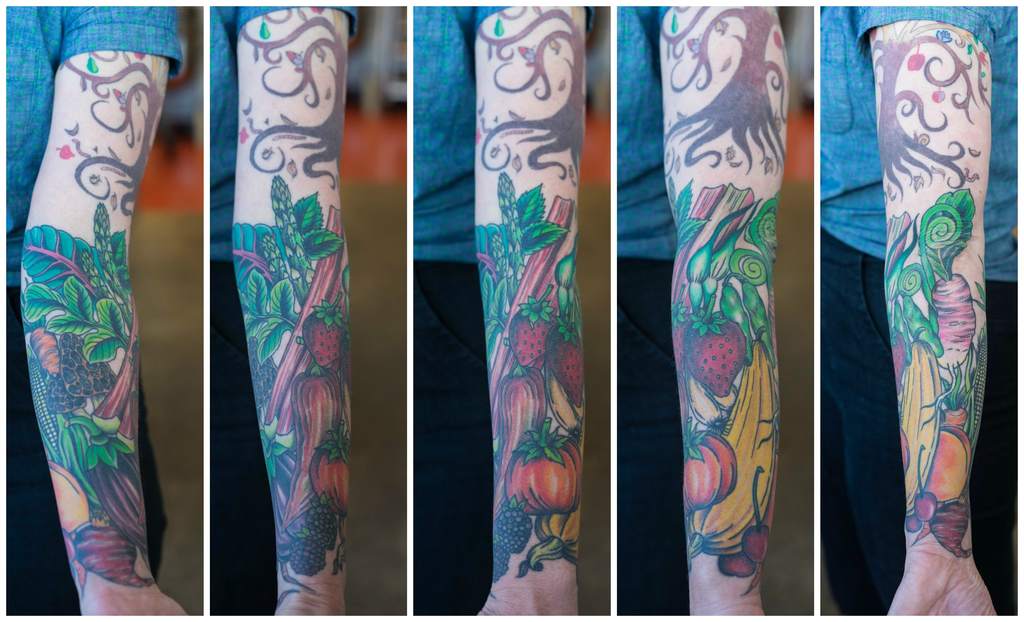 As culinary director and owner of the Preservery, this concept of seasonal utilization manifests itself in both her personal and professional life. Although the half-sleeve highlights the harvest of Colorado's short growing season—a far cry from the year-round, even tropical yield of her childhood—according to Ariss, it's a collection of her favorite things.
Depicting produce as diverse as arugula and peaches, the tattoo embodies what Ariss calls "seasonal anticipation." Consider morel mushrooms, the harbinger of spring, according to some. "They're the first mushroom to appear in the foraging world," she explains. For Ariss, these fleeting, seasonal ingredients build a connection with the forager, the farmer and the consumer. "That's the way I like to cook and eat," she said. "It's a big foundational aspect of what we're trying to do here [at the Preservery]: not have a specific type of ingredient on the menu all year round, but wait for those special season ingredients and latch onto them while we can."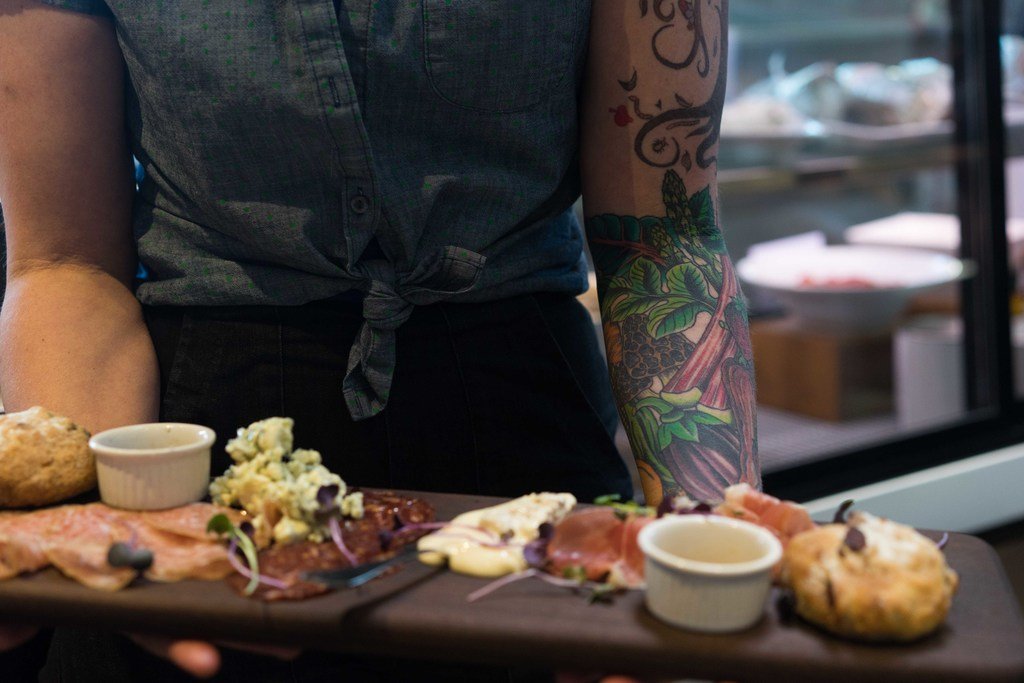 Ariss has always been fascinated by botanical illustrations. She recalls thumbing through her father's collection of Cook's Illustrated, entranced by the magazine's hand-drawn back covers that detail unusual, exotic and also familiar ingredients. To capture this precision, Ariss knew she needed an artist who shared a similar passion. In preparation, Ariss called Think Tank Tattoo to explain her idea and was immediately referred to Matt Scanlan, an artist who not only shares her appreciation for the natural world (according to Ariss, he collects leaves and does botanical illustrations for fun), but a mutual love for sci-fi and fantasy.
Equally inspired by Cook's Illustrated and seed packet illustrations, Ariss compiled a collage of images found online and submitted it to Scanlan. After falling in love with his initial sketch, the piece was completed after three sessions and some 13 hours in the chair. Citing "random, crappy tattoos…that I got when I was too young and wasn't researching artists," Ariss has learned that it's best to provide artists with some level of creative freedom.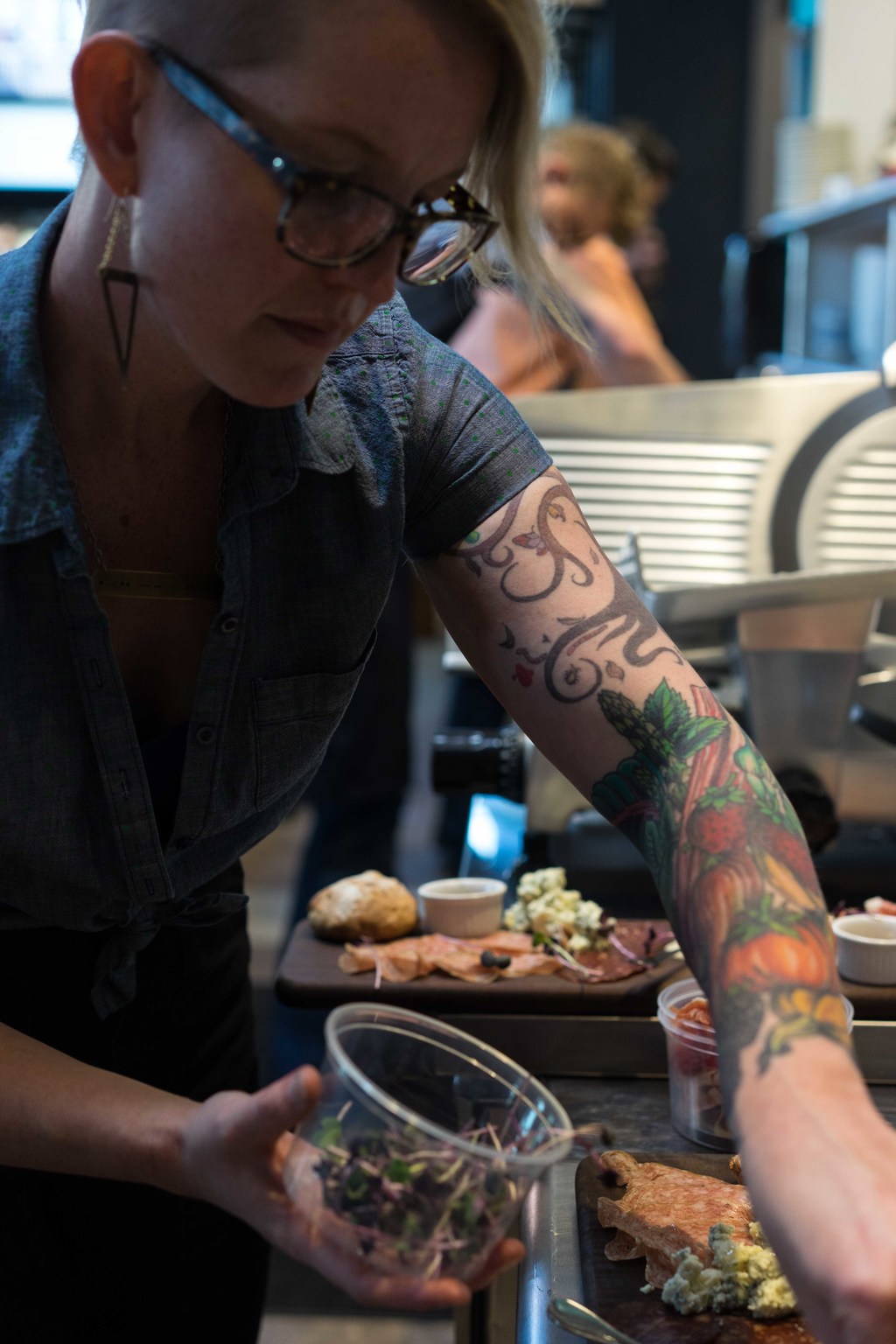 One look at the tattoo, and it's clear that the collaboration paid off. When discussing her piece in detail, Ariss is sure to point out Scanlan's scrupulous color balance. The piece intertwines the prevailing greens of spring produce (think asparagus and ramps) with the vibrancy of summer (corn and strawberries).
Ariss has plans to complete the cycle of nature with a winter- and fall-inspired half-sleeve on her right arm. And in similar fashion, she will work directly with Scanlan to carefully balance late-season hues. "Things are green in spring because everything is new and it's early season vegetables, summer has vibrancy, fall has the fading colors, and winter, again, is dark greens, or citrus," she said. "It's not dictated by what we want it to be—and what the aesthetic ideally could be—but the seasons are dictating that balance. We're at the mercy of the seasons."
All photography by Meg O'Neill.