Ever wondered what it would be like to have your own stylist for only $20? A few weeks ago I found out about a site called Stitch Fix and was immediately intrigued by the concept of it. At the ripe old age of 26, I think I've figured out what I like to wear. But the idea of having someone pick out five pieces based off of my favorite colors and clothing seemed like an exciting way to find a few new pieces for fall.
The first step is filling out your "style profile." You start with the simple questions involving your height, weight, typical clothing size and preference of pieces so your stylist can help narrow down your "fix." Once these are filled out, you're shown five different styles to which you choose if you like them or don't. The third part of the profile is based around your occupation and what you want to flaunt, at the price you want to pay. It can be for your job or after hours, and it can include anything from a new purse or a staple pair of jeans you've been searching for for years.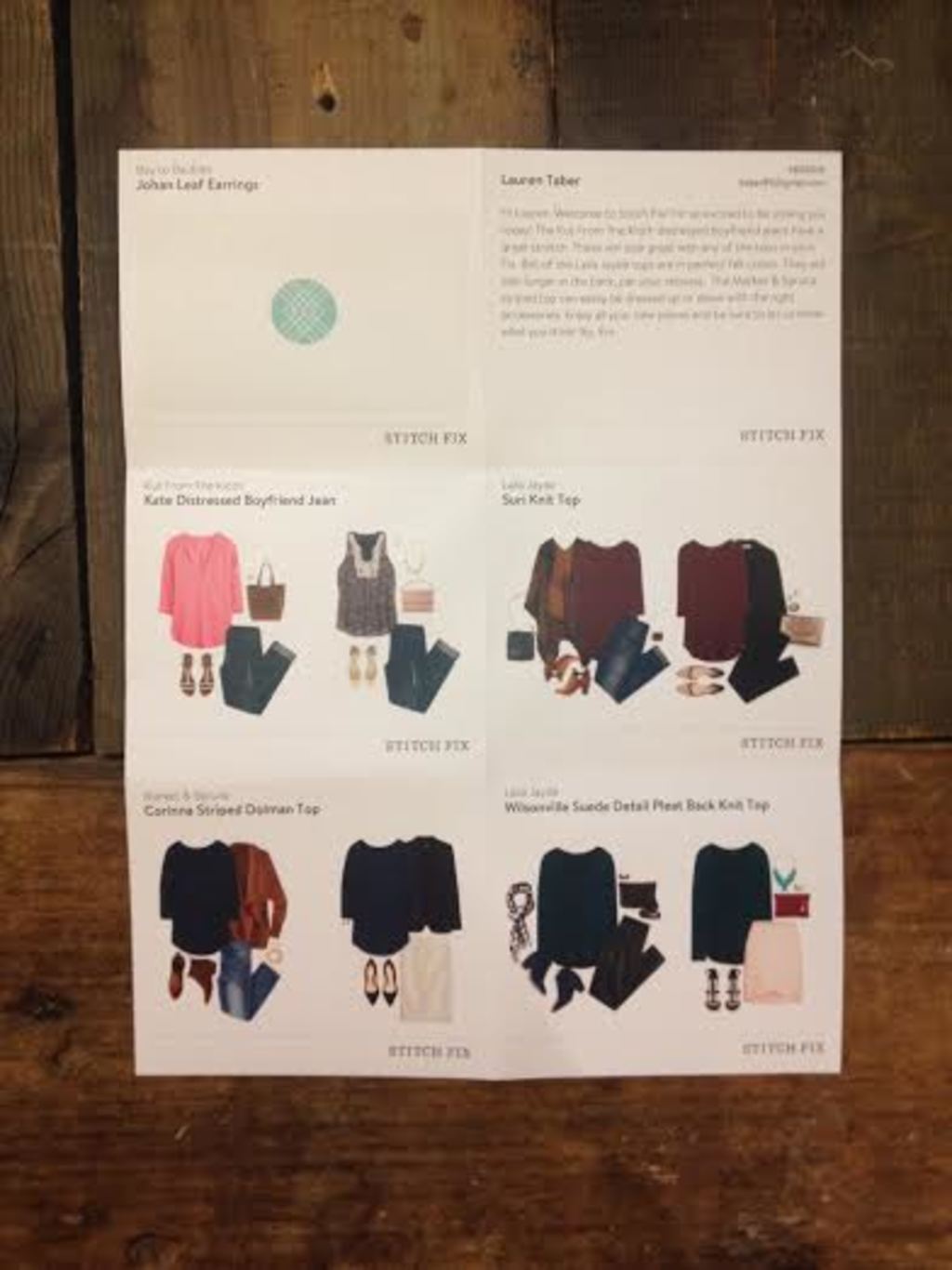 Each package is delivered to your house on the day of the month you request with a breakdown of each piece and different ways to wear the pieces. You have three days to decide which pieces you want and to ship back the ones you don't (a pre-paid shipping bag is including for the returns). A personalized note can also be found in the bag from your stylist with an explanation for your style fix. Simple, yet satisfying
My Stitch Fix Review
I loved the idea of someone helping me get out of my comfort zone with the pieces in my closet. So when my first package arrived today I couldn't wait to see what was in store. Inside the box there was a pair of pants, three tops and a pair of earrings. Below is a breakdown of each and what I decided to keep.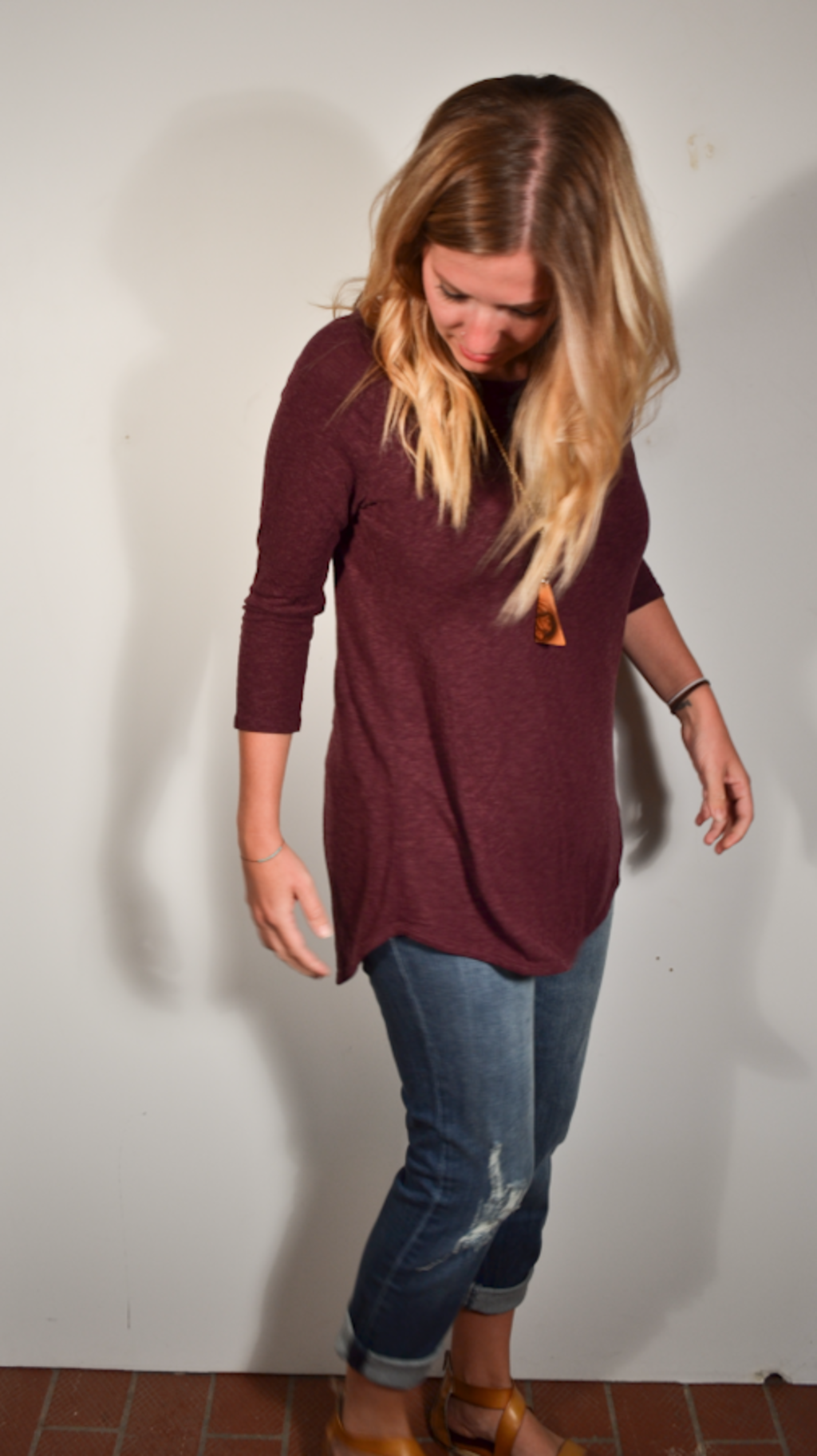 1. Distressed Boyfriend Jeans
My personalized description in my profile explained how I've gone against all things pants the last year but have really been trying to find a pair to bring me back to the denim. Luck was in my favor with the first piece in my box. The perfect pair of distressed boyfriend jeans in my size was a mix of of fitted but still comfortable. I was still unsure how they would fit but after putting them on, I realized how great it can feel once you find the perfect pair of jeans. Needless to say, I will definitely be investing in them.
Cost: $88.00
2. Knit Top
The next piece in my box was a beautiful, burgundy top. I loved the color and fabric and did truly go back and forth on whether or not to keep it. The length was flattering and went perfectly with my new jeans but could also be switched out for leggings on a lazy day. The style recommendation showed it with a poncho or a blazer, encompassing a fun out on the town outfit for fall or a more sophisticated look for the office. It's nice to be able to see the multiple ways a top can be worn and I will definitely be looking for similar pieces this season.
Cost: $58.00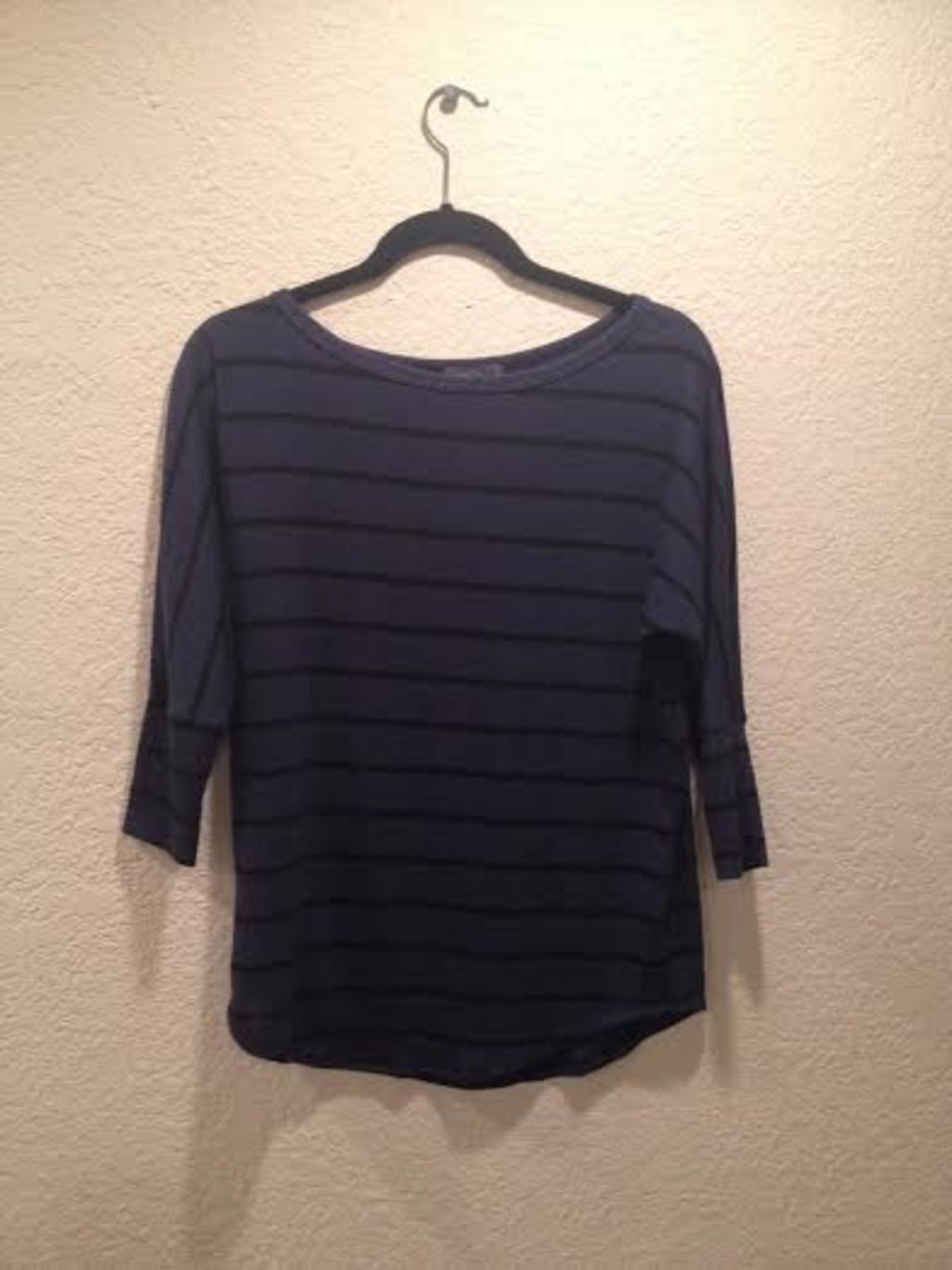 3. Striped Dolman Top
I don't typically like to wear navy but the fall color looked great with the cinched sleeves and striped design. I wasn't sold on the shape or length of the top but the comfortable material would be a great addition in a little bit of a longer style. Investing in sweaters this winter is definitely something I'm going to try, preferably pieces that work with skirts and pants. This top was a great example of how to dress up a simple style.
Cost: $48.00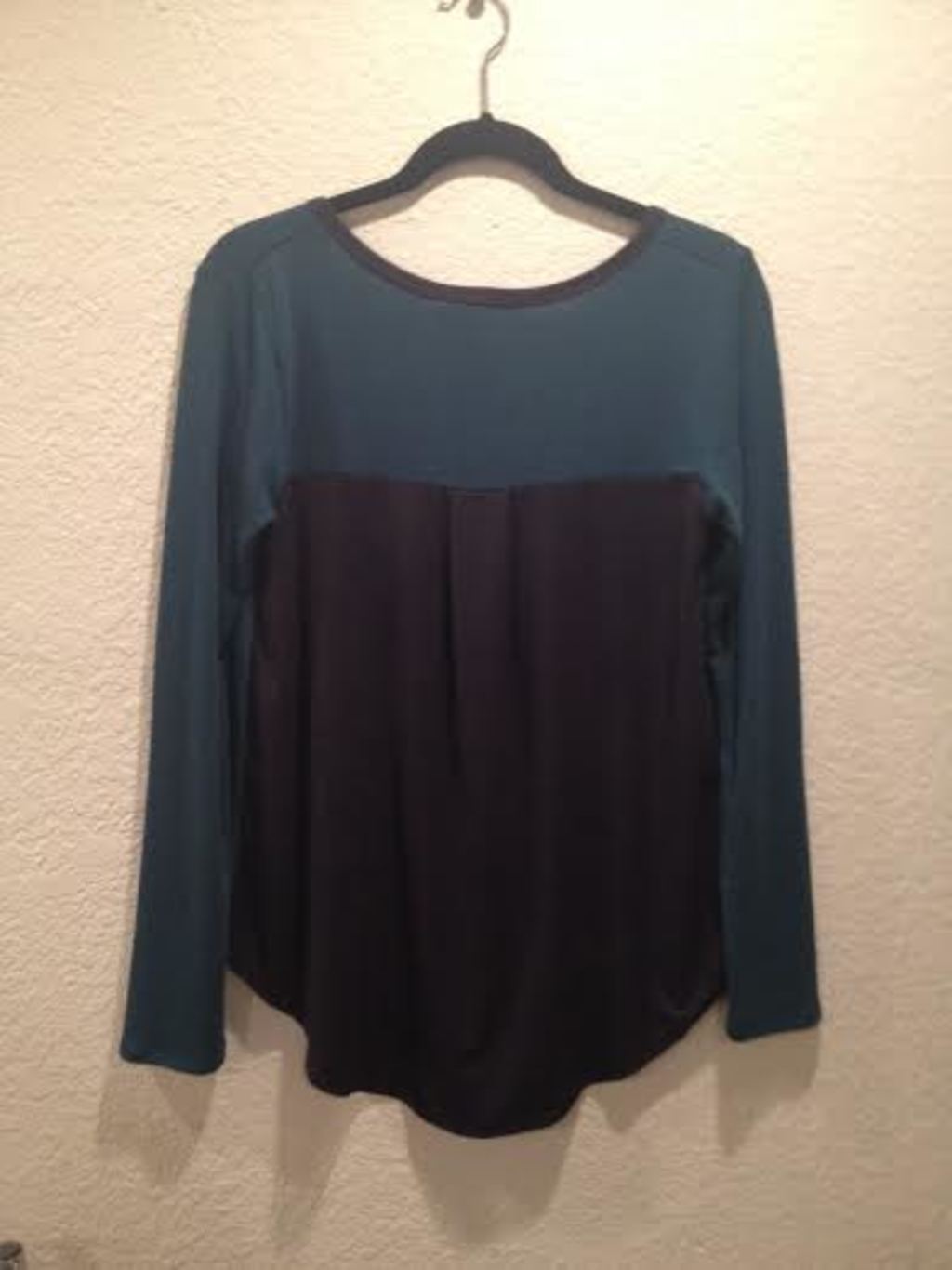 4. Suede Detail Back Knit Top
The color and suede back was a unique style to this type of top and I really wanted it to work. I wasn't crazy about the V-neck but the longer back was both flattering and fun. Even though I didn't end up keeping this piece, I will definitely be mixing materials with my sweaters this fall.
Cost: $58.00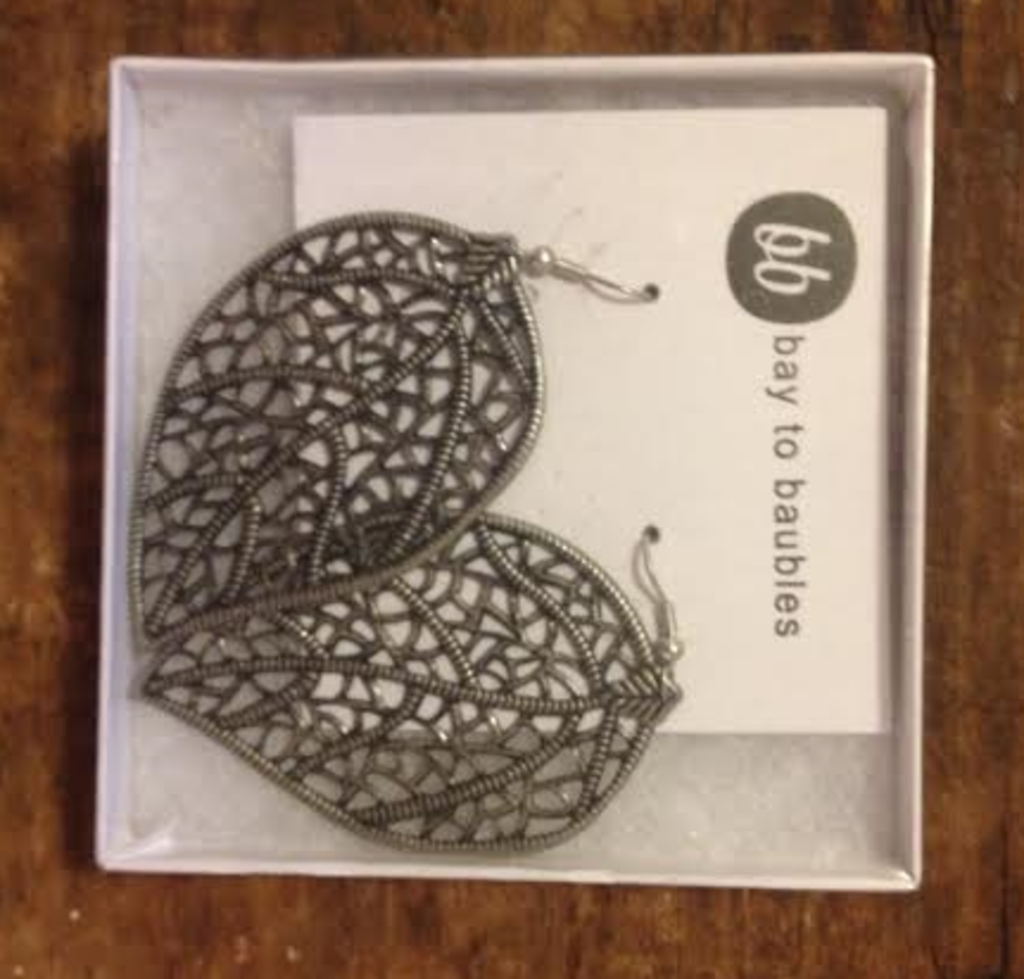 5. Leaf Earrings
I don't typically wear accessories, with only the occasional necklace or earring at a wedding, but I did love the simple design of these leaf earrings. They're easy to wear with a variety of looks but I'd want a little bit of a smaller style for every day wear.
Cost: $28.00
If you decide to keep all five pieces, a 25% discount is given to your entire order as well as the $20 styling fee taken from your total. Once you decide what you want to keep, you go on the website and fill out a few more questions to help plan your boxes for the future. I loved the jeans and the style of a few tops but decided to just go with the jeans this time around. I'm excited to see what will be in the next box!