What: Sample experimental dishes served in the form of tasty steamed buns on Wednesday nights.  
Where: 701 Grant Street, Denver
Neighborhood: Governor's Park
When: Open for lunch Monday – Friday 11 a.m. – 2 p.m. and dinner seven nights a week starting at 5 p.m. Bones' buns special is available Wednesday nights only.
Pros: If you're open to surprises and up for trying new things, this ever-changing special is for you.
Cons: Finding your new favorite bun here on a Wednesday night is both a blessing and a curse. Savor the flavor because it won't be back. 
New options for those seeking Asian flavors are popping up all over Denver with the opening of places like Osaka Ramen, Cho77 and the Union Station location of Zoe Ma Ma. But for some of the Mile High's most creative takes on Asian cuisine, head to a classic neighborhood favorite.
Bones, which sits at the epicenter of Denver restaurateur Frank Bonnano's block of eateries that also includes Luca, Mizuna and Vesper Lounge, has been a go-to noodle house since late 2008. This restaurant is known for doing things a little differently (green chili ramen, anyone?), and with the recent addition of its Wednesday night buns special, it's clear that Bones' experimental spirit is still in full force.
The Buns
Light and pillowy, steamed buns are possibly one of the best ingredient delivery vehicles ever invented. Typically served stuffed with pork, they are a usually a must-order item when they make a menu appearance. At Bones, you can score a solid version of this Asian favorite anytime stuffed with your choice of braised pig or pork belly (3 for $12 or $3 each during happy hour).
But on Wednesdays, the real bun fun begins. That's when longtime Bones line cook Anna Munoz plays out her latest food fantasies, served up on fresh, handmade steamed buns. Cooks are always playing in the kitchen, testing out new ideas and flavor combinations, but diners rarely get a chance to get in on the creative action. At Bones, though, Executive Chef John Depierro was totally on board when Munoz pitched this idea of making Wednesdays a bit more fun with an ever-changing weekly special.
On a recent visit, the Wednesday buns (price varies) were packed full with Korean style BBQ buffalo, tempura green apple, earthy roasted shitake and a crunchy kohlrabi slaw with optional spicy kimchi served on the side. A lot of components, yes, but I went for the first messy bite and was rewarded with a mouthful of contrasting flavors and textures: sweet, tart, earthy, crunchy. It was all there. Though the bun could have benefitted from more shitake (a thought I shared with Munoz who was just on the other side of the counter, making more buns of course), I was happy.
Since launching this special, Munoz has served up buns like Spam & eggs, fried chicken with kimchi, and the Elvis buns with fried pork belly, foie gras peanut butter, Concord grape jelly and bananas. But no matter what's listed under the "Anna's Buns" section of the Wednesday night menu, take a risk and order away.
Beyond the Buns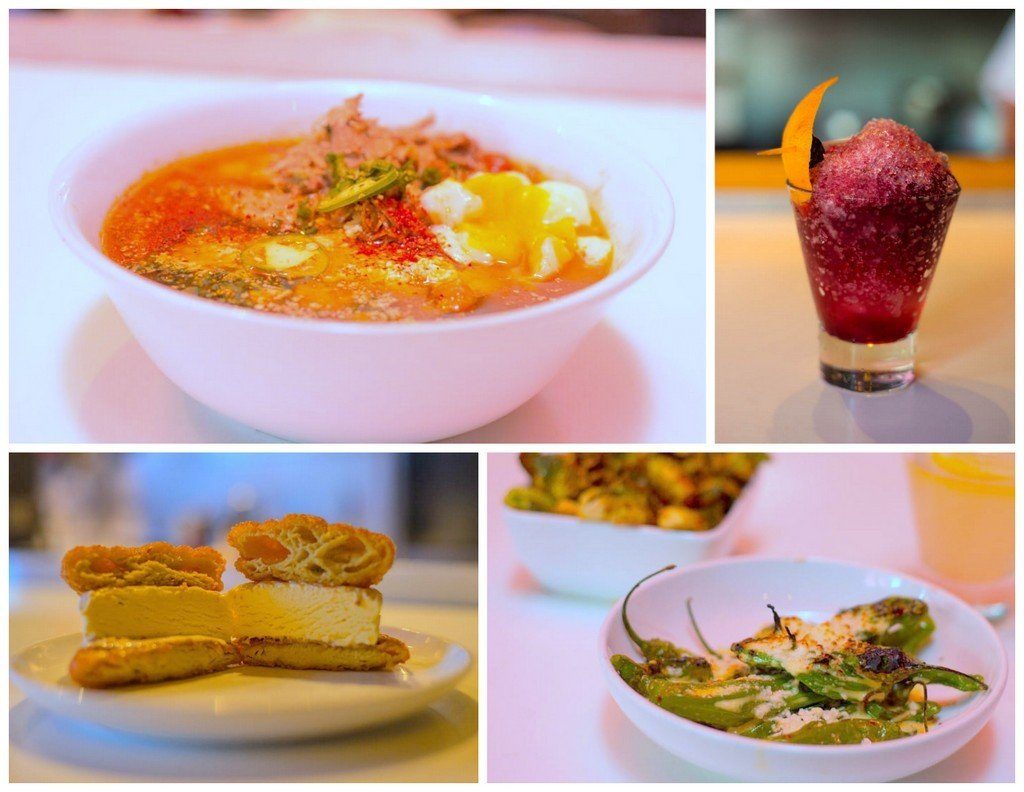 Because one cannot live off buns alone (although that may not be such a terrible thing), Bones also offers a variety of other Asian dishes to fulfill your cravings. Lovers of bone marrow ($14, available during dinner only), often accurately described as "meat butter," is available as a starter here served with seasonal jam, parsley gremolata and toasty crostini to scrape up every last morsel with. Or go meatless to start with trendy charred shishito peppers ($7) which appear at Bones with an addictive miso aioli and smoked cotija cheese.
If noodles are what you came for, there are several varieties to choose from. Bones' most well-known version, though, is its lobster ramen ($20) made with a miso lobster broth, edamame, scallion and beurre blanc. Whatever you order, though, save room for dessert. The churro ice cream sandwich is the stuff of dreams, and you don't want to miss it.
Bones also has an Asian-centric bar menu filled with drinks spiked with exotic ingredients like the lychee sidecar ($10), sparkling sake-sangria ($11) and the green tea classic press ($10). Plus their new sake snow cones are ideal for summer – or they will be if it ever stops raining.
Though Denver's dining scene is dominated these days by keeping up with the newest hot spots, restaurants like Bones are still keeping things fresh and pushing their flavors forward.
All photos by Delmy Gooch.