It's that time of year again – summer music festival time, that is. From Coachella to Bonnaroo there's no doubt we'll be seeing some colorful and exciting looks.
But this time of year is also bound to bring out every basic bitch in town. Flower crowns and neon crop tops will be at the top of their list, so why not try something new this year? We're turning to our favorite pop and rock icons for a surge of inspiration and taking it old school. Joni Mitchell serves as our hippie siren while Diana Ross gives us life with prints and color. Whatever your style we're sure these five music icons will inspire your outfits for any summer music festival this 2015 season.
Dress Me: What to Wear to Summer Music Festivals
1. '90s Gwen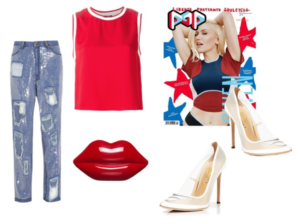 Gwen in the '90s is our favorite Gwen. That bleach blonde hair and crazy makeup is what we dream of and can't wait to recreate. Opt for colors such as red, white, blue and black, then mix them all together. Gwen loved to show off her abs of steel, so if you're up for it, look for bralette style tops that will show off that midriff with no shame.
But if you're still storing that winter pudge, a nice sporty top in a bright color can work as a great substitute. Light colored denim was all the rage so we're doing a bit of an update with these full-out sequenced Ashish pants. Make sure there are a few rips and tares to give off that 90's punk vibe. We finished off the look some easy heels and a fun accessory, true Stefani style.
2. Disco Fever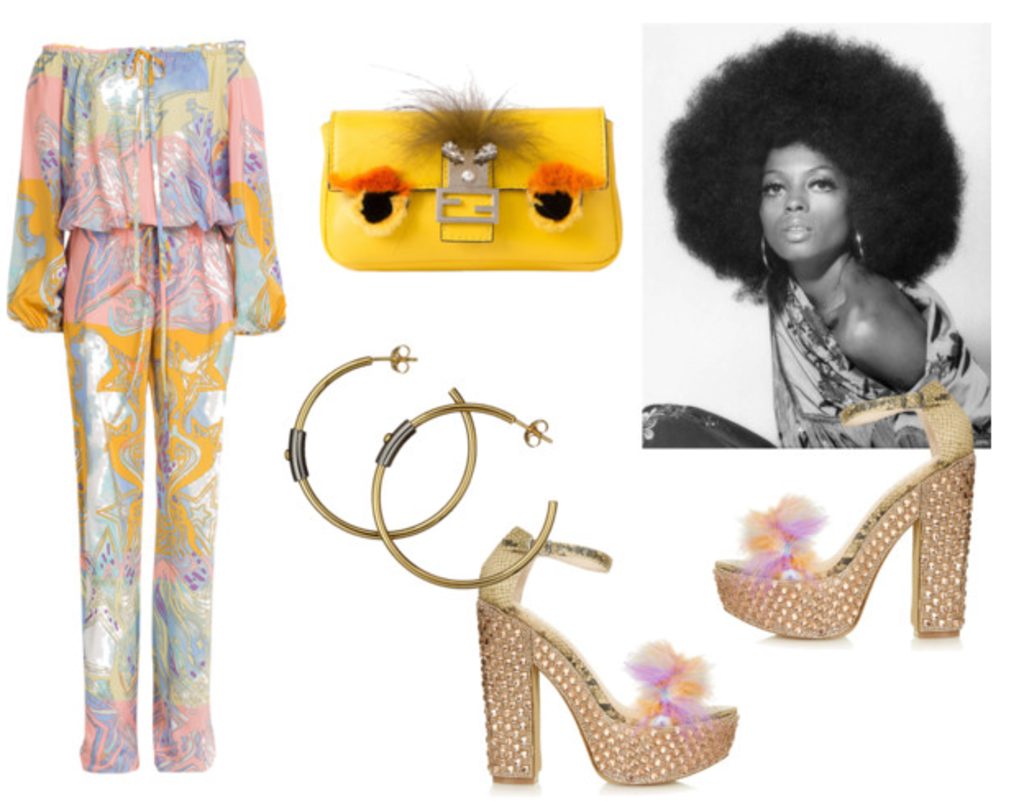 You may not be familiar with many tunes from the '70s but we're sure you know the look. Prints, colors,and metallics were all the rage, so we're looking to the queen of disco for inspiration, Ms. Diana Ross. You can never go wrong with a good pair of go-go boots or bell bottoms but we're opting for this metallic jumpsuit from Emilio Pucci. Height was the norm for men and women both, so this is your chance to break out those platform heels you wear once a year. Simple jewelry is best to the complete the look while outrageous accessories are a must. We can't wait to see you at Coachella serving up some '70s freshness.
3. Sex Bomb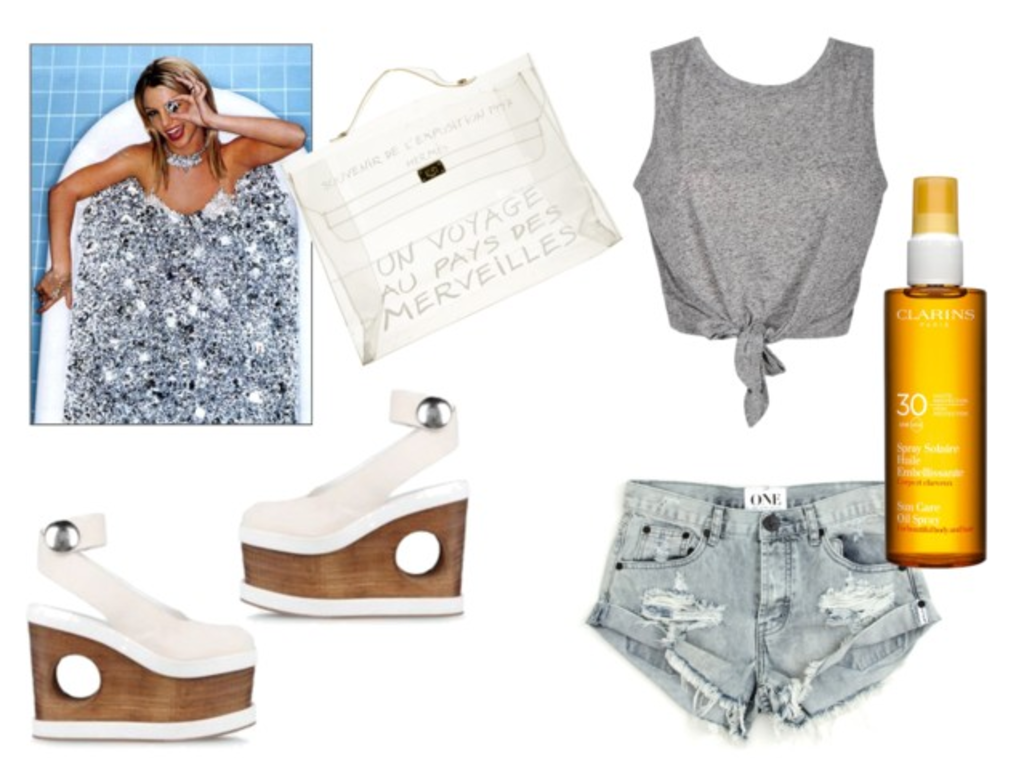 Britney Spears was the sex bomb in the '90s that every girl yearned to be. So why not draw inspiration from her Baby One More Time era. Get those tousled waves with a salt water spray that will keep your look fresh from day to night. Create that school girl look with a crop top tie up. A plaid skirt is too predictable so create a modern day silhouette with cut-off shorts in a light wash. Keep the '90s vibe going with a clear purse or backpack, and finish off the look some some crazy footwear.
4. Ladies in Da House  
We're looking to our favorite rap diva for our next look. Missy Elliott always kept it real with street style swag featuring sporty looks and flashy pieces. So search for brands such as Hood by Air or Nasir Mazhar which will give you authentic Missy vibes.
We opted for this sexy midriff top with gold details. Sequin sweat pants will add some glimmer to the entire ensemble while keeping you warm and comfy when the sun goes down. Hoop earrings are a must while a colorful backpack will give some life to this gangster look.
5. Hippie Chic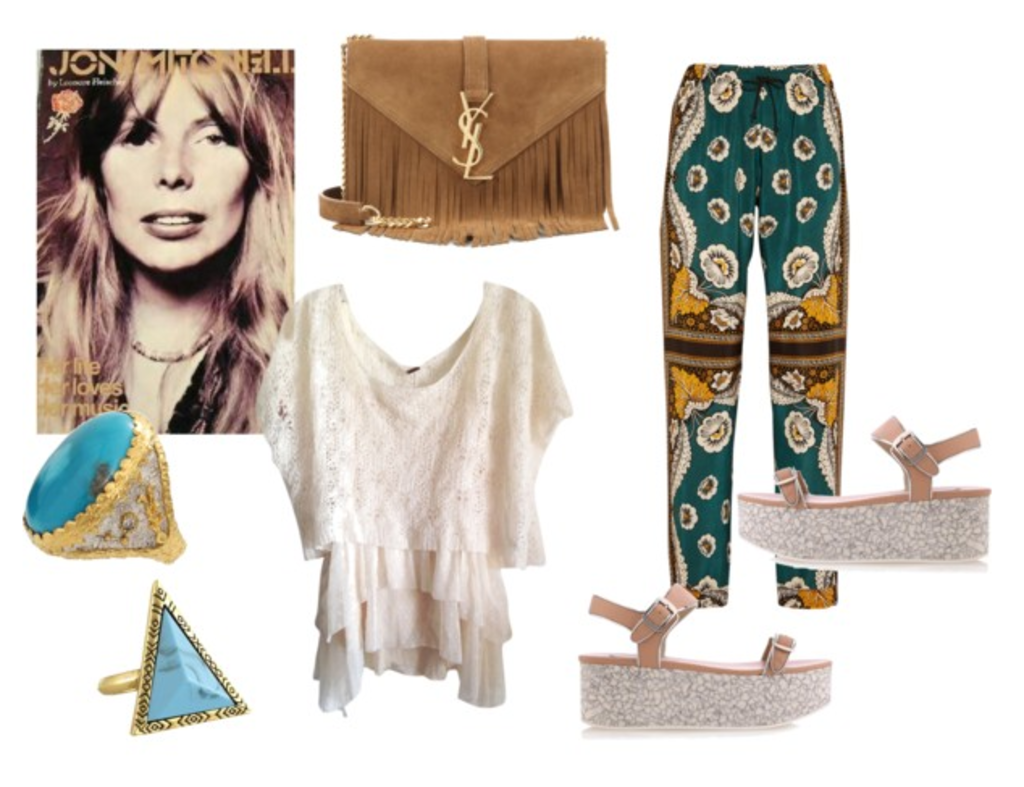 Prints, color and fringe are mandatory when trying to emulate the style of '70s singer Joni Mitchell. We started this with jewelry and the more, the better. Fingers should be covered in rings, wrist with bracelets and necks with necklaces. This printed Valentino pant was the perfect statement piece. The outfit is already wild and free so one bold print will help anchor the eye. We opted for this flowing top that we're sure Joni would love to own herself. A fringe bag adds to this carefree look while easy sandals finish off the look.