The disco ball of Cervantes Masterpiece glistened above a full house of hip-hop lovers on Thursday night at the Immortal Technique and Talib Kweli hybrid show. The two rappers, who although share a very similar interest in socially conscious topics, have a very different sound when it comes to delivery. Immortal Technique, known for his aggressive commentary, is an African Peruvian rapper from Harlem, NY on Viper records. Kweli is a 90's rap favorite from Brooklyn who hit mainstream success with collaborative projects Black Star and Reflection Eternal, with fellow rapper Mos Def and DJ Hi-Tek, respectively.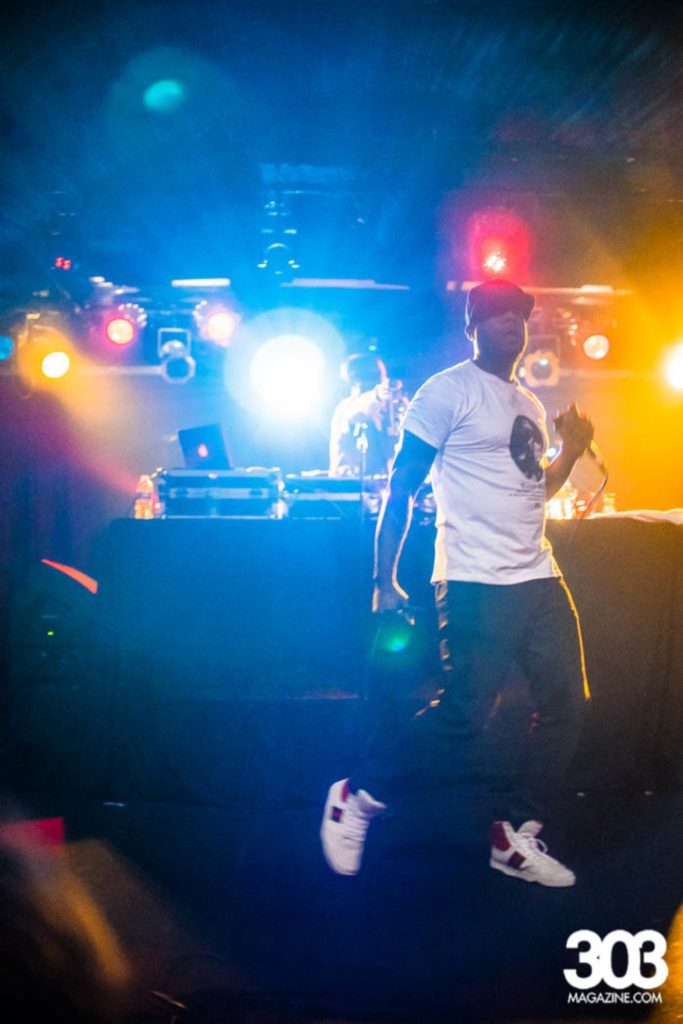 The two did not begin the night themselves, however. Rapper Hasan Salaam greeted the stage with his signature gritty voice and substantial quality raps. Rapper CF, or Constant Flow, took the stage next, providing remarks about working his way through the scene in local emcee battles as well as touching on some of his own personal misfortunes. CF got the crowd interacting with the track "Anatomy of a Revolutionary", which includes a fast hook discussing matter like the militarization of our police forces, Che Guevara, and Jesse Owens.
Poison Pen popped on stage throughout the night, executing songs and giving general hype between performers, with DJ Static providing the beats. He then introduced NIKO IS, a Brazilian born rapper based out of Orlando, FL.
NIKO began his segment with verbal promotions of peace, love, and being oneself. With tousles of dark curly hair fraying out from his beanie, the rapper went from spouting freestyles, to raps in Spanish, to sitting on the floor whilst bellowing out tracks. NIKO IS' latest creation, Brutus, is out now and actually features Kweli.
The crowd wailed as Immortal Technique quickly grabbed the spotlight after NIKO IS, reciting the words to "Crossing the Boundary" and "Bin Laden". Technique rapped "Black Vikings" and "Goonies Never Die", before including openers Constant Flow in the track "Moment of Peace", and featuring Hasan Salaam in the song Jericho. He blew out the stage with "Toast to the Dead" before giving the DJ a platform to scratch various tracks in his own light.
The razor sharp rapper returned after a short break with "The 3rd World," "Harlem Streets" and opened 'The Point of no Return" with him and Poison Pen humming along to the beat. Fluent in Spanish, he then touched on his enjoyment of rapping Spanish to those who can't speak it, but take pleasure in the track anyway, followed by exactly that, with the audience as involved as any other part of the show.
It wouldn't be an Immortal Technique show without a lecture on how to respect women, each other, and how to question the societal propaganda that perpetuates violence and poverty in our country. However, his wit and humor keep the subjects in an upbeat tone and he exudes nothing but true artistry in announcing that his second album, Revolutionary Volume 2, is one of the most pirated albums of all time, a fact that he wears like a badge of honor. He wraps up a tremendous show with favorites like "Freedom of Speech," "Dance with the Devil," and "Obnoxious."
Talib Kweli made his way to the mic following his introduction, opening to ecstatic spectators with "Down for the count." The voices of fans from all directions could be heard enumerating the lyrics to "Palookas," "Never Been in Love" and "The Blast." Talib Kweli has been spitting fiercely intelligent raps since the mid 90's, making a name for himself as the King of Conscious. He showcases his academic upbringing through afrocentric hip-hop by interacting with the crowd and making them think. Kewli discusses Mike Brown, Tony Robinson, and Nina Simone, shining light and making points on racial injustices happening long ago and still today while the track "Lonely People" plays underneath.
Kweli brings up NIKO IS for a bit before requiring a red light over the stage as the DJ washes the crowd with Rick James's Maryjane. Out of this track, "Get Em' High" spills through with accompanying videos flickering on screen behind the rapper. The swarm of hip hops heads waited patiently all night for a Black Star banger, which finally came with a rendition of "Definition" followed by "Determination." A video demonstration including shots of protesters holding "hands up, don't shoot" and "black lives matter" signs played while Talib gave a speech on human kind standing in solidarity during these important times in history.
Kweli finished his set with the chart topping "Get By" before taking a break. The room echoed with fists pumping to 'Talib" chants, showing the longtime beloved emcee that the show was not done. Kweli ran back to the stage to perform "What's Real" and "Beautiful Struggle" before sending the satiated masses home. The show in a nutshell, was a triumph to any who have cherished Kweli and his genius endeavors over the years.