Where: 1015 Pearl St., Boulder
Neighborhood:  West Pearl Street [Downtown]
Pro: Free Brew Bar coffee tastings every Friday, quality service and coffee
Con: It can get busy with limited space.
In a wonderful world of specialty coffee, Ozo Coffee in Boulder shines brightly as an exemplary business with a passion for community and refined specialty coffee.  Opening in 2007 in downtown Boulder, Ozo was founded by CEO Justin Hartman who recruited Greg Lefcourt and Nolan Dutton to join him. The three currently all manage and run the small but growing business with the help of a small staff, at three shops and a roastery.   303 Magazine chatted with Lefcourt about coffee and experienced Ozo's weekly Friday Brew Bar tasting at the Pearl Street location.
As a company that embraces service, speed, quality and tracing coffee back to the farm level, you will find that Ozo operates by these values. The weekly Friday tasting shows that Ozo strives to educate its staff and consumers on where to find the best coffee and what are the best methods to roast it.  The tasting demonstrated three different ways of roasting the featured coffee beans produced in El Salvador from the Pacas Family farm called Los Bellotos.
"With an attention to the details of its coffee experience…you can tell Ozo is incredibly passionate about the profession."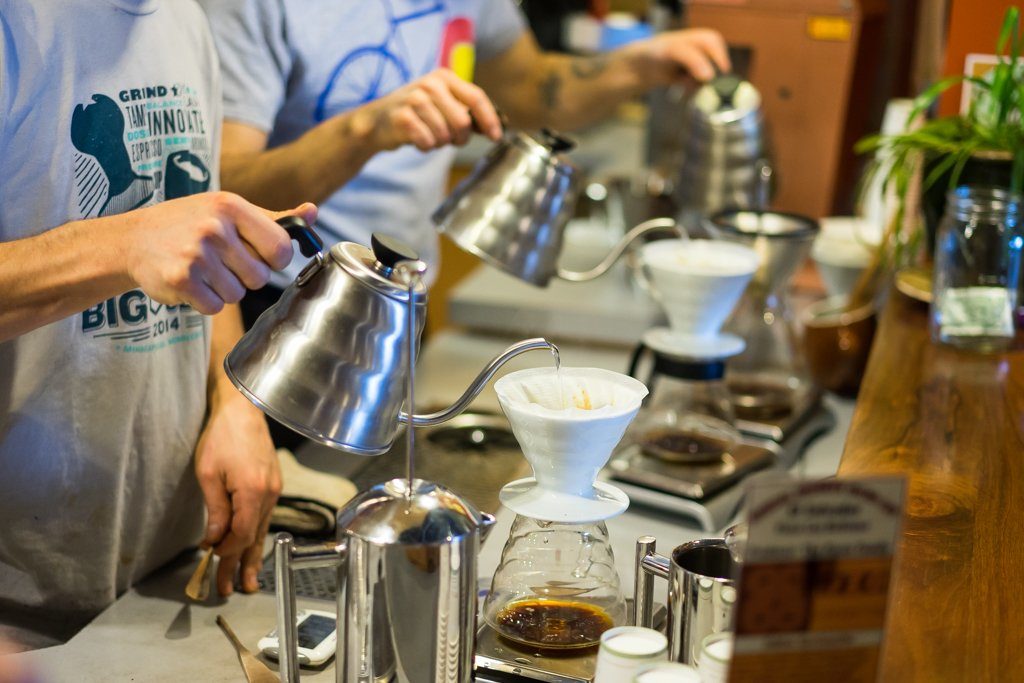 Nestled on the slopes of the Santa Ana volcano in a humid climate with winds blowing from the Pacific Ocean, Los Bellotos is a majestic terraced farm. With an earthy taste, this farm produces a coffee with "A stonefruit medley of apricot, nectarine, and plum that gives way to a marshmallow and graham cracker sweetness before a round finish," explained Lefcourt.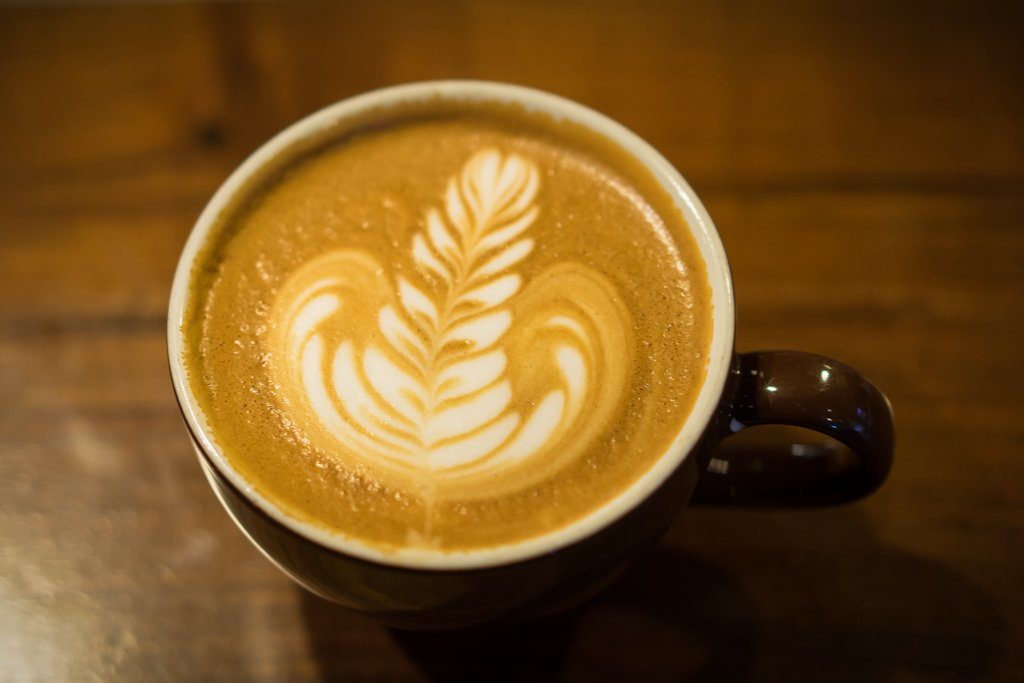 While describing the farming experience and methods to an appreciative crowd, the baristas demonstrated the first method of brewing called "pour-over" which produced a sweet, clean cup with some acidity.  The baristas slow brewed the coffee using a white ceramic coffee dripper called the V60, by manually pouring water over the ground coffee through a paper filter.  For the second method they did another version of pour-over, this time with a metal KONE filter and a Chemex, a glass beaker brewing apparatus invented in 1941 by a German chemist. Apparently the staff spent 50 hours working on it before they honed in on an exact recipe they liked. The result is a distinctive, slightly acidic taste with a balanced sweetness and body with little to no insolubles. The third method was the traditional French press, a traditional style of brewing coffee, but they use stainless steel instead of glass which doesn't lose a lot of heat for a full bodied rich taste with the most insolubles and the least amount of acidity. 
Ozo gets most of its coffee from Central and South America although some are from Africa and Indonesia. That vibe is reflected in its logo style, which after 9 years, will change to a fresh and creative style you will soon see. Ozo is also about to upgrade to a 60 kilo roaster for 125 pounds per roast which will increase the coffee production. This is important since it has recently hit the shelves of Whole Foods and local restaurants. The team also has plans to go to farms in Columbia, Panama, Brazil, Peru and Ecuador this year to establish and maintain business partnerships for import.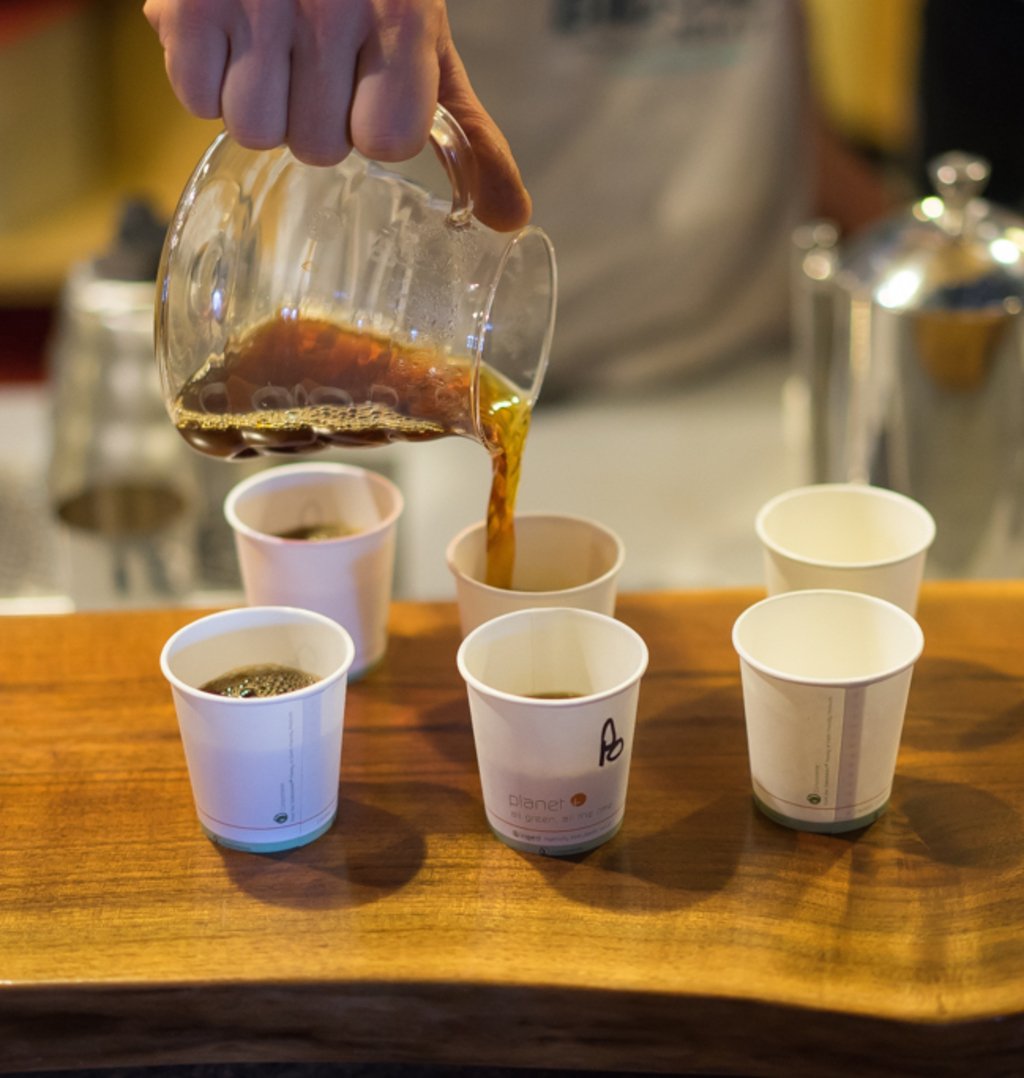 Ozo has also become a recognizable name in the national and international coffee scene by being active participants in the annual Specialty Coffee Association of America (SCAA) event. Ozo has both taught and taken classes at the events and competed as baristas. Lefcourt competed at the national level four times and won the mountain regional twice. But this year he will be a technical judge at the U.S. Championships in Long Beach this February. He and his partners learned what other shops and communities in coffee are doing and brought some practices back to Boulder.  Ozo was one of the first shops in town to host barista and latte art competitions going back 9 years in Boulder. It's now a regular event called the Thursday Throwdown and happens approximately every month in Boulder or Denver.  
With an attention to the details of its coffee experience, (even the packaging of the coffee is biodegradable down to the labels) you can tell Ozo is incredibly passionate about the profession. When asked if there is anything explicit they'd like to say to 303 readers, Lefcourt replied, " We are really thankful to the community for supporting us and promise to find best coffees and the best ways to roast it."
This humble reply, the creamy,earthy latte consumed, the skilled prompt service, the plethora of knowledge bestowed and comfortable atmosphere all confirm Ozo is doing it right. 
All photography by Roman Tafoya