Following the success of the re-release of their fourth and most recent album, Monsters In The Closet, Mayday Parade are back in Denver with The Honeymoon Tour, featuring Tonight Alive, Major League and Paris.
This Saturday at Summit Music Hall, Mayday Parade will headline in support of Monsters In The Closet, for a performance unlike any other this Fall. You won't want to miss this follow-up to the band's recent stay on the Vans Warped Tour this past summer, as The Honeymoon Tour looks to be the premium pop rock tour package all this winter.
And now, check out 303 Magazine's interview with Mayday Parade and we will see you on Saturday for one hell of a show!
Enjoy!
303: You guys recently played this past summer's Vans Warped Tour which has become somewhat of an annual tradition after having played it five times in the last eight years. What was this year's tour like in comparison to previous years?
 Mayday Parade: It was honestly the same hot and sweaty tour it's always been. It's never an easy tour for bands and their crew to do but being on Main Stage this year definitely helped.
303: You guys are currently on The Honeymoon Tour with Tonight Alive. How's the tour been going so far?
Mayday Parade: My Australian accent is super strong now after hanging with the Tonight Alive guys and gal. We're having a blast in the states and in Canada.
303: Over the years, what bands have you guys seemed to enjoy touring with the most?
Mayday Parade: Bands like All Time Low, Pierce The Veil, The Maine, We The Kings and You Me At Six are just a few of the bands off the top of my head that I love and miss being around.
303: What is your favorite song to perform live on tour right now?
Mayday Parade: Right now it's our song "Happy Endings Are Stories That Haven't Ended Yet."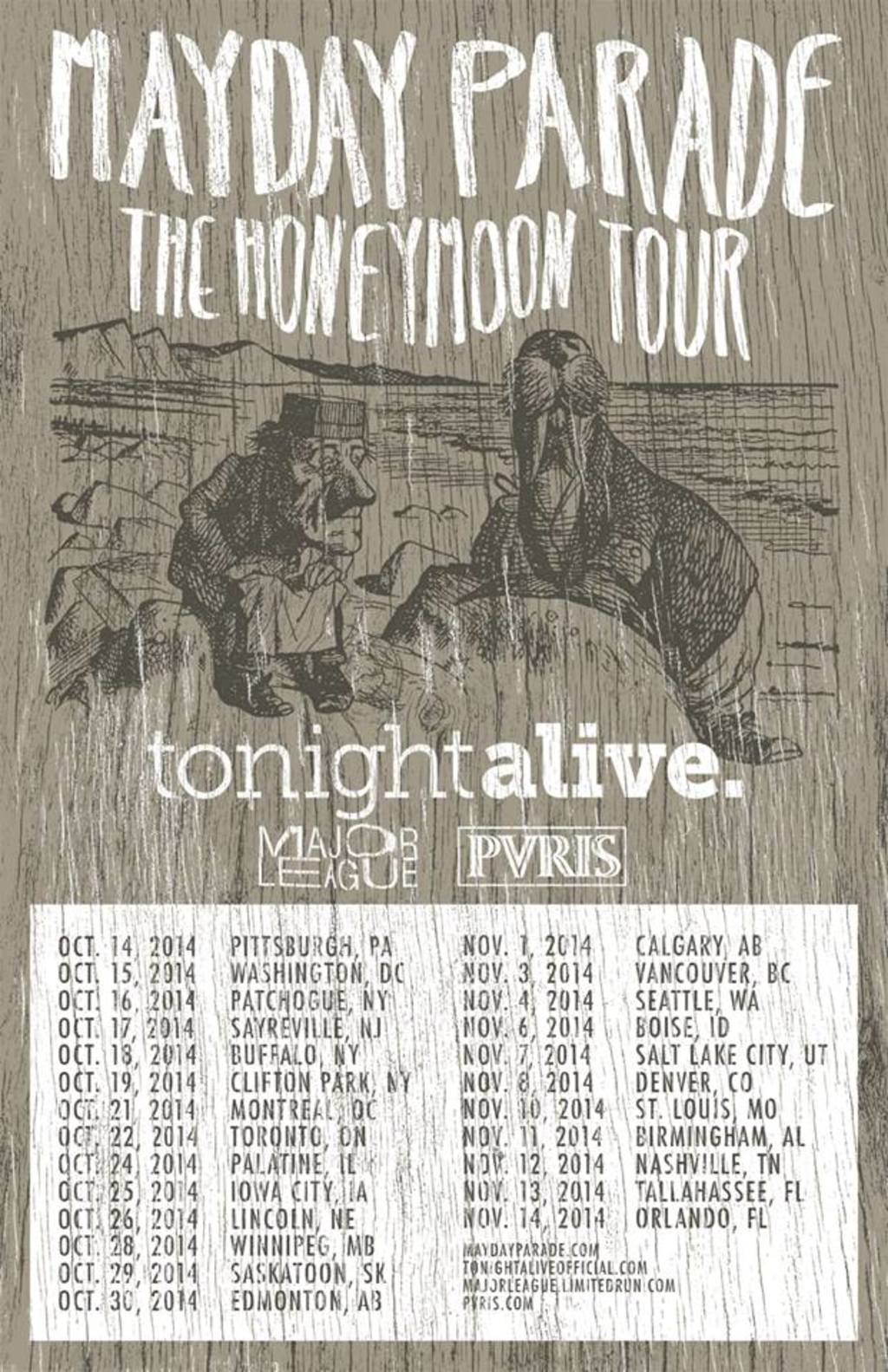 303: What inspired the recent deluxe edition release of Monsters In The Closet this past summer?

Mayday Parade: We had a few songs that we wanted to give to our fans. We hate calling them B-sides and we considered these new songs Deluxe releases because they're near and dear to our heart.

303: Is a new record in the works to be released next year? If so, what can we expect in terms of sound and approach?

Mayday Parade: Actually, yes. We start writing for it after this tour. I'm not entirely sure as far as sound. That's hard to explain. We're looking to broaden our sound a bit without sacrificing what people know of us. It's important to keep the fans happy and I think we'll easily do just that. Though, expect more from us.

303: Across your entire discography thus far, what record do you feel is your most complete, your most impressive as musicians?

Mayday Parade: I love the two newest records the most. We really became a band and stood up for ourselves after dealing with the major label world during Anywhere But Here.

303: One of your most emotional and musically impressive songs as a whole came from Valdosta – "Terrible Things." What type of approach do you take when writing more vulnerable songs, and what inspires you?

Mayday Parade: It just depends on the mood really. Some things in life strike a nerve enough for any one of us to write about it. A song like "Terrible Things" really came together in the studio in Valdosta with Lee Dyess. We just tried things and it worked. It's never stressful in those types of situations.

303: What can fans expect before coming out to see you guys on the remaining dates of The Honeymoon Tour?

Mayday Parade: Expect a few songs you haven't heard us play live before and some that we stripped down. As far as energy goes, it's always a good vibe with good people.

Tickets: Advance – $20 / Day Of Show – $22 Doors: 6:00 pm